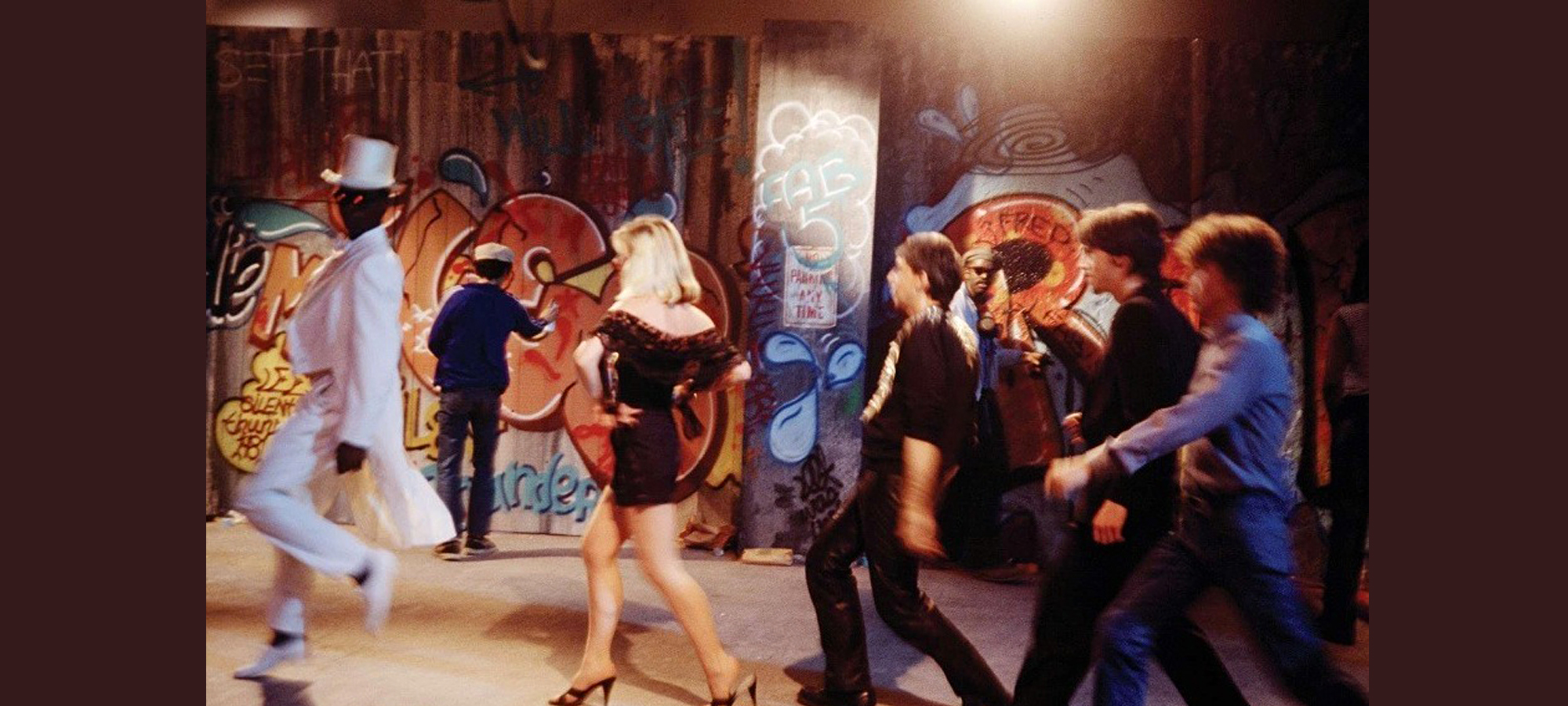 Thirty-one years ago this week, Blondie's "Rapture" became the first rap song to hit the number one spot on the Billboard chart, introducing a whole new audience of white Americans to a provocative musical genre emerging from black artists like Grandmaster Flash, Kurtis Blow and the Sugarhill Gang.  A blonde on blonde chick rapping about a man from Mars who eats up cars, bars and guitars?
Yes, brave, sexy Debbie Harry and her band of New York / New Wave punk-hipsters put their own spin on a distinctly urban black musical style – and it worked!  The "Rapture" music video was equally cool, paying homage to rap's founding fathers. It referenced Grandmaster Flash, featured black dancer William Barnes as a white tuxedoed Man from Mars and included cameos of hip-hop pioneer Fab Five Freddy and ill-fated graffiti artist Jean-Michel Basquiat.  It was the first rap video shown on MTV, back in the day when the all-music channel was actually the all-white music channel, shunning black artists altogether until Michael Jackson broke the embargo with "Billie Jean."
While Blondie's song was an original take on a black genre, the history of rock music is rife with examples of white artists covering – some say appropriating – the music of black artists.  But seriously, what white artist with even an ounce of talent could resist singing soul, blues and R&B music?  The question is: did these white bread renditions rock or did they flop?  Here's a look at some of the more memorable covers from the early days.
Elvis covers Big Mama Thornton's "Hound Dog"

Verdict: Elvis recorded a near rockabilly hiccupy version of Houndog with words and music that sound nothing like Big Mama's 1952 original, with its howling bump-and-grind sexuality ("you can wag your tail, but I ain't gonna feed you no more").  Songwriters Jerry Leiber and Mike Stoller declared Elvis's 1956 version a creative flop, even if it did make them rich!

Pat Boone covers Fats Domino's "Ain't That a Shame"
Verdict: Even though preppy Pat's version made it to number one on the charts while Fats's record only peaked at number 10, the 1955 rendition by white-buck-wearing Boone flops big-time! Ditto for his lame covers of Little Richard's "Tutti Frutti" and "Long Tall Sally."

Bill Haley and His Comets cover Big Joe Turner's "Shake, Rattle and Roll"
Verdict: Heck, I love Bill Haley's early, original work, but this sanitized 1954 version of Big Joe's raunchy tune ("the way you wear those dresses, the sun comes shinin' through") is a mighty poor imitation.

Peggy Lee covers Little Willie John's "Fever"
Verdict:  Little Willie John's original 1956 release was a huge hit on the R&B charts, but it was jazz queen Peggy Lee who delivered the goods to the whole white world with her sultry rendition. It rocks!

The Beatles cover Barrett Strong's "Money (That's What I Want)" and the Isley Brothers' "Twist and Shout"
Verdict: Okay, I'm biased when it comes to the Beatles, but I declare that the Fab Four's versions of these two songs rock and are even better than the originals – thanks entirely to John Lennon's frenzied, raspy, spit-fire vocals.

Ricky Nelson covers Fats Domino's "I'm Walkin'"
Verdict: In later years, 1950s teen idol Rick Nelson was determined to release original material (and was booed for his efforts at an oldies show at Madison Square Garden – an experience he chronicled in his song "Garden Party") but young Ricky should never have released this 1957 cover of the fabulous Fats song.

The Rolling Stones cover Bobby Womack's "It's All Over Now"
Verdict:  This 1964 release was the Stones' first number one hit, recorded at Chess Studios in Chicago, where R&B history was made in the 1950s.  The Stones' version rocks – thanks in large part to Keith Richards's unique guitar breaks and Charlie Watts's heart-thumping percussion. Bobby Womack did not want the Stones recording his material, but he changed his tune when royalty checks started pouring in. The Stones were one of the few white bands to truly capture the gritty soul of the black artists they emulated. Their versions of Robert Johnson's "Love in Vain," Sim Harpo's "Shake Your Hips," and Fred McDowell's "You Gotta Move" simply ooze the blues.

Cream covers Robert Johnson's "Crossroads"
Verdict: Eric Clapton and his British cohorts did more to expose Delta Blues music to white audiences than any other rock band, and their 1967 guitar-gasmic electric version of Robert Johnson's tale of a man who sells his soul to the devil in exchange for guitar prowess is a masterpiece.

There are thousands of examples – good and bad – of white artists covering black soul, blues and R&B music – from Rod Stewart and Van Morrison to Bob Dylan and the Allman Brothers. After all, isn't all good modern music rooted in the African American style?  Whether white artists ripped off their black role models or not, one fact remains:  these blue-eyed followers – especially pioneering rockers like Elvis, Clapton and the Rolling Stones – helped expose the masses to a style of music they might never have otherwise experienced.  And our lives are all the richer for it.
By Dana Spiardi, March 30, 2012