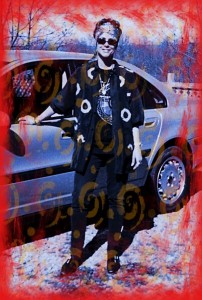 I've been a pop culture vulture since my mom first plopped me down in front of the TV to watch with The Beatles' debut performance on the Ed Sullivan show in 1964. From that moment on my heart would ignite each time the opening drum roll of "She Loves You" came blasting from the jukebox in my Italian grandparents' tavern. I know first-hand the meaning of Pavlovian. All it took to set me off was an opening guitar riff or a drum roll. Rock and roll altered my DNA. Soon came movie madness: Jimmy Cagney, hat brim low over his eyes, talking wise to Joan Blondell. Poor ol' Frankenstein, tearing up the countryside in search of a pal and a good tailor.
Sights, sounds, words, rhymes, designs, brushstrokes, movement — it's what feeds my soul. And when I find something truly fab I have an evangelical zeal to share it with the world. Lou Reed once sang, "You know, her life was saved by rock and roll." Music and other forms of creative expression have always saved me — from conformity, from the haters, from the bondage of self, from the madness and monotony of everyday life. I may not be able to save the world, but I'd sure love to make your journey a little more interesting…by turning you on to new ways of looking at pop culture.
After 20 years of corporate writing, spin-doctoring, and being at the beck and call of customers and crazy bosses, I'm finally doing what I've always dreamed of: writing about the subjects I adore, notably music, film, and life on the road.
Thanks for tuning in and turning on. Contact me if you'd like to collaborate or rap about fab topics.  I'm up all night.
Love and Peace – Dana Spiardi
I dedicate this blog to my rock-n-roll soul mate, Backstreets sister, and fellow Rainy Day Woman, Jane McCreery, for her undying support and friendship.  Jane, you inspired this blog. "And all I have to do is thank you, girl."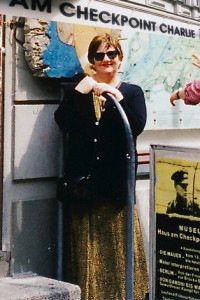 This photo of Jane McCreery was taken by me at Checkpoint Charlie in Berlin, Germany, in 1999.

The photo of me attempting to look like Steven Van Zandt was taken by my dad Fred Spiardi as I was departing for a Bruce Springsteen show!

WordPress development: Kristian Habenicht of Kreeaytiv.