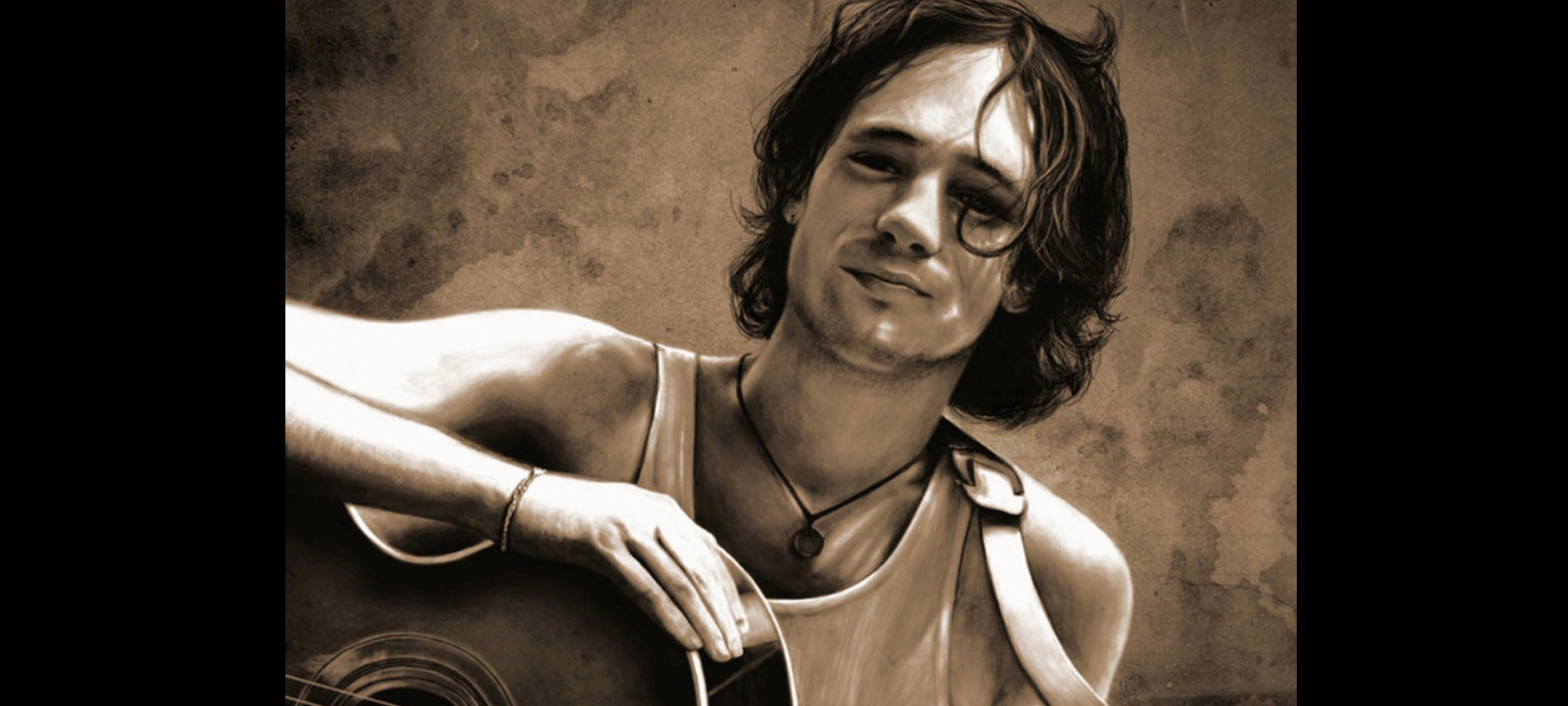 By guest blogger Adam Kukic. On May 29th, 1997, singer/songwriter Jeff Buckley and roadie Keith Foti were in Memphis, on their way to resume work on Jeff's sophomore album, the follow-up to "Grace," when the singer made a spontaneous decision to go for a swim in the Wolf River. Unbeknownst to him, the Wolf (a tributary of the Mighty Mississippi) is known for its strong undercurrent. Jeff jumped in, fully clothed, smiling and singing Led Zeppelin's "Whole Lotta Love." And that was his last dramatic act. A week later his body was discovered in the water, close to Beale Street. He was 30.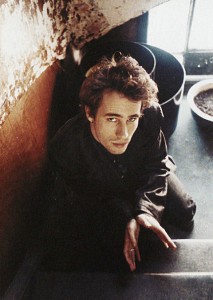 Born on November 17th, 1966, Jeff was the son of folk legend Tim Buckley (who died at the age of 28 of a drug overdose). Jeff did not really know his father and was raised by his mother. During his formative years, Jeff came into his own as a musician and singer. His haunting vocals were matched by his amazing guitar work and musical arrangements. Much has been written about Jeff Buckley and his short life, and more will continue to be written. As we approach the 17th anniversary of his passing, I feel that an investigation of the songs his peers and contemporaries wrote about him following his death can attest to his influence and impact.
What proceeds is a chronology of those songs, and short blurbs about their connections to Jeff.
October 21st, 1997:
Juliana Hatfield, "Try Not To Think About It" (from "Please Do Not Disturb")
Quite possibly the very first tribute to Jeff is Juliana Hatfield's "Trying Not To Think About It," which appears on her first solo recording, the EP "Please Do Not Disturb." Jeff was the opening act for Juliana during several shows in 1995. After learning of his passing, she penned this song, even more tender for her sweet angelic voice. She also credits Jeff's mother Mary Guibert and the strength and fortitude she showed following his passing.

One night when Jeff opened for Juliana he tackled her drummer and then dived off the stage into the crowd. Who knows what was going through his mind that night!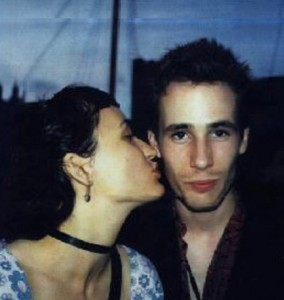 Sometime between 1997 – 1999:
Rebecca Moore – "Live in Blue Sparks" (from "Home Wreckordings 1997-1999")
According to Lydia Hutchinson's article "Remembering Jeff Buckley," the day before Jeff's fatal swim he called Rebecca Moore and left the following message: "Think of me and smile … I'm gonna work my ass off, baby … I'll see you on the other side." Rebecca was an ex-girlfriend of Jeff's and supposedly his inspiration for several songs on "Grace," including "So Real," and "Lover, You Should've Come Over."
April 20th, 1998
Massive Attack – "Teardrop" (from "Mezzanine")
Elizabeth Fraser contributed vocals and lyrics for several tracks on Massive Attack's "Mezzanine" LP. Interestingly, Madonna had been a candidate for the track, but in a two-to-three vote, the group went with Fraser. Elizabeth had had a complicated relationship with Buckley, and had previously written songs about him back in 1996. Sadly, while she was writing the lyrics for what would become "Teardrop," she received news of Jeff's passing. In theory, this song was written closer to June 1997, but it was not released until a little later.

Here's a video of "Teardrop," with a creepy fetus lip-syncing along to Fraser's vocals:

June 1st, 1998
Heather Nova – "Valley of Sound" (from "Siren")
This is a fan song. Heather Nova apparently wept after seeing Jeff perform for the first time and wrote this. A date is not known, but it predated Jeff's drowning. While technically not a tribute song, because of its release almost a year to the day after Jeff's passing, it unintentionally became one.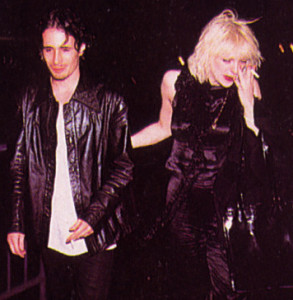 September 8th, 1998
Hole – "Boys on the Radio" (from "Celebrity Skin")
Apparently Jeff and Hole singer/founder Courtney Love had a fling. While the song is not exclusively about Jeff, his passing greatly influenced it. As Courtney told Spin magazine in May 1998, "It's from our 'Unplugged' days. It started out all peppy and poppy, but then Jeff Buckley died, and it became a homage to Evan [Dando] and Jeff and Brian Wilson. It's all about self-destructive pop boys."
October 6th, 1998
Duncan Sheik – "A Body Goes Down" (from "Humming")
Duncan Sheik never met Jeff, so technically this appears to be just a fan's tribute song. But there's a connection here: Matt Johnson, Duncan's drummer on his "Humming" LP, had been Buckley's drummer on "Grace" and for his Mystery White Boy tour. Sheik gave Matt the option not to play on the track if it was too personal; not only did Matt give Duncan his blessings on the song, he chose to perform on the track, too.

May 18th, 1999
Ron Sexsmith – "In a Flash" (from "Whereabouts")
This is another song that is simply crafted by a fan — an incredibly talented fan, Canadian singer-songwriter, Ron Sexsmith.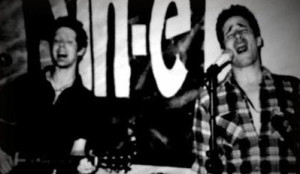 July 27th, 1999
The Frames – "Neath the Beeches" (from "Dance the Devil")
Glen Hansard, frontman for The Frames, knew Jeff, pre-"Grace" success. Jeff had served as Hansard's guitar tech in 1991 when Hansard toured the U.S. with The Commitments (in support of the film of the same name). Hansard and Buckley even performed together at the legendary Sin-e.

September 1st, 1999
Chris Cornell – "Wave Goodbye" (from "Euphoria Morning")
Another song that technically was written closer to Jeff's passing in 1997 is Chris Cornell's "Wave Goodbye." Cornell and Buckley had been friends since 1993. Following Jeff's death, Chris helped Jeff's mother Mary put together the posthumously released album, "Sketches for My Sweetheart the Drunk" (key word being sketches, as the songs were never completed prior to Jeff's passing).

January 25th, 2000
Aimee Mann – "Just Like Anyone" (from "Bachelor No. 2")
Most likely written well before the release of "Bachelor #2," Aimee Mann's "Just Like Anyone" attests to her sporadic friendship with Jeff. Probably her most endearing story was a night that the pair spent in a loud crowded bar, and instead of trying to shout so that they could hear one another, they passed notes on napkins.

June 26th, 2000
Badly Drawn Boy – "You Were Right" (from "Have You Fed The Fish?")
More of just a reference, Badly Drawn Boy's "You Were Right" places Jeff in the company of Sinatra, Cobain and Lennon.

September 12th, 2000
Amy Correia – "Blind River Boy" (from "Carnival Love")
Amy had seen Jeff perform back at Sin-e. Her experience was similar to Heather Nova's…one which she relayed in a touching blog post for Purpleclover. On her debut album, "Carnival Love," she included "Blind River Boy," a detailed recounting of Jeff's final moments, even including his singing of "Whole Lotta Love."

November 14th, 2000
Elysian Fields – "Tides of the Moon" and "Cities Will Fall" (from "Queen of the Meadow")
A band with many rotating members, several had performed and/or knew Jeff; it's been suggested that "Tides of the Moon" and "Cities Will Fall" are in tribute to him.


January 9th, 2001
P.J. Harvey – "Memphis" (B-Side of "Good Fortune" single)
Polly Jean Harvey and Jeff had been friends. This obscure B-side track should've been included on her successful album, "Stories from the City, Stories from the Sea." It's Harvey at her haunting best.

May 22nd, 2001
Mark Eitzel – "To the Sea" (from "The Invisible Man")
Another friend of Jeff's, here's Mark Eitzel and his contribution to the Buckley tributes. "To the Sea" has a similarity to Rufus Wainwright's complicated feelings regarding Jeff (see below).

June 28th, 2004
Willie Nile – "On the Road to Calvary" (from "Beautiful Wreck of the World")
Nile, a man with a very storied career (and a significant hiatus), was a friend of Jeff's. He originally wrote this piece in 1999. Lucinda Williams has called it one of the most beautiful songs ever written.

November 16th, 2004
Rufus Wainwright – "Memphis Skyline" (from "Want Two")
For years, Rufus had watched Jeff from the sidelines, seething with jealousy. About a month before Jeff's passing, he ended up at one of Rufus's shows. When Rufus started experiencing some tech issues, Jeff jumped up on stage to fix the situation. Following the show they shared a few beers. This is Rufus's tribute to Jeff, with allusion to the Orpheus myth.

November 18th, 2004
Pete Yorn – "Bandstand in the Sky" (from "Live from New Jersey")
In theory, a song written on the day Buckley died, it originally appeared on "Live from New Jersey." (A fuller studio version is featured on the 2006 album "Nightcrawler.") Yorn never knew Buckley, but definitely understood the power of his music.

May 3rd, 2005
Mike Doughty – "Grey Ghost" (from "Haughty Melodic")
It was Jim Morrison who said "death makes angels of us all and gives us wings." Many of these songs speak to Jeff's beauty and angelic nature. But Mike Doughty saw a different, darker side — the side of Jeff that would sniff heroin (yes, SNIFF it). "Grey Ghost" is Doughty's ode to Buckley.

July 18th, 2006
Lisa Germano – "Except for the Ghosts" (from "In the Maybe World")
While this song was supposedly written closer to Jeff's passing, it took the death of her cat and some heavy times leading up to her 2006 album to put it down in the studio. While the two didn't know each other well, she did serve as his opening act.

July 12th, 2007
Joan As Policewoman – "Eternal Flame" (from "Real Life")
Joan Wasser was another of Jeff's former flames. Apparently, she was the inspiration behind "Everybody Here Wants You." Her former band, Those Bastard Souls, also wrote a tribute to Jeff, "The Last Thing I Ever Wanted Was To Show Up And Blow Your Mind," from 1999's "Debt and Departure" album.

Here's the video for "Eternal Flame:"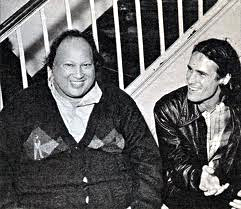 Buckley helped expose a whole new audience to Pakistani musician Nusrat Fateh Ali Khan; he, in turn, dedicated his entire album, "The Supreme Collection Volume 1," to Jeff's memory. Although the album's material was not inspired by Buckley, it could be considered the very first "official" tribute to him. It was released on August 26th, 1997.
The Cocteau Twins' "Rilkean Heart" and "Half Gifts," from the album "Milk and Kisses," are often cited on lists of tribute songs, even though they have more to do with Elizabeth Fraser's complicated relationship with Jeff (see above). The album was released in March 1996, more than a year before Jeff's passing.
There are many other Jeff Buckley tribute songs out there, but these are the most easy to locate. For more songs and details on the above tributes, here are some other helpful resources:
"A Pure Drop: The Life of Jeff Buckley" by A. Jeff Apter is a very informative and well-written biography on Buckley.
Heather Browne's blog, I am Fuel, You are Friends, is incredibly well written and helpful. Click here to read one of her posts about Jeff.
Here are some other posts that contain info on Buckley tribute songs:
Mojopin
Jeff Buckley official website
Finally, here's Jeff himself, singing "I Want Someone Badly." It truly exemplifies the beauty of his voice and vocal style.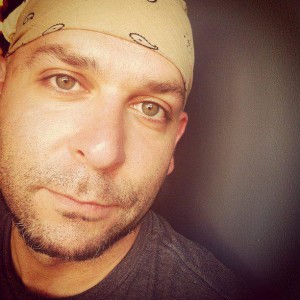 © Adam Kukic, May 28, 2014
Host & Producer, The Coffeehouse on WYEP 91.3fm
Sundays, 8 to 11 am EST
Streaming worldwide at www.wyep.org