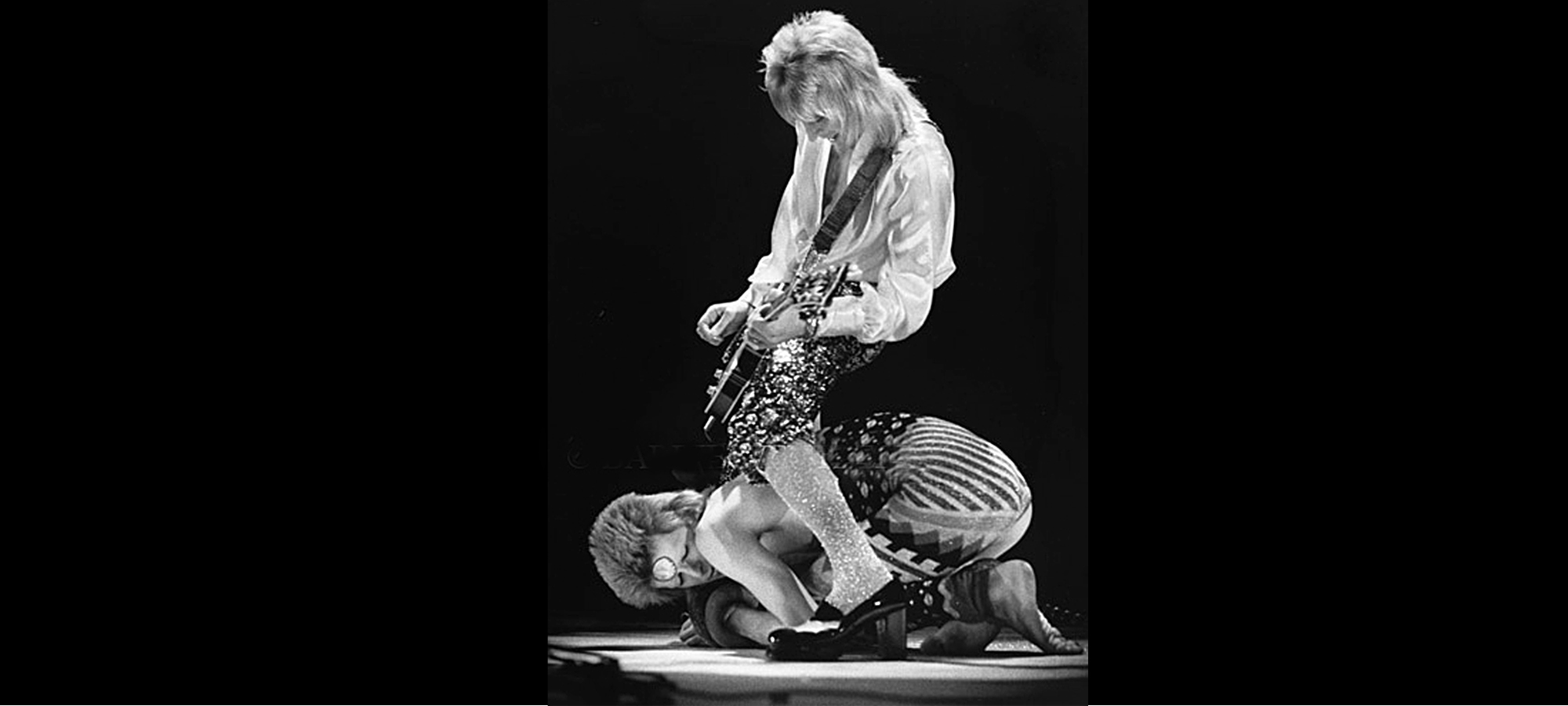 One of the most unusual and innovative new performers of the day chooses you for his band, insists you wear eyeliner, satin, and 6-inch platform boots, and then proceeds to engage in deviate sexual activity with your guitar while you stand on stage churning out searing licks. Sound demanding? Well, it's all in a day's work when your name is Mick Ronson and you're making rock-n-roll history with David Bowie.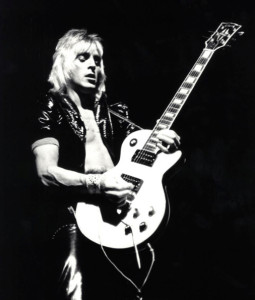 Mick was an arranger, producer, songwriter and classically-trained multi-instrumentalist who became the most recognized super guitarist of the glam rock era. Born on May 26, 1946, in northern England, he had kicked around in a number of bands for a time and was working as a city parks department gardener when he was recruited to play with Bowie on a BBC Radio 1 show in 1970. He went on to make his mark as the lead guitarist, arranger and overall driving musical force on the burgeoning superstar's early groundbreaking albums: "The Man Who Sold the World," "Hunky Dory," "The Rise and Fall of Ziggy Stardust and the Spiders from Mars," "Aladdin Sane," and "Pin Ups."
But playing in Bowie's Spiders from Mars band required more than just musical talent. It also demanded space-alien style and a touch of daring. And it didn't take long before the androgynous, flame-tressed "Ziggy" transformed his fair-haired guitarist into a glamorous arachnid. A performance of Bowie and his band on the BBC's Top of the Pops in July 1972 shows the wispy singer lovingly placing his hands on Mick's shoulders and arms while the two perform "Starman." This was a bold move on a televised show, given the suspicious nature of the two men's gender.
But what did Bowie care? A short time earlier he had announced his bisexuality to the U.K. music press. He would take the homo-erotica theme to a new level when he began simulating fellatio on Mick's guitar during on-stage performances. The hetero, Mormon-raised guitarist played along like the good sport he was. His sister Maggi once told The Guardian that back home in the Yorkshire town of Hull she had to endure jeers of "Your brother's a poof."
"He was very much a salt-of-the-earth type, the blunt northerner with a defiantly masculine personality, so that what you got was the old-fashioned Yin and Yang thing," Bowie said of his guitarist in 1994. "As a rock duo, I thought we were every bit as good as Mick and Keith or Axl and Slash. Ziggy and Mick were the personification of that rock n roll dualism."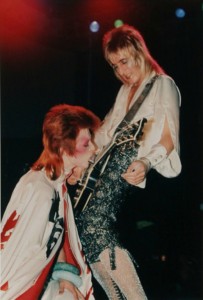 But Mr. Bowie never lingers on one planet very long, and in 1973 he parted ways with the most vital musical partner of his career. By the time of the breakup, Mick already had several independent projects under his belt; he had co-produced Lou Reed's famous "Transformer" album in 1972, and arranged string ensembles for Pure Prairie League's "Bustin' Out" LP that same year. But making an impact sans a charismatic frontman proved challenging. Between 1973 and 1975 he released two unsuccessful solo albums and formed the short-lived Hunter-Ronson Band with former Mott the Hooper leader Ian Hunter. The work drew little fanfare.
"The one thing that saved Mick at this point was Dylan," Mick Ronson's wife Suzi told Uncut magazine's Garry Mulholland in 2013. She was referring to Mick's invitation to join Bob Dylan's Rolling Thunder Review, a tour featuring a roaming band of minstrel rockers that included Joan Baez, Joni Mitchell, Ramblin' Jack Elliott, and Kinky Friedman. "That whole tour was this huge, huge adventure. A real treasure hunt," Mick told Mulholland in 1976. "There was Joan Baez. McGuinn. Ginsberg – he's a grand lad, is Allen. There was Dylan. And there I was, too. For a lad from Yorkshire like meself, it were truly out of this world."
The Yorkshire lad went on to work as a producer, arranger and guitarist for Morrissey, Van Morrison, Roger McGuinn, T-Bone Burnett, John Mellencamp and many other artists. He stayed active right up till his death from liver cancer at age 46 on April 29, 1993.
David Bowie ushered in a whole new brand of performance art with his space-age song themes and colorful alter egos. And Mick Ronson took the spectacle to a whole new level with his rock-solid musicianship.
This Top of the Pops performance shows the very chummy nature of Ziggy and his spider.

Here's Mick performing a guitar solo during a Bowie show.

©Dana Spiardi, May 26, 2015
Save