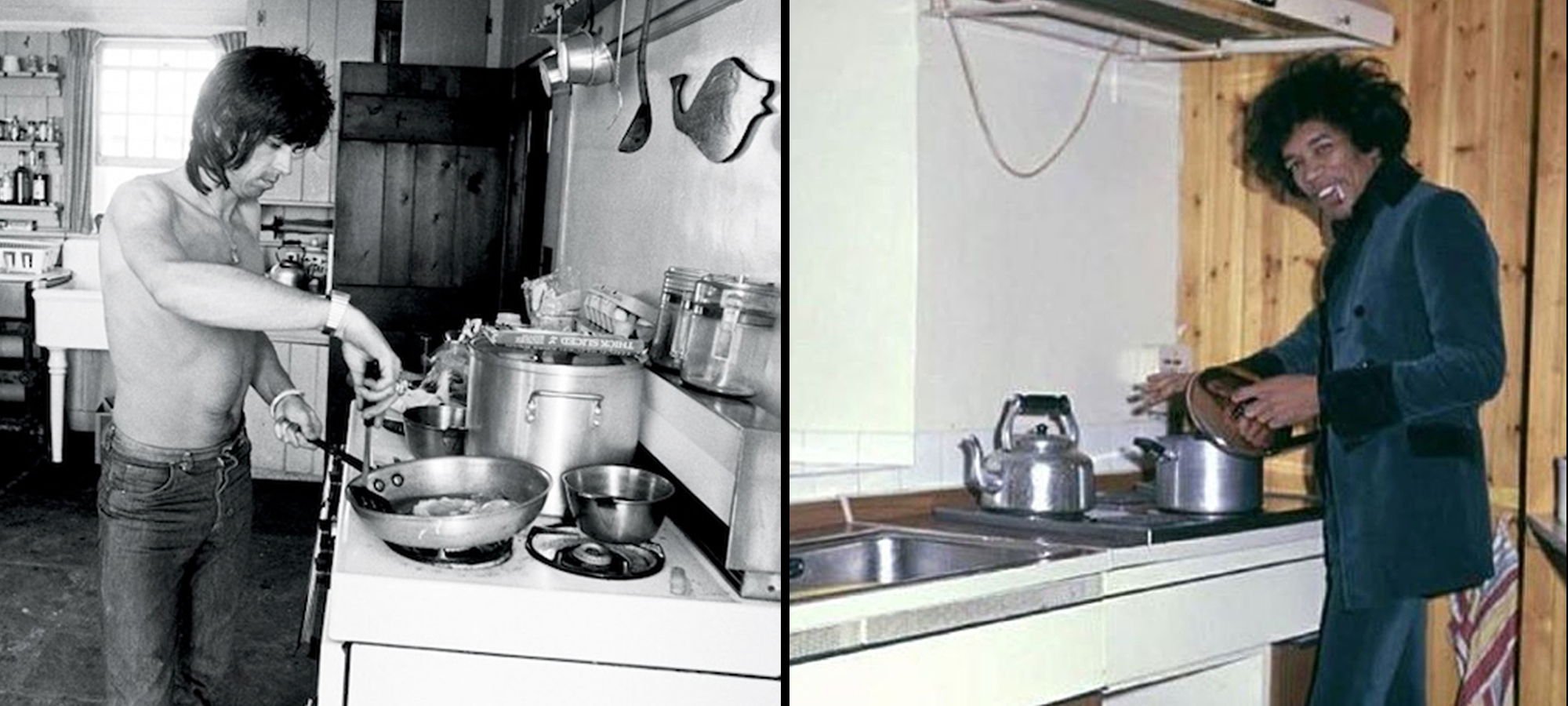 Heavens to Murgatroyd! How did I forget to post this item yesterday in honor of…you guessed it…National 'Men Make Dinner' Day? Shite, my man didn't make me any vittles! Well, I guess it's MY fault for not alerting him to this most important and manly of holidays. Geez, women have to think of everything.
I'll bet nobody had to ask these guys to get the burner going. What a sight: two of my favorite menfolk slaving over a hot stove, just the way god would want it. Are they barefoot, by any chance?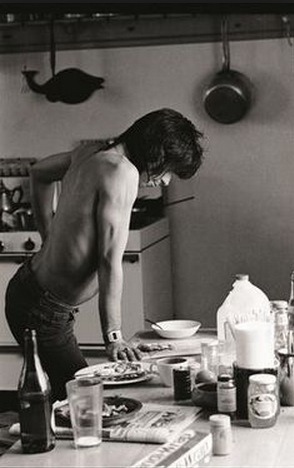 Ladies, come on! Who WOULDN'T want a shirtless Keith Richards in their kitchen, up bright and early, frying eggs (and maybe serving breakfast in bed, hee, hee)? And everyone used to say that Keef was only alive between 4 pm and 4 am and spent the daylight hours getting blood transfusions! You see the sun shining through that window in the top photo? Ha! Another Keith myth busted. Thanks to some morning coke and coffee he's no doubt feeling bright-eyed and bushy-tailed, composing riffs in his head.
It turns out these kitchen photos were taken at Andy Warhol's Montauk, NY, home, where the Stones were rehearsing for their 1975 world tour. (I think Andy liked his eggs silver.)
Keith is known to make some mighty mean 'bangers and mash' (we Yanks call it sausage and mashed potatoes). He kindly shared the recipe in his memoir "Life." Click here to see it.
As for Jimi, I'd love to think he was whipping up some voodoo chili, adding a pinch of his special herb for just the right smokey flavor, but he's probably only posing. Pose away! I'd rather watch him walk around Chez Blogger modeling that BEE-U-tiful teal suit than have him cook for me.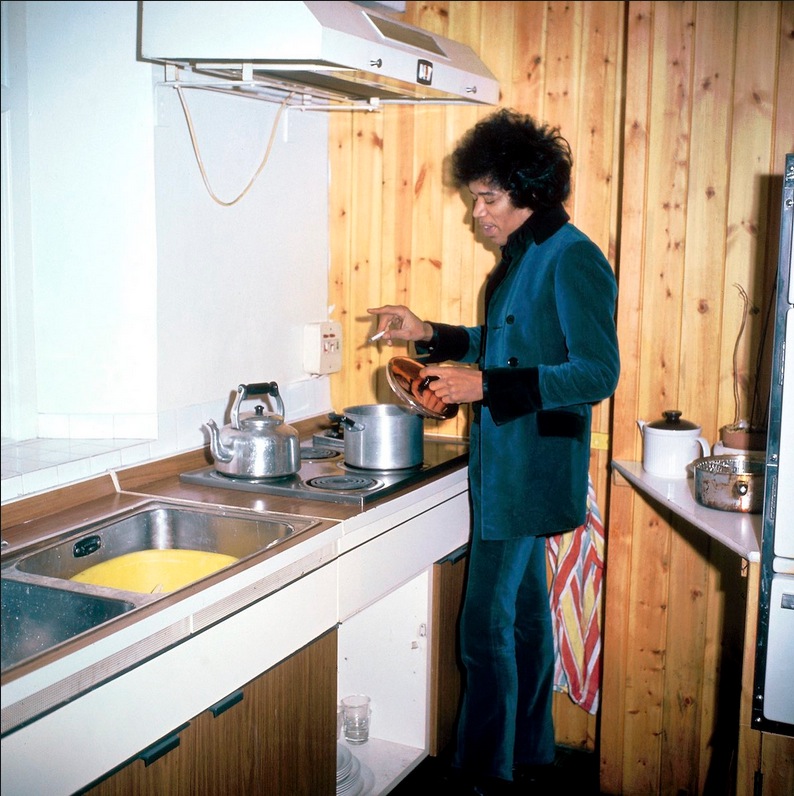 Jimi may have fancied himself the lord of that manor, but he was actually subletting the ground-floor apartment at 34 Montagu Square in Marylebone, London, from Ringo Starr for £30 a month. The guitarist lived there with his paramour Kathy Etchingham, his manager Chas Chandler, and Chas's girlfriend Lotta Null.
It was there in late 1966 or early 1967 that Jimi wrote his classic tune "The Wind Cries Mary." Interestingly, kitchen duty – or lack thereof – purportedly inspired the song's creation. Kathy (middle name Mary) had stormed out of the house after Jimi berated her for not cooking. The argument got his creative juices flowing. He sat right down and wrote a real beauty. (And not one word of the song has anything to do with culinary matters.)  Alas, the apartment hijinks came to an end some time in '67, when Ringo evicted Jimi for throwing whitewash all over the walls during an acid trip.
Okay, my musician friends: I shan't cook for as long as I can get away with it. Who's going to write a song inspired by ME?
And the wind cries….gravy.
© Dana Spiardi, Nov 6, 2015
Images of Jimi by Petera Niemeier.
Images of Keith by Ken Regan.
Save
Save
Save