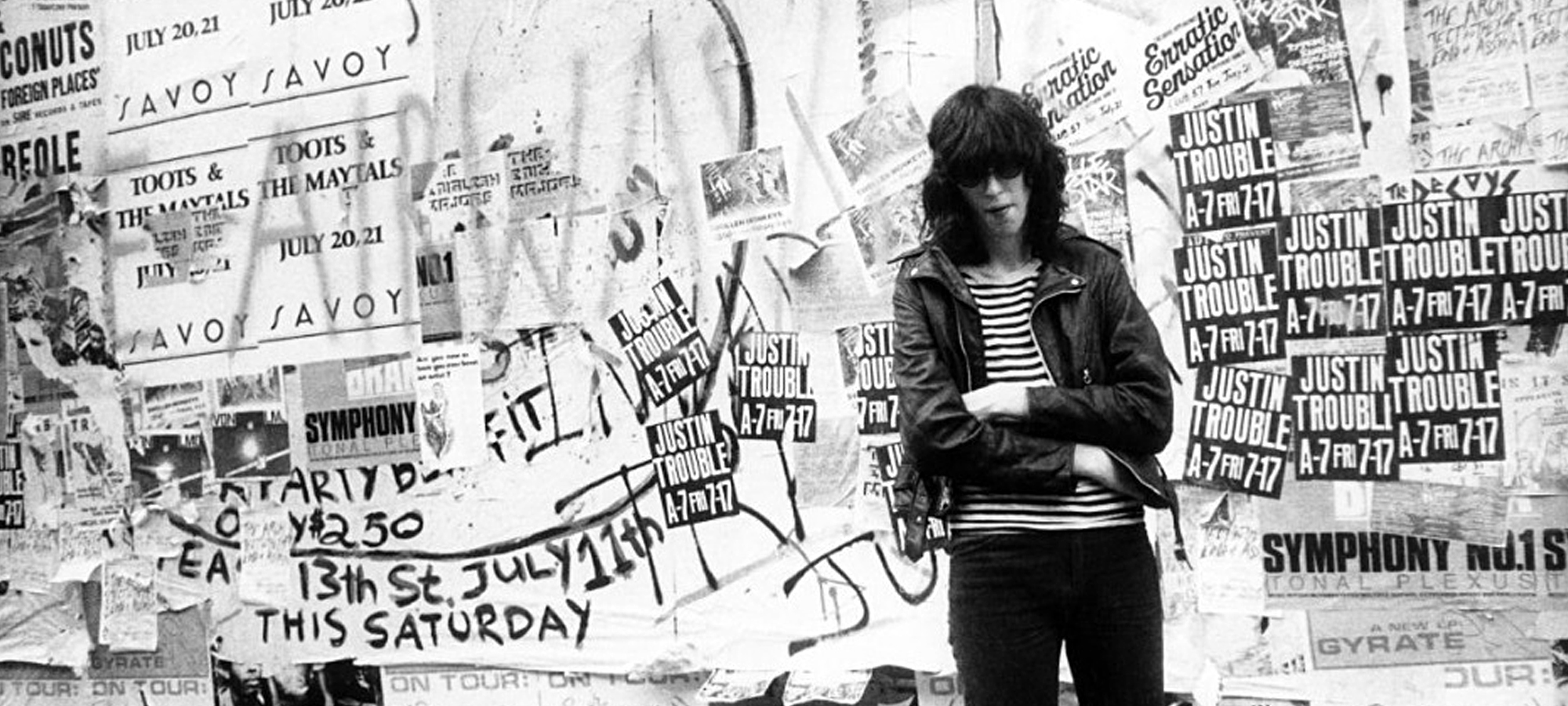 If you're a three-chord-lovin' rock-n-rolla living in New York City, stop by Joey Ramone Place in The Bowery today and bow your head in memory of punk rock pioneer Jeffrey Ross Hyman, better known as Joey Ramone. He died at age 49 on this date in 2001 after a 7-year battle with lymphoma.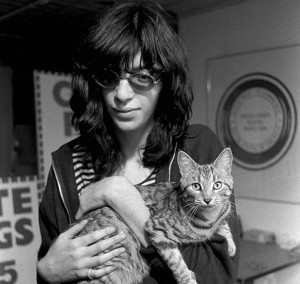 When Joey and bandmates John Cummings and Douglas Colvin formed The Ramones in Forest Hills, Queens, in 1974 they came up with the novel approach of having each band member take the same surname. They got the Ramones idea from a pseudonym – Paul Ramon – that Paul McCartney used when the "Silver Beetles" were touring in 1960.
The original band members included Cummings (Johnny Ramone) on guitar, Colvin (Dee Dee Ramone) on bass, and Thomas Erdelyi (Tommy Ramone) on drums. Mark Bell took over on drums in 1978 and was christened Marky Ramone. Sadly, all four of the original members are deceased.
But Joey was the heart and soul of the band. Growing up, he was taunted and bullied for his long-hair and thin lanky 6'6″ frame, and suffered from numerous ailments, including OCD. You could say that rock-and-roll saved his life.  He went on to create a whole new sound and define New York punk fashion with his black Schott Perfecto leather jacket, torn jeans, striped t-shirts, and sneakers.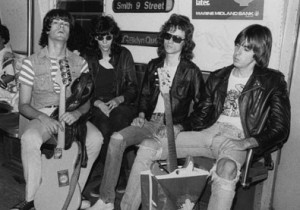 Joey and his crew wrote lots of upbeat power-surge music that took rock back to the days when a song was fast (two minutes or less in length), fun and stripped of pretension. In other words, they were the perfect antidote for those suffering from the likes of art-rock arena monsters like Yes, Genesis, and Pink Floyd, play-it-safe bands like Styx, Kansas, and Reo Speedwagon, and bland California acts like The Eagles and Doobie Brothers. (For the record, yer blogger has never purchased a single record by any of the aforementioned groups.) And unlike the so-called rock royalty of the day, Joey and the boys had no interest in Ritz Carltons or Lear Jets. As you can see in this photo, they weren't ashamed to transport their guitars in paper bags on the subway (well, even if the pic was staged, it proves their everyman street-style.)
Just take a look at the titles of Ramones songs and you get a sense of their wit and irreverence: "Beat on the Brat," "Sheena is a Punk Rocker," "Suzy is a Headbanger," "Everytime I Eat Vegetables It Makes Me Think of You," "The KKK Took My Baby Away," "Gimme Gimme Shock Treatment," and lots of other tunes about desires and observations we all can relate to.  And they surely hold the record for writing more songs with the word "wanna" in the title than any other band: "I Wanna Be Sedated," "Now I Wanna Sniff Some Glue," "I Don't Wanna Walk Around with You," "Now I Wanna Be a Good Boy," "I Wanna Be Well," and "I Don't Wanna Go Down to the Basement."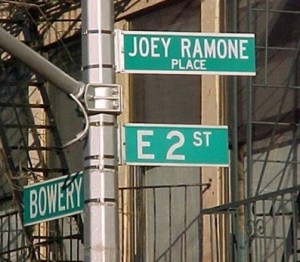 Through the years Joey kept busy with lots of non-Ramones projects. He took part in Steven Van Zandt's Artists United Against Apartheid initiative in 1985, produced a 1999 album for Ronnie Spector, and headlined the 1996 Rock the Reservation festival in Tuba, Arizona. In 2001 he performed in a studio for the last time when he sang backup vocals on "One Nation Under," a CD released by a Native American group called Blackfire.
In November 2003 New York City officials had the hipness to rename a block of East 2nd Street in the Bowery in Joey's honor. It's near the former CBGB club where the Ramones got their start in 1976. The sign that marks the site was stolen and replaced four times in 2003 alone, and holds the record for the most nicked street marker in NYC history. It now stands 20 feet above ground level – quite a stretch for even the most devout fan. Hey! Ho! Let's Go!
Here's a video of Joey singing the Louie Armstrong classic "Wonderful World." He recorded this song in the last year of his life. Michael Pitt, who played Jimmy on HBO's "Boardwalk Empire," is the guy grooving on the couch with his gal.

© Dana Spiardi, April 15, 2015
The Joey candle featured in this post is available on Etsy from BerndtOfferings. Click here to purchase it.