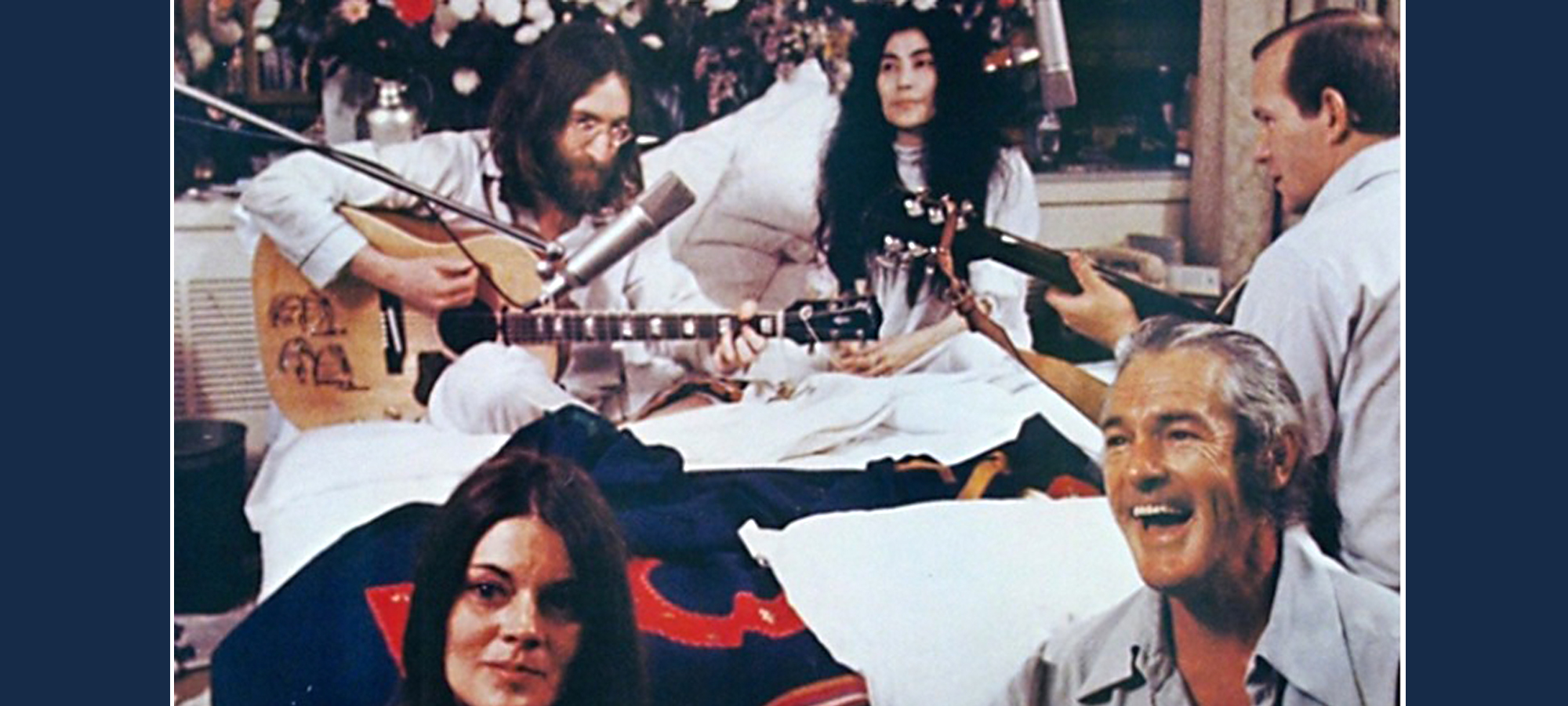 John Lennon was one spinal cracker, alright.  Who else would LSD guru Timothy Leary ask to write a campaign song for his ill-fated gubernatorial run against Ronald Reagan in 1969?  Lennon set out to write a song based on Leary's campaign slogan, Come Together, Join the Party.  His original lyric began, "Come together right now, don't come tomorrow, don't come alone."  Leary felt the words were awkward and the song unusable. Little matter; the aspirations of the PhD psychologist-turned-drug-advocate would soon come to an end when he was imprisoned for marijuana possession. But by now John had a good title. And he ended up writing one of his edgiest, self-described gobbledygook songs, ever.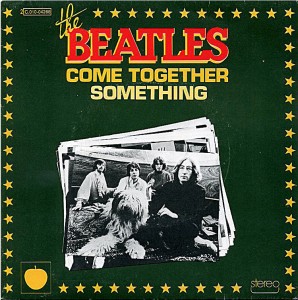 He loosely based the song on an upbeat Chuck Berry number from 1958, "You Can't Catch Me," which features the line, here come a flat-top, he was moving up with me.  John opened his version with the now-famous words, here come old flat-top, he come groovin' up slowly.  Throughout the song John does his best to match the rocking-rap lyrical style and rhythm that Chuck was famous for.  He was, after all, one of Berry's biggest fans.  John once said, "If you tried to give rock and roll another name, you might call it 'Chuck Berry.'"
Back at Abbey Road studios, Paul McCartney suggested John slow down the tempo of the song and add a heavy bass line to give it a more bluesy feel.  Though most Beatle fans undoubtedly missed the musical and lyrical similarities to Chuck's original, music publisher Morris Levy did not. Levy owned the rights to Berry's material and sued Lennon.  To settle the case, John agreed to record three other songs owned by Levy's publishing company.  Two of these – "Ya Ya" and "You Can't Catch Me" were included on John's 1975 "Rock-n-Roll" LP. A third – "Angel Baby" – was released after his death.
I'll never forget hearing "Come Together" for the first time, when I was 10 years old. My mother had just come home from shopping and presented me with the latest Beatles LP, "Abbey Road."  I immediately placed the needle of my trusty old Sears Silvertone record player on the first track, and WOW. I was totally knocked out:  Ringo's cascading drum roll intro, John's nasal sneering voice, Paul's swampy bass, George's minimalist, stinging guitar riffs in the closing.  It is one of the Beatles' most unique songs and is the perfect kick-off to a phenomenal album — the last one the Beatles would record together.  So it goes that in the summer of 1969 those bickering boys managed to come together one last time to create a masterpiece.  And rock history is all the richer for it.
Here's John performing "Come Together." The song hit #1 in the U.S. in October 1969 and spent 16 weeks on the charts.

Here's Chuck Berry's "You Can't Catch Me." Any similarities to John's song?  I think it's a stretch.

© Dana Spiardi, Feb. 4, 2014
Save