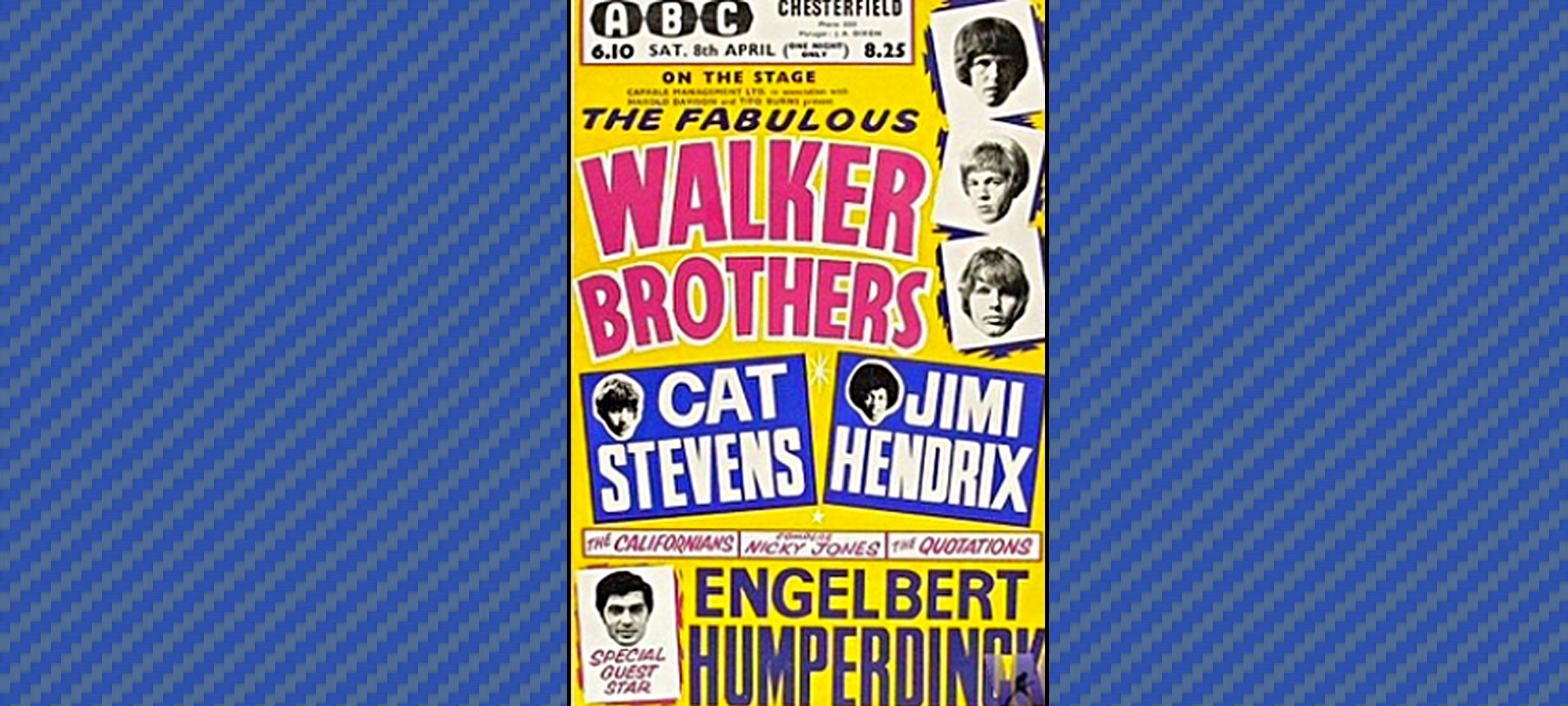 Cutting your teeth…honing your skills…paying your dues…(and, my favorite)…making your bones. Whatever you want to call it, Jimi Hendrix did it all in the days prior to achieving eternal superstardom as the greatest rock guitarist of all time. He played for years in backup bands for such American artists as Little Richard, Sam Cooke, the Isley Brothers and Joey Dee and the Starlighters. But it wasn't until he went to England in 1966 that he finally became a main attraction. His famous November 1966 gig at London's Bag O'Nails club attracted the rock royalty of the day: Eric Clapton, John Lennon, Paul McCartney, Jeff Beck, Pete Townshend, Brian Jones, and Mick Jagger — all of whom were awestruck by his talent. He was the hottest ticket in town, but he never lost sight of the fact that he was a working musician, as evidenced by this little tale: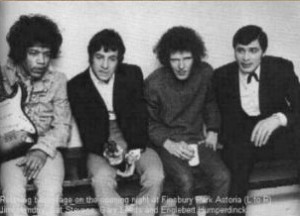 On April 21, 1967, he was on a bill in Newcastle, England, with several other up-and-coming acts: American pop trio The Walker Brothers, singer/songwriter Cat Stevens and "special guest star" Engelbert Humperdinck (born Gerry Dorsey and once sued by heirs of the German composer whose name he appropriated without permission). The suave Engelbert said that Jimi happily came to his rescue that night by offering to play backup for him in place of his original guitarist, who had left the tour. Jimi wasn't allowed on stage with the crooner, so he stood behind the curtain. Said Humperdinck in a 2011 interview, "He played on every number; it was like hearing three guitarists behind me instead of just one. He put all his own little tricks in there and it sounded great. I only wish it had been a recorded show, knowing Hendrix was on it; what can you do, it's too late." [A personal tidbit: I once took my grandmother, a big Engelbert fan, to one of his concerts. It was an outdoor venue and the singer was miffed because passing trains kept drowning him out.]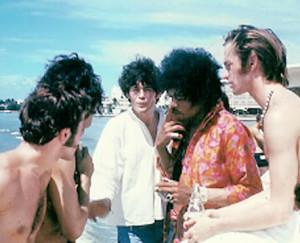 Jimi returned to the U.S. in 1967 with bassist Noel Redding and drummer Mitch Mitchell (now called The Jimi Hendrix Experience) and ended up being the the toast of the Monterey Pop Festival. He was finally a sensation on his own turf. The Monkees were fans, and invited him on their first tour  — as their opening act!  The group's teenybopper fans hated Jimi's heavy sound, and he ended up leaving the tour after only six shows.  Below is an interesting video of a radio announcement for a Monkees/Hendrix gig.
Perhaps more than any other musician in rock history, Jimi Hendrix loved to play. It didn't matter what, where, when, or with whom. Had he lived, he might have rivaled James Brown as the hardest working man in show biz.
Happy 72nd birthday, Voodoo Child! Kiss the sky for me.

© Dana Spiardi, Nov 27, 2014
Save
Save
Save