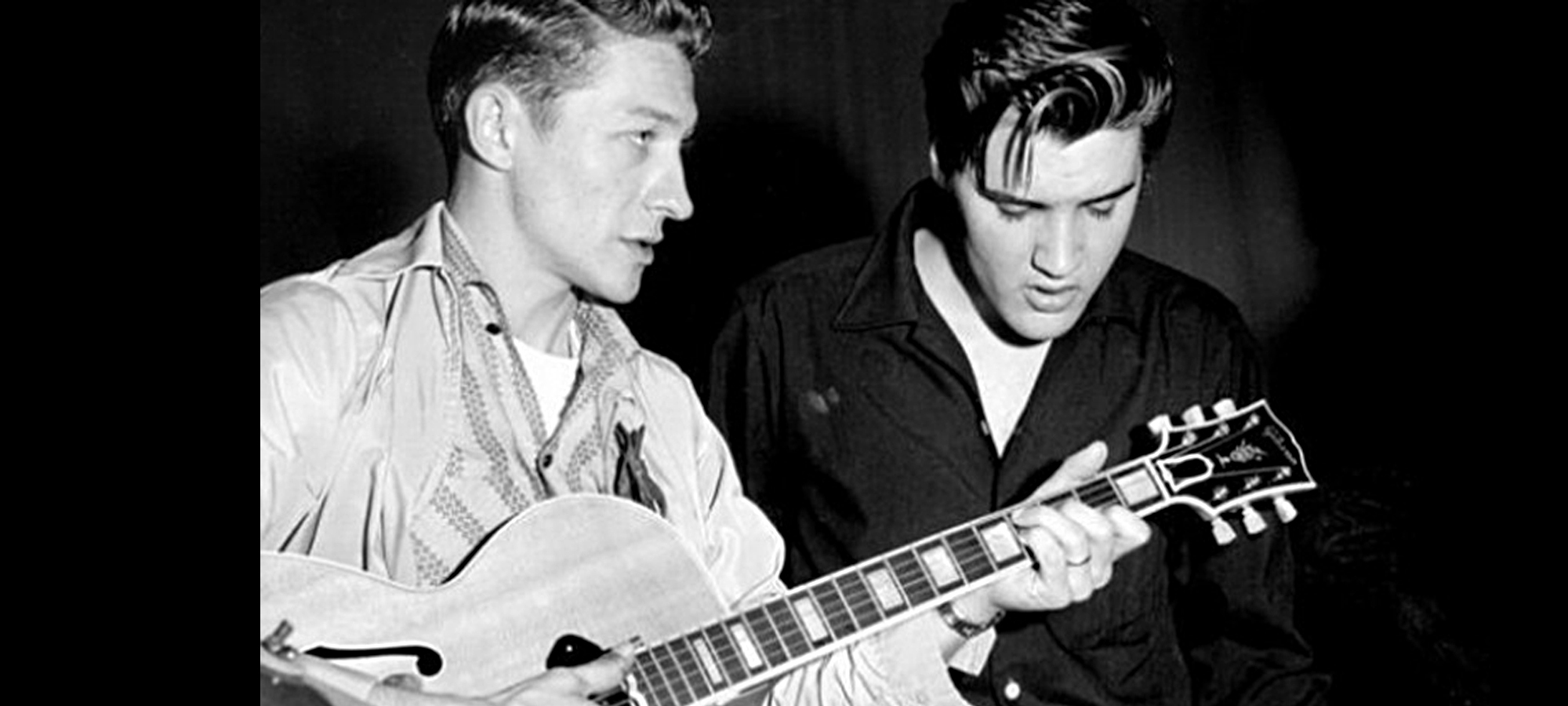 "Everyone else wanted to be Elvis; I wanted to be Scotty," Rolling Stones guitarist Keith Richards once told music writer James L. Dickerson. He's referring, of course, to Scotty Moore, the finger-picking phenomenon who has long been considered rock's first lead guitarist. Mr. Moore, who turns 83 today, was Elvis Presley's sizzling sideman from 1954 through the mid-'60s. The guitar he played in the early days was a Gibson ES-295, nicknamed "The Guitar that Changed the World." Bill Black played double bass and D.J. Fontana played drums in Elvis's original band. Together, these backup players were known as the Blue Moon Boys.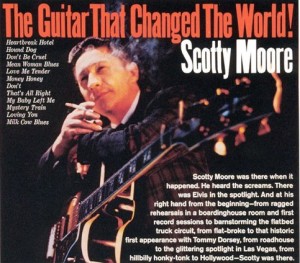 It's been said that Elvis "wore" a guitar more than he actually played one. He left the musicianship to Scotty. The farm boy from Tennessee combined elements of country, western, blues and R&B to create the signature sounds you've heard on countless classic recordings: "Hound Dog," "Jailhouse Rock," "That's All Right," "Good Rockin' Tonight," and "Mystery Train," to name a few.
In Mr. Richards' memoir, Life, he says, "Scotty Moore was my icon…To this day there's a Scotty Moore lick I still can't nail down and he won't tell me. Forty-nine years it's eluded me…And Scotty's a sly dog. 'Hey, youngster, you've got time to figure it out.' Every time I see him, it's 'learnt that lick yet?'" (The lick Keith's referring to is from Elvis's song, "I'm Left, You're Right, She's Gone.")
When Scotty and D.J. Fontana recorded an Elvis tribute album titled "All the King's Men" in 1997, guitar heavies like Keith, Jeff Beck and Ronnie Wood were thrilled to take part in the project alongside the pioneer who inspired them. The Rock and Roll Hall of Fame inducted Scotty in 2000, and in 2011, Rolling Stone Magazine listed him at #44 in their list of Greatest Guitarists of All Time.
Hey, Scotty: here's to Good Rockin' Tonight…and every night!
The quality of this video clip is inferior, but it's a nice look at Scotty being honored at a ceremony in London. The clip features Jimmy Page, Jeff Beck, Jack Bruce, Alvin Lee and other rock guitarists paying tribute to the man who inspired them. 
© Dana Spiardi, Dec 27, 2014
Save
Save
Save