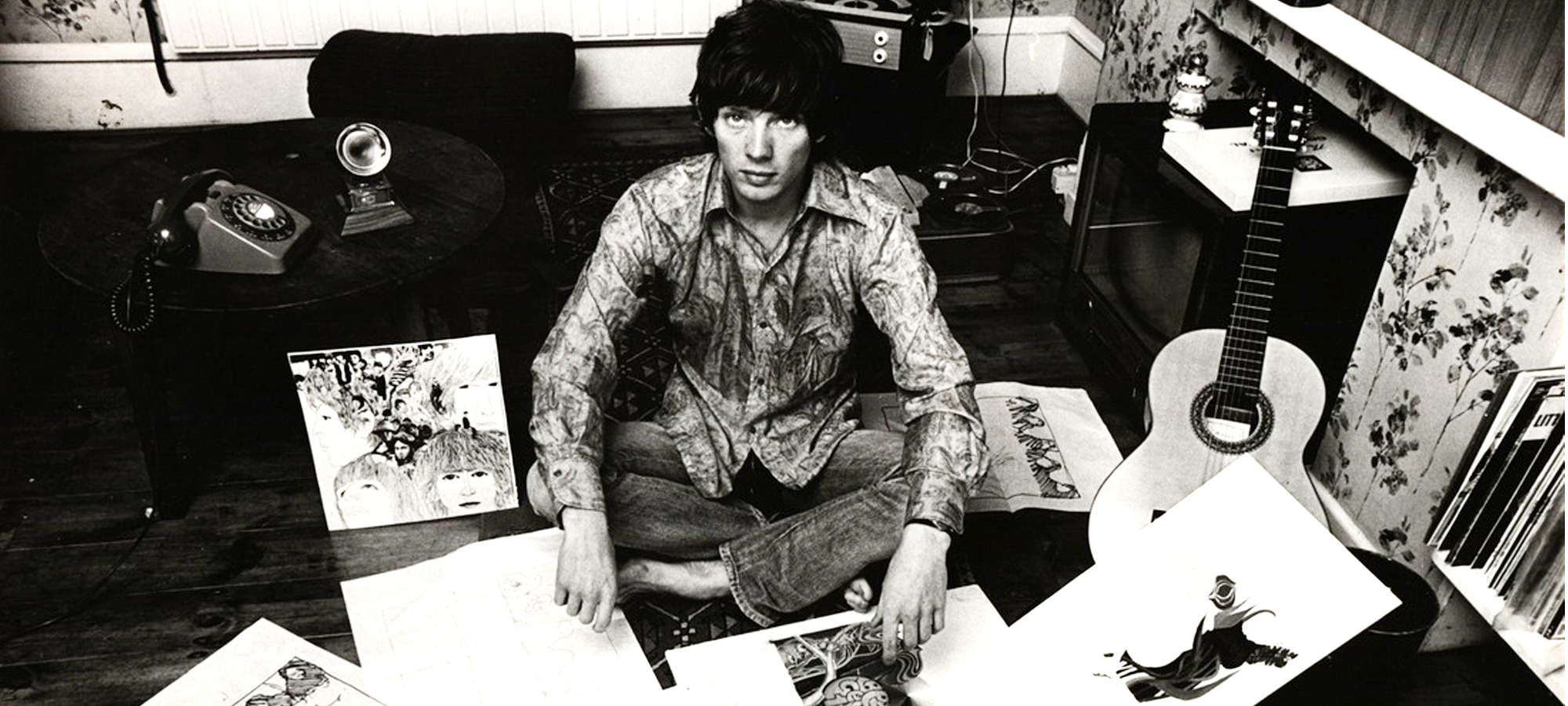 One night in 1960, German art student Klaus Voormann went out slumming and came home a changed man. He'd just had an argument with his girlfriend Astrid Kirchherr, and set off to walk the Reeperbahn, a boulevard in the St. Pauli red-light district of Hamburg, Germany. He heard some raucous music pouring from the seedy Kaiserkeller Club, walked inside, and discovered a band of five amphetamine-charged, leather-clad English boys shakin' down the house. This was his first exposure to a rock-n-roll circus, and he was left – in his words – "speechless." You could reckon that Mr. Voormann, who turns 78 today, had the distinction of being the first international Beatles fan — and a whole lot more.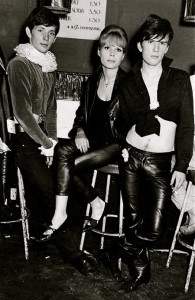 So impressed was Klaus with the sight and sound of those uninhibited musicians that he returned to the Kaiserkeller the following night with Astrid and their friend Jürgen Vollmer in tow. "For me, it was like hearing every great rock-n-roll tune there had ever been, sung by all the greatest singers," said Klaus in Phillip Norman's book John Lennon: The Life. "These Liverpool people were to us like magic."
The stylish, black-clothed Germans, who called themselves Exies for their interest in existentialism, would end up having a major impact on the Liverpool boys in their early days of working the rough Hamburg club circuit. Astrid quickly fell in love with the group's ill-fated bass player Stu Sutcliffe. She cut his hair in the combed-forward style sported by the über-hip Klaus and Jürgen; the other Beatles soon adopted the daring look that would become their trademark. Astrid exposed the boys to a world of bohemian sophistication and took the first professional photos of the band. They remain the most hauntingly beautiful Beatle pictures of all time, portraying hungry young artists on the cusp of stardom.
Klaus would go on to become a lifelong friend of the band, contributing his musical and artistic talents during the group's heyday and long into the boys' solo years.  He is perhaps best known as the illustrator and designer of the cover sleeve of the group's 1966 "Revolver" LP, which features a collage of kitschy photos whimsically sprouting from line drawings of the four fab heads.  The design earned him a Grammy Award for best graphic art. Klaus later designed album covers for The Bee Gees, Gary Wright (Spooky Tooth), Sonny Rollins and Jackie Lomax.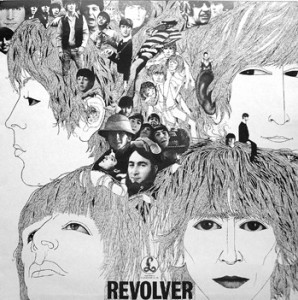 He lived with George and Ringo in their London flat for a time, learned to play bass guitar, and spent three years as bassist in the Manfred Mann band, having turned down offers to play with The Moody Blues and The Hollies. Just prior to the Beatles' breakup, he joined John and Yoko's Plastic Ono Band to perform at the 1969 Live Peace in Toronto concert, and later took part in George's groundbreaking 1971 Concert for Bangladesh. He was held in such high esteem that he was once rumored to be a replacement for Paul McCartney in a reconstructed Beatles band called The Ladders.
In the early '70s Klaus moved to L.A. and kept busy as a session man on projects by Harry Nilsson, Carly Simon, James Taylor, Lou Reed, Randy Newman and many others. He collaborated with each individual Beatle, playing on many of their solo LPs.  In 1995 Apple Records asked Klaus and fellow artist Alfons Kiefer to design the cover art for the Beatles' "Anthology" albums. And, most recently, he spoke of his close friendship with "the spiritual Beatle" in Martin Scorsese's HBO documentary, "George Harrison: Living in the Material World."
Klaus Voormann is an elegant, soft-spoken man who never abused his special relationship with the Beatles.  He's lived a pretty amazing life, for a guy who just happened to stumble into a bar 56 years ago.
Here's more about the talented Mr. Voormann, from the documentary "All You Need is Klaus."

Here is one of  Klaus's many drawings of the Beatles' early days in Hamburg. This was their "living arrangement" in the back of "The Bambi" cinema, where they washed up in the men's room sinks. Click here to see more of his sketches.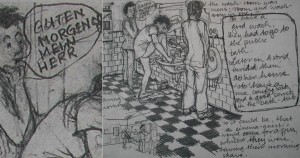 © Dana Spiardi, April 29, 2014