In Italian director Sergio Leone's classic western, "The Good, the Bad, and the Ugly," Tuco Ramírez was il Brutto (the Ugly), played to the hilt by the phenomenal Eli Wallach. The versatile character actor passed away on this date in 2014 at the age of 98. He made more than 80 films during his 60-year career, the most recent in 2010.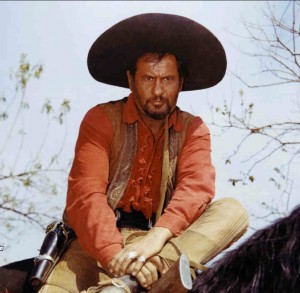 News flash: he slept with the movie's star, Clint Eastwood, during the production of the spaghetti western in Spain. In a 2010 CBS interview he told Tracy Smith that he and Eastwood shared an apartment that only contained one bed. "The beds were this wide," he explained.  "So Clint said, 'Which side of the bed you want?' And I thought, 'I don't know.' I was very radical, so I said, 'I'll take the left side.'" Imagine, rugged 'ol Clint, playing a character named Blondie, shacking up with an hombre.  I guess this issue didn't come up during his run for mayor of Carmel back in 1986!
Thank you, Mr. Wallach – for 60 years of radically great entertainment.

Here are some of my favorite scenes from "The Good, The Bad and the Ugly." Eli, you're the arrabbiata in this spaghetti dish!

© Dana Spiardi, June 24, 2015