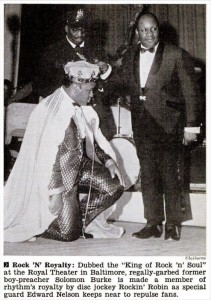 Solomon Burke, the "King of Rock 'n' Soul," would have turned 75 today. He took his title seriously, delivering knock-out performances while sporting a crown and cape and carrying a scepter. His crown was an exact replica of one that resides in England's "crown jewels" Royal Collection, and his 15-foot-long cape was trimmed with real ermine.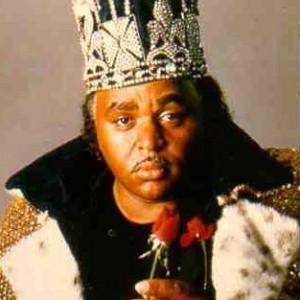 This former child preacher was one of the greatest showmen ever. As he ascended to rock monarchy, soul sensation James Brown took notice and began having royal aspirations of his own. He once invited Burke to perform at one of his concerts, but had ulterior motives. Said Solomon, "He paid me $7,500 to stand onstage and hand him my robe and crown. It was a great gig: I got paid and I didn't have to sing a note." In the end, Burke retained his title and his regal accessories.
Atlantic Records executive Jerry Wexler once called "King Solomon" the greatest male soul singer of all time." Hearing is believing. Even in his later, larger years, his golden scepter of a voice could rattle your soul. He passed away on October 10, 2010.

And this one will lay you low:


© Dana Spiardi, March 21, 2015