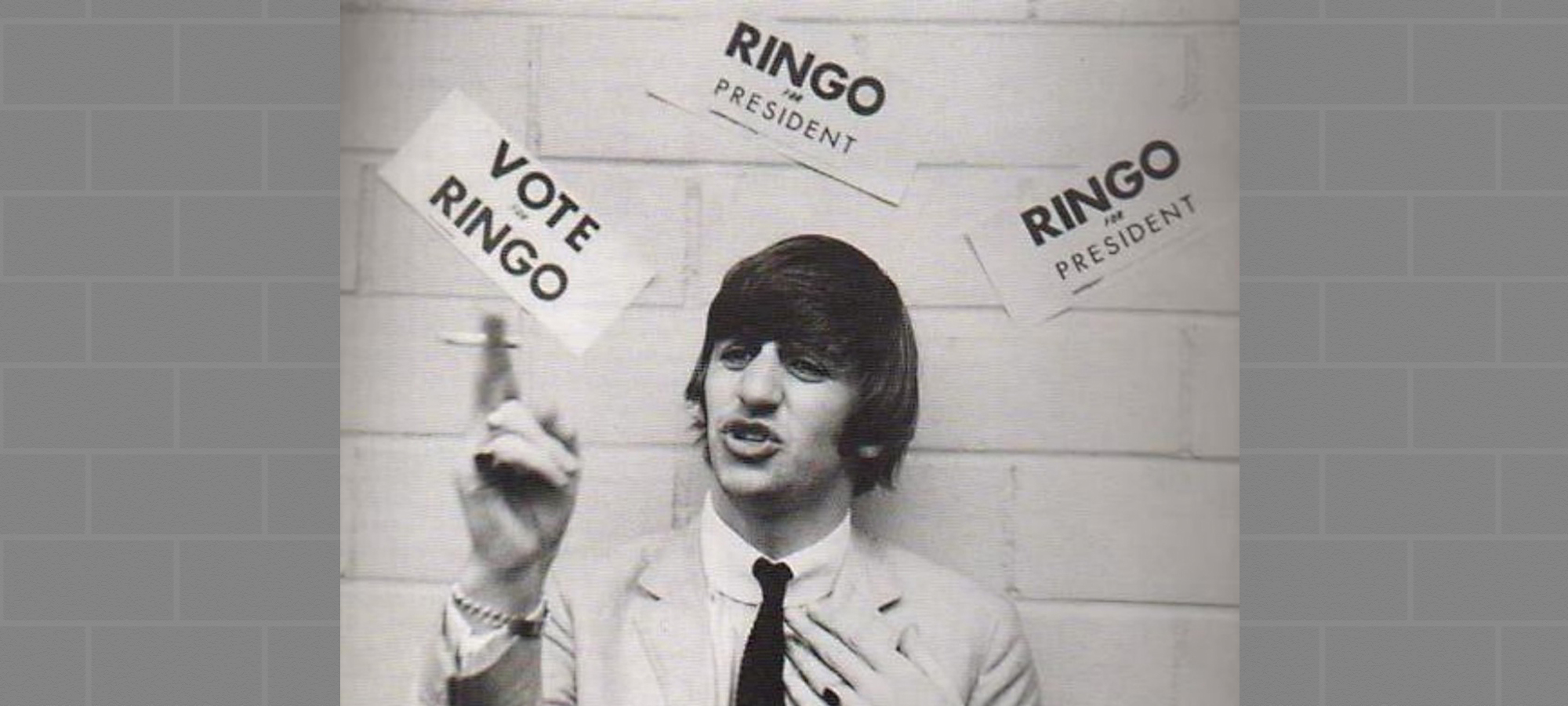 The 1964 Presidential race is remembered for the landslide victory of Democrat Lyndon Johnson over Republican Barry Goldwater. But do you remember the "candidate" whose grassroots campaign was thrust forward by a horde of enthusiastic teenagers? Hint: it was a Beatle. Surprise! It's probably not the one you might have guessed.
When the Fab Four invaded America 50 years ago, Ringo Starr quickly became the favorite of the band's American fans, including me. From his beat-happy debut on the Ed Sullivan show, to his hilarious hip-swiveling Elvis imitation during the band's first press conference, to his scene-stealing role in "A Hard Days Night," Ringo charmed the Yanks like no other.
I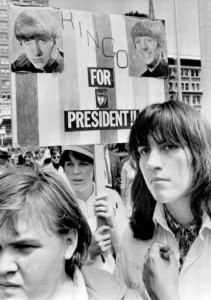 n a March 1964 article in the Saturday Evening Post, veteran music journalist Al Aronowitz said of Ringo: "The most popular of the Beatles in America, he evokes paroxysms of teen-age shrieks everywhere by a mere turn of his head, a motion which sends his brown spaniel hair flying. When he flips his wig, the kids flip theirs. 'Riiinngo! Riinngo!' the kids call out."
Such was his appeal that fans launched a "Ringo for President" campaign in the midst of the Johnson/Goldwater race. A well-organized contingent – most of whose members were below the voting age of 21 – banded together to enter the drummer as a third-party write-in candidate for Commander in Chief. They produced buttons, t-shirts and signs; organized rallies; and even inspired the recording of a novelty song – "We Want Ringo for President" – that was released by both Australian performer Rolf Harris and a studio group called the Young World Singers.
When asked his reaction to this fan-fueled campaign, Ringo said, "Well, it's rather…it's marvelous!", yet admitted that he was not "politically minded."
But his reluctance didn't stop a large group of fans from carrying Ringo signs as they swarmed the perimeters of the GOP National Convention at San Francisco's Cow Palace in July 1964, hoping to drum up votes and draw attention away from Senator Barry Goldwater. The "Vote for Ringo" movement generated enough hoopla that it actually earned a mention in Theodore H. White's best-selling book, The Making of the President, 1964.
Yes, in the parlance of the times, the diminutive drummer was gear that year. "I love Ringo" lapel pins outsold all other Beatle merchandise. British music journalist Penny Valentine wrote a novelty tune called "I Want to Kiss Ringo Goodbye." No other Beatle had the distinction of being memorialized on vinyl in those days. One of the highlights of every Beatles concert was the "Ringo number." The minute John placed the microphone in front of his drums, the audience immediately erupted with hysteria. Critics deemed Ringo the star of the Beatles' 1964 debut film "A Hard Days Night," raving over his natural, "lovable schnook" performance in the stylish, madcap comedy.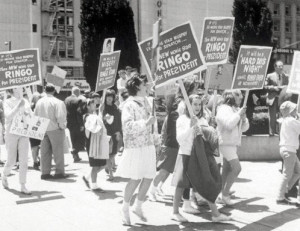 Ringo was at times overwhelmed. He once said, "In the States I know I went over well. It knocked me out to see and hear the kids waving for me. I'd made it as a personality." But he'd go on to prove that he was much more than a mere personality. He was the rock world's most versatile drummer, providing rhythm for some of the most complex songs in modern music. "Ringo's got the best backbeat I've ever heard and he can play great 24-hours a day," George Harrison once said. There isn't a rock drummer from the past 50 years who hasn't cited Mr. Starr as a beat-making godfather. Yet, Ringo modestly describes himself as "your basic offbeat drummer with funny fills."
Like most people who were lucky enough to experience full-frontal Beatlemania during that incredible zeitgeist, I'll always remember where I was and how I felt the first time I saw the band on the Sullivan show. I flipped for all four Fabs that night, but it was the smiling drummer who captured my heart with his sad blue eyes, pouty lips, and shaggy, bopping head. No musician in the history of rock-n-roll ever looked as happy as spunky little Ringo, sitting throne-like above his bandmates (all younger than he), keeping the beat on his Ludwig Black Oyster drum kit the night the Beatles changed the course of music history.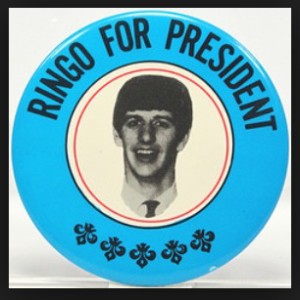 I've been in love with "this boy" all my life. I've sat on the stoop of his childhood home in Liverpool's poor Dingle neighborhood. I proudly display the Ringo doll my grandmother bought me soon after I fell for him. I've had the pleasure of seeing him four times with his All-Starr Band. He even high-fived me once, as I reached up to him from the foot of the stage.
Now here I am, joining millions of others, getting ready to watch Ringo reunite with Paul tonight for an anniversary gala marking the night they "auditioned" for America with their long-gone bandmates John and George. World renowned musicians will pay tribute to the group that inspired them. Every media outlet in the world will cover the event. Facebook and Twitter will be abuzz with posts. Rock writers will churn out a few more books on the musical and cultural significance of the phenomenon known as the Beatles. And while all this fanfare is going on, I somehow get the feeling that deep down, Richard "Ringo" Starkey, the sickly boy from the Liverpool slums, still can't quite believe what happened to him.
I love this montage of Ringo's movie scenes, beautifully assembled by one of his fans:

Here's Rolf Harris's version of "We Want Ringo for President":

© Dana Spiardi, Feb 9, 2014