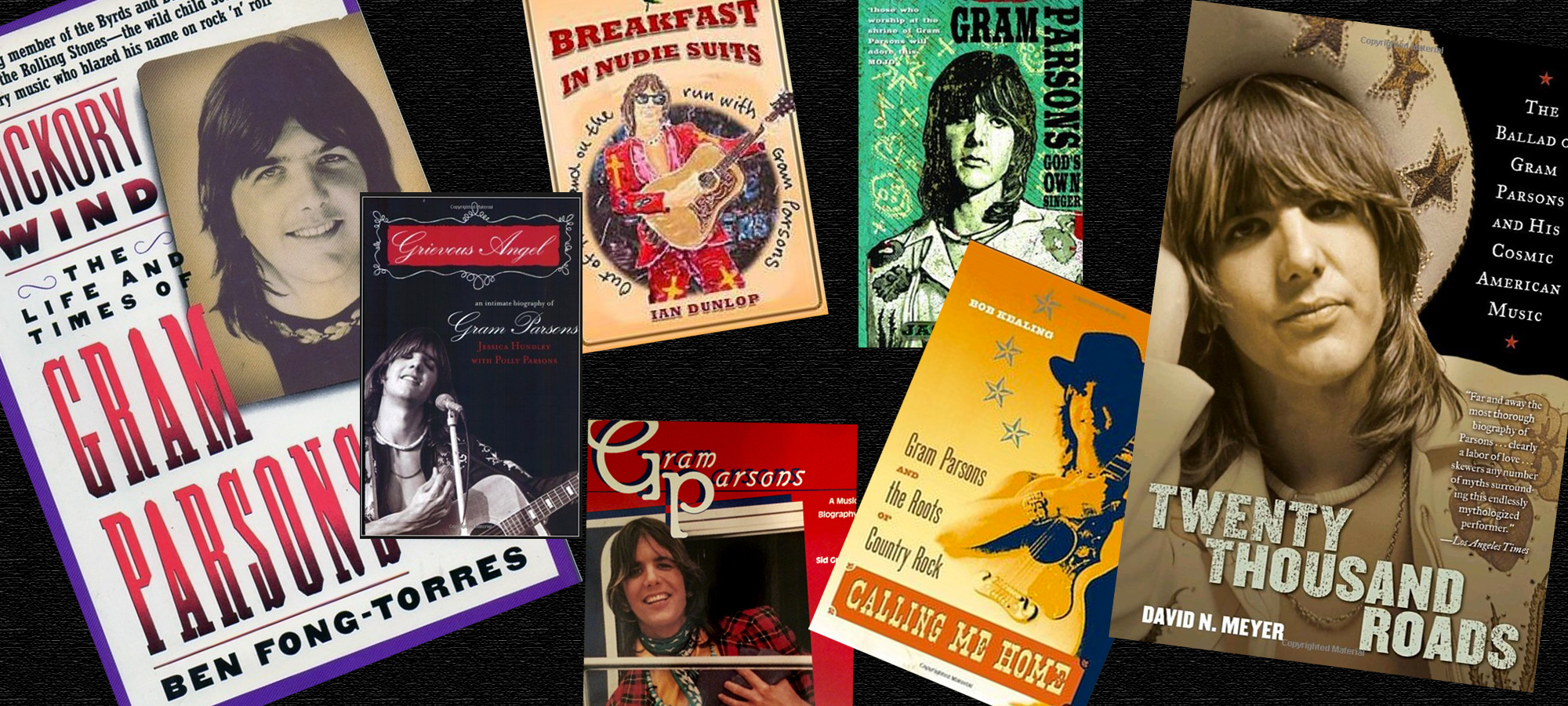 I've read six books about a singer/songwriter that some of you may barely recognize or recall: Gram Parsons. Six books. And three more that feature him prominently. I begin each bio hoping to understand how and why such an enormously gifted musical visionary chose, or was predestined, to recklessly self-destruct at such a young age. The biographies present a wealth of information: about how this well-mannered Southern boy pioneered and popularized the merging of country sounds with rock, rhythm and folk…about his influence on artists as diverse as The Rolling Stones and Elvis Costello…about how he put Emmylou Harris on the map. But all the books end the same way: with Gram dead at age 26 from a heroin overdose in a bleak desert motel room on September 19, 1973. Why was he unable to grasp major commercial success? Why don't more people – even knowledgeable music fans – know his work? Gram Parsons' tragic-romantic personal history rattles my brain. His music rattles my soul.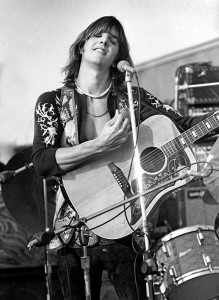 Gram's early life was full of all the sordid ingredients that make for a classic southern gothic melodrama. Born into a filthy rich family on November 5, 1946, Ingram Cecil Connor III would lose both parents while still a teen. When Gram was 12 his alcoholic father committed suicide at the family home in Waycross, Georgia. Soon after, his mother – heiress to a Florida citrus empire – married a philanderer named Robert Parsons, who adopted Gram and his younger sister Avis. On the day Gram graduated from high school his alcoholic mother died from cirrhosis of the liver. Bob Parsons wound up marrying the household babysitter and putting young Avis in a mental institution. Gram ended up with a large trust fund that would sustain him financially for the rest of his life. He headed to Harvard, dropped out after one semester, and soon hooked up with musicians who helped crystallize his musical ambitions.
This early history is crucial, because it sheds light on how and why Gram turned out the way he did – and how he ended up writing some of the most heartbreaking songs in history. But I'll stop here with the biographical details. There is plenty of juicy Gram lore on the Internet. All of his major personal and professional highs and lows are well documented: his hasty flight from the Byrds on the eve of a tour of apartheid South Africa; his high-output days with Chris Hillman in the early Flying Burrito Brothers; his exchange of musical knowledge, pharmaceuticals and heroin cures with brother-figure Keith Richards; his often erratic drug- and alcohol-fueled performances; his brilliant collaborations with Emmylou; his sad death from morphine and booze in Room 8 of the low-rent Joshua Tree Inn just as his solo career was taking off.
And then there's the grandaddy of all Gram legends: the kidnapping and DIY cremation of his body in Joshua Tree National Park by his inebriated, ex-con road manager Phil Kaufman – a tale so twisted it became the basis for the moronic movie Grand Theft Parsons. This stunt, coupled with the poor-little-rich-boy saga of his early years and the high-lonesome style of his life and music, have elevated Gram Parsons to mythic status.
Like so many others who died young from misadventure, Gram has been analyzed, scrutinized and lionized by countless music historians. He's described by all who knew him as winsome, magnetic, well-mannered, passionate, generous, visionary, even "cuddly" (yes, fellow Burrito Chris Hillman said that). One of my favorite quotes is from the superb music writer Stanley Booth, who said, "Gram was in his way a pure soul, pure and driven as the driven snow. When I met him, he looked like a green-eyed Palomino pony."
Yet, he's described by many of the same people as irresponsible, flighty, self-centered, spoiled, attention-hungry, musically careless, even fatalistic – destined to follow the path of his self-destructive parents. Manuel Cuevas, the Nudie's Rodeo Costumes tailor who created some of the world's most spectacular stage wear, speculates that Gram was predicting his manner of death when he asked him to embroider flames, poppies, multi-colored pills, marijuana leaves, a crucifix and nude women onto the famous suit he was so often photographed wearing.
In the end, what's most important is Gram Parsons' contributions to the world of music. One of things that most impresses me was his unflinching devotion to turning the world on to the beauty and honesty of the country sound and its natural role in what he referred to as Cosmic American Music. Tales of Gram jumping onto his motorcycle to race off and buy George Jones and Merle Haggard records to play for his country-illiterate friends are legendary.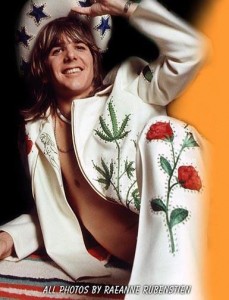 Promoting and performing country music the way he did during the height of the psychedelic, protest-era 1960s was a gutsy thing to do. His efforts offended many country purists and turned off just as many rock fans. Singing onstage in hardcore cowboy clubs wearing flamboyant, sometimes effeminate, country-western clothing took a lot of confidence (and he had it in spades). Many argue that Gram didn't invent country rock (a genre term he hated, by the way). Others were injecting twang into modern music years before he came along. But it was this groovy, gorgeous, long-haired Harvard dropout who made country COOL. By the mid-1970s there would be a glut of soulless country rock acts. The music became mainstream, boring, and just plain commercial.
If you're a Gram devotee, you dig what I'm saying. If you're new to all this, go to the Internet and sample his songs. Watch some of the few available videos of his performances on YouTube. Check out his early work with the International Submarine Band, the Byrds and the Flying Burrito Brothers. Pay close attention to two of his masterpieces: "Hickory Wind" and "Hot Burrito #1." And don't overlook his final solo albums – "GP" and "Grievous Angel" – which feature his brilliant harmonies with the ethereal Emmylou Harris, who today is Gram's biggest champion.
Some of these sounds will make you swing and some will make you sad. But that's okay. Who doesn't love a deliciously melancholy tears-in-your-beer heartache song?  When I hear Gram, with his alcohol-marred, high-lonesome voice harmonizing with Emmylou on the gorgeous "A Song For You," I can literally sense his demise. This is an audio snapshot of an artist stripped bare for all the world to see. Rest in peace, Gram Parsons. You saw your devil…and you saw your deep blue sea.
Here's Gram and Emmylou, singing "Return of the Grievous Angel." The great James Burton, who played with Elvis from 1969 to 1977, provided guitar on this track. "Pick it for me, James!"

And here's the gorgeous "Hickory Wind," which Gram wrote and performed during his short time as a member of The Byrds. When the band played the Grand Ole Opry in March 1968, Gram shocked the audience by playing this song instead of the one he was slated to perform, Merle Haggard's "Life in Prison." The Opry and its fans felt that Gram violated the venue's policy of performing only pure country music.

Click here to help induct Gram in to the Country Music Hall of Fame.
Click here to learn about Hickory Wind Ranch Recovery Center, founded by Gram's daughter, Polly Parsons.
Photo of Gram in the cowboy "Nudie Suit" is by Raeanne Rubenstein.
© Dana Spiardi, Sept 19, 2013