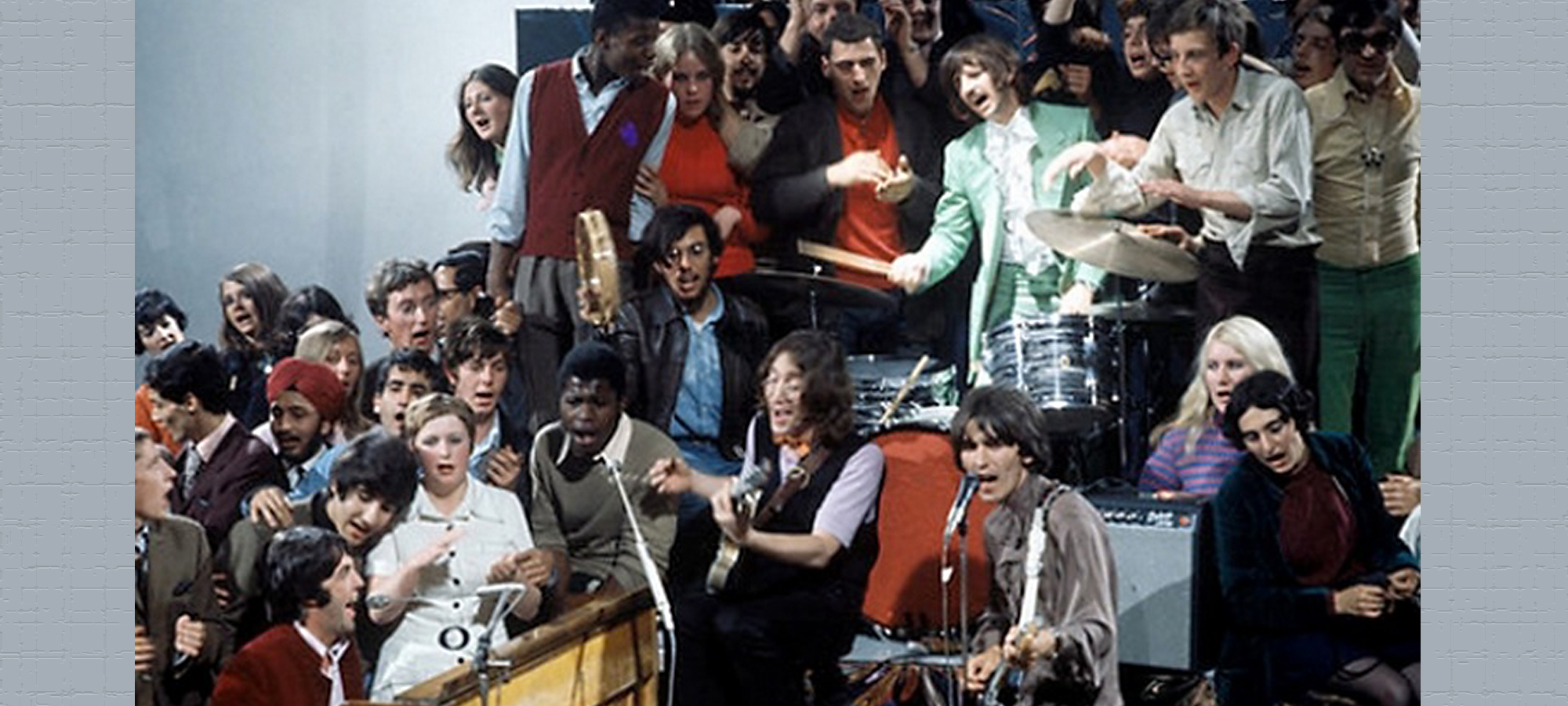 "The Greatest Tea Room Orchestra in the World" is how British journalist and talk show host David Frost described The Beatles when they played "By George, It's The David Frost Theme" on his September 8, 1968, talk show. The tune was written by Beatles' producer George Martin. The boys appeared on the show to promote their new single, "Hey Jude," but couldn't resist hamming it up a bit. Below is a short, grainy video clip of the Beatles performing the Frost theme song. Check out John's bit of silliness at the end.

David Frost died this past Saturday at age 74. While I found his persona a bit annoying, I applaud him for snaring some great interviews, most notably the ones with Richard Nixon. Beatle fans will be interested to know that Frost interviewed the Fab Four on various occasions throughout the years.
One of my favorite Frost-Beatle moments is from this July 10, 1969, episode. John tossed acorns into the audience, announcing that it was "acorns for peace" week. Yoko presented the interviewer with a "box of smile," which contained a mirror. Oh, the Sixties. How we miss them.

Prior to this, J & Y appeared on Frost's show on August 24, 1968, marking their first TV interview as a couple. To demonstrate their notion that viewers of art should participate in the art itself, they asked two audience members to hammer nails into a board and talk about how they felt while doing it. Their comments ranged from "satisfaction" to "unbelievable."

The two gurus in drag would appear on Frost's show once more – on January 13, 1972.  This interesting hour-long episode featured a segment in which several audience members have a heated exchange with John regarding his song "Attica State." They accuse him of defending the rioting prisoners, and criminals in general ("free the prisoners, jail the judges," according to the lyrics). Yippie leader Jerry Rubin is on stage with the Lennons. The guy behind Yoko is making paper airplanes.

On September 29, 1967 – at the height of psychedelia – John and George spent an hour enlightening David and his audience on the subject of transcendental meditation. I love this exchange: Harrison: "I believe in reincarnation…you keep coming back until you have got it straight. Lennon: "Buddha was a groove, Jesus was all right, Krishna is wonderful." It was around this time that Queen Elizabeth remarked to Sir Joseph Lockwood, chairman of EMI Records, "The Beatles are turning awfully funny, aren't they?"

Ringo appeared on the show in 1970 to promote his new LP, "Sentimental Journey." He said the album contained the types of songs his parents would sing when they returned home after evenings at the local pub, "out of their heads" (drunk).

Paul McCartney appeared on Frost's show three times: in 1964, 1965 and 1997. In this 1964 broadcast he talks about The Beatles' success and future plans. He said that if the band were to flop, he'd find something else to do — perhaps write songs for other people…or retire. To which Frost said, "Well, it will be a great pleasure to watch Paul McCartney in retirement, but it will probably be in the year about 2010, I should think."

Farewell, David Frost. Wherever you're headed, I hope you don't have to encounter Tricky Dicky again.
© Dana Spiardi, Sept 2, 2013