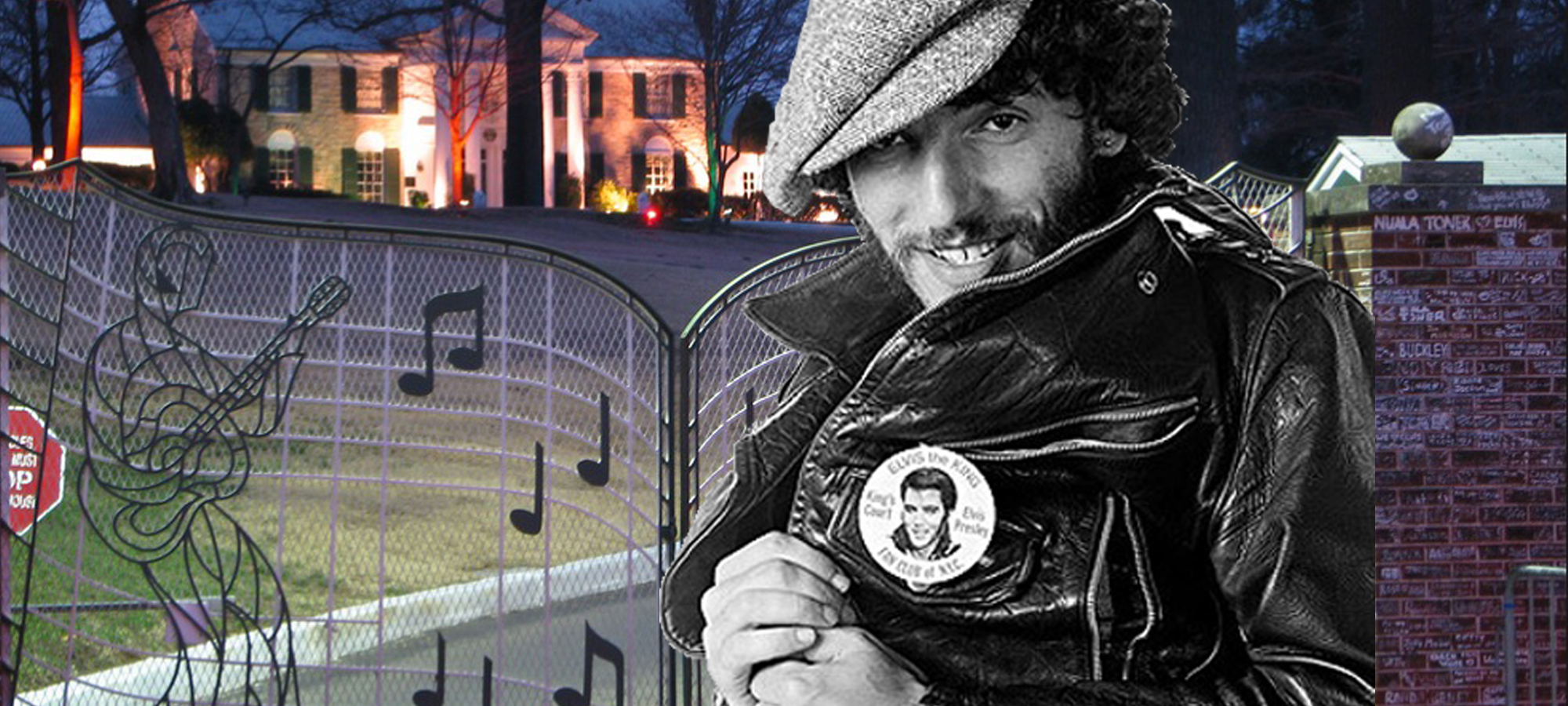 All The King's men. That's a royal court that could include every seasoned rocker whose creative spark was first lit by the sight and sound of Elvis Presley. They started out wanting to be him, and spent their lives dying to meet him. Some were fortunate enough to encounter The King long before their moms bought them their first guitars. Future country rock pioneer Gram Parsons was 9 years old when he shook hands with the new singing sensation backstage at the Waycross City Auditorium in Georgia in 1956. Tom Petty was 11 when his uncle introduced him to the star while he was filming Follow That Dream in Florida in 1961. Petty and Parsons were lucky; most artists had to wait till they were big league players before even contemplating a face-to-face with Elvis. And even then it wasn't easy to enter his well-guarded world.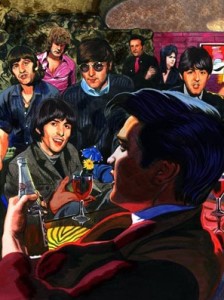 By the mid-1960s the sharecropper's son from Tupelo, Mississippi, had begun to develop a suspicious mind regarding the new crop of electrified rockers – especially four long-haired boys from England who were inciting even bigger riots than he did at the height of his fame. But The Beatles were oblivious to all that; part of the thrill of conquering America was the chance to finally meet their idol. After much logistical wrangling, Elvis handler "Colonel" Parker and Beatles manager Brian Epstein finally arranged a get-together on the evening of August 27, 1965. The Beatles were staying in a rented house in Los Angeles, having just played two shows at the Hollywood Bowl. They were to visit Elvis at his home on Perugia Way in Bel Air, where he was relaxing after completing his latest film. The meeting began in an uneasy manner, with the awestruck Beatles at a loss for words (even John!). Finally, Elvis said, "If you guys are just going to sit around and stare at me, I''m going to bed." That broke the ice, and The King and his adoring subjects spent the next four hours shooting pool, listening to records, jamming with Elvis's guitars, and talking about current movies. But the relationship ended there. Years later Elvis would criticize the Beatles for what he called their "anti-American spirit."
Through the years, the increasingly medicated Elvis would meet increasingly odd fans who idolized him. Some encounters were quite bizarre, like the time in 1970 when he invited Alice Cooper, Liza Minnelli, Chubby Checker, and Deep Throat porn star Linda Lovelace to his Las Vegas penthouse after a show. What an ensemble! Shock-rocker Cooper later told The London Mirror: "Elvis took me into the kitchen, opened a drawer, and pulled out a loaded pistol, telling me to put it to his head. A little voice in my left ear was telling me, 'Go on, this is history — kill him. You'll always be the guy who killed Elvis.' A fraction of a second later Elvis did a flying kick on the gun and sent it flying, before tripping me and pinning me to the ground by my neck, announcing, 'That's how you stop a man with a gun.'"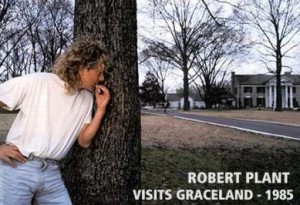 Elvis owned quite an arsenal, but guns or no guns, he was still a few years away from climbing that final stairway to heaven when he met the hard rocking Led Zeppelin. Sometime in the early '70s (dates vary), the four members of the British band attended an Elvis concert, during which The King gave them a nice shout-out from the stage. Legend has it that Elvis stopped singing a song and jokingly told his band, "Wait a minute…if we can start together fellas, because we've got Led Zeppelin out there…let's try to look like we know what we're doing." At this point, Zeppelin albums were outselling Elvis records by the millions. But the rock gods posed no threat to the man whose devoted worldwide fans outnumbered theirs, then and now.  One night after a show, Elvis  agreed to meet Zeppelin's two frontmen – guitarist Jimmy Page and singer Robert Plant – in his hotel suite. And no, they didn't spend the night browsing through Elvis's personal copy of The Physician's Desk Reference.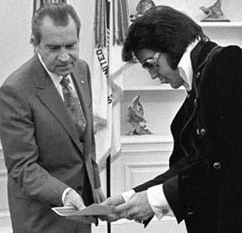 Here's how Plant described the encounter to Paul Cole in the British tabloid Sunday Mercury: "As we all chatted, Jimmy Page joked with Elvis that we never bothered much to do soundchecks before our gigs. But when we did do them, all I wanted to do was sing Elvis songs! Elvis thought that was really funny and asked me what my favourite song was, which tunes I enjoyed the most. I told him I liked the ones with all the moods, like that great country song 'Love Me.' You know, the one that goes: Treat me like a fool, treat me mean and cruel, but love me. We had an illuminating and funny 90 minutes with Elvis. When we were leaving, I was just walking down the corridor when he swung 'round the door frame, looking quite pleased with himself, and started singing that song to me: Treat me like a fool… I turned around and did my best Elvis right back at him. We stood there for quite a while, singing to each other!" Imagine — two of the world's most sought-after hunks, serenading each other in a hallway. Oh, to have had cell phone video cameras back then.
Paul Simon once sang, "I've a reason to believe we all will be received in Graceland." And indeed, millions of fans – including hundreds of rock stars – have been welcomed at Elvis's former estate since it opened for public tours in 1982, five years after his death. Few, if any, musicians were lucky enough to be invited to the house while Elvis occupied it. But one late night in 1976, a skinny Jersey boy on the cusp of superstardom had the chutzpah to drop by the mansion, uninvited, to pay Elvis a personal visit. (Much like The King had once dropped by The White House, uninvited, to pay Richard Nixon a visit.)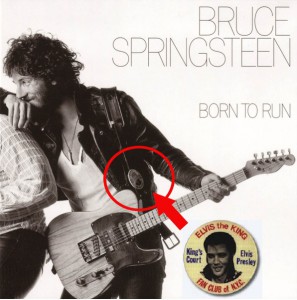 Bruce Springsteen is one of the world's biggest Elvis fans. Like scores of boys growing up in the 1950s, he asked his mom to buy him a guitar the very day after seeing the singer perform on The Ed Sullivan Show. Flash forward to 1976: Bruce was in the middle of his phenomenal "Born to Run" tour to promote his third LP. Despite having been featured on the covers of both Time and Newsweek magazines on the same date – October 27, 1975 – he was still a bit of a cult star, playing small clubs and college auditoriums. On April 29 of the following year, Bruce and the E Street Band had just wrapped up another one of their four-hour extravaganzas, this one in Memphis. A wired-up Bruce decided the time was ripe to visit the man who started the whole ball rolling. So, with sidekick Steven Van Zandt in tow, he hailed a cab to Graceland, saw a light in an upstairs window, and knew just what he had to do: walk right up to the front door, ring the bell, and ask to see Elvis. Now, if he could just jump over that wall and convince those security guards…
In the video below, Bruce tells the entire funny story.  It used to be one one of his favorite concert tales. The song he sings in homage to Elvis is called "Johnny Bye Bye," based on the old Chuck Berry tune, "Bye Bye Johnny." Nobody pays tribute to the founding fathers, or articulates rock-roll passion, quite the way Bruce does. What a pity the man we call The Boss never got to meet the man we'll always call The King. They woulda got on like a house on fire.
Leaving Memphis with a guitar in his hand
With a one way ticket to the Promised Land
Hey little girl with the red dress on
There's a party tonight down in Memphis town
I'll be going down there if you need a ride
The man on the radio says Elvis Presley's died
Bye bye Johnny
Johnny bye Bye
You didn't have to die
You didn't have to die
© Dana Spiardi, May 2, 2013
Save