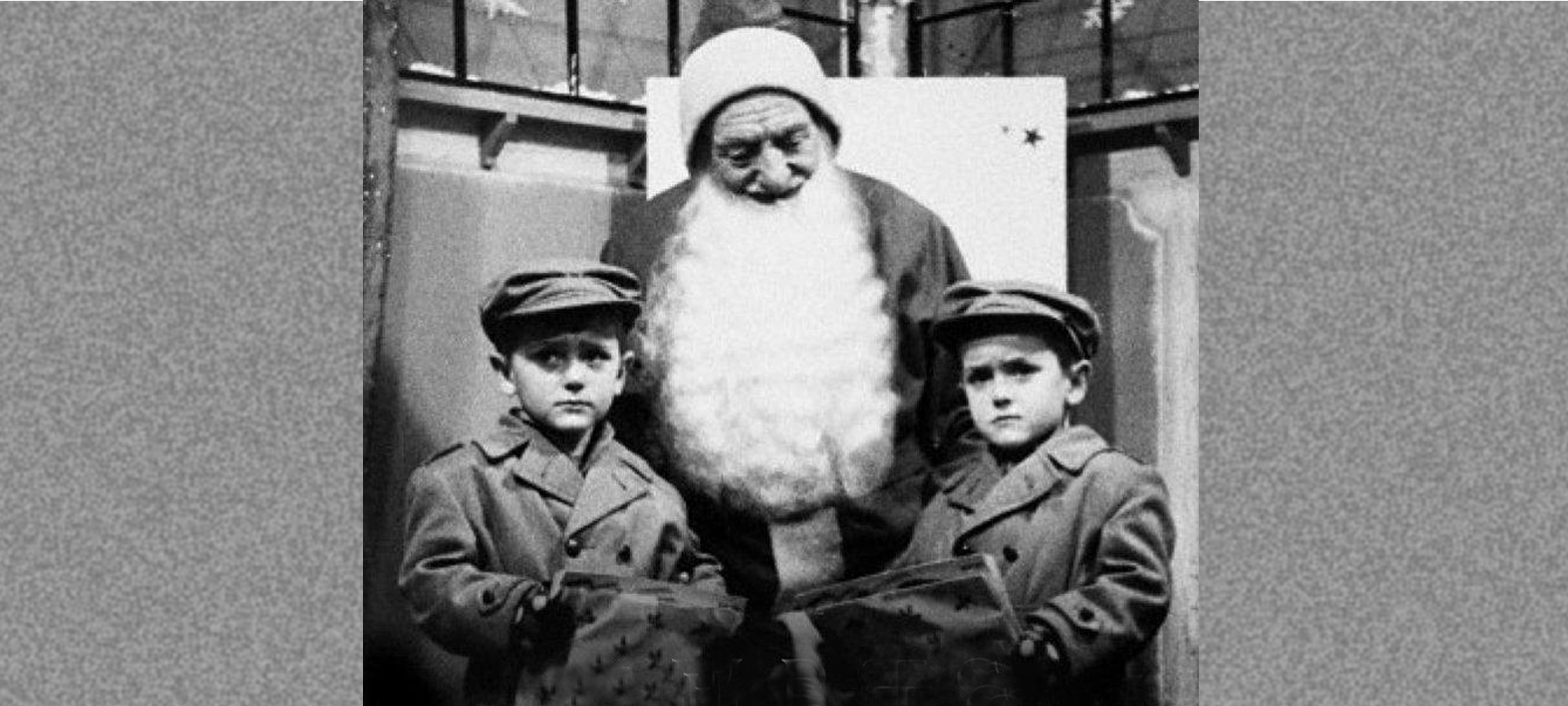 If you're looking for a list of the most beloved Christmas carols, you've come to the wrong blog. Times have changed, after all. The Little Drummer Boy is set to tour with Bruce, and Frosty's a puddle on my front lawn – a victim of global warming. And if you're seeking recommendations for the most popular rock and R&B-oriented holiday songs, you've landed on the wrong page. Chuck Berry has run-run Rudolph right into the hands of the hunters, and Brenda Lee has rocked herself senseless around that Christmas tree in an eggnog and opiate frenzy. BUT, if you're the type of character who's searching for a collection of interesting alt-Christmas tunes, you've found a home here at The Hip Quotient. Allow me to present my twelve days of Christmas music. These aren't novelty songs or updated covers of traditional classics. They're all original compositions from artists of all stripes.
Day 1
The Ramones: "Merry Christmas (I Don't Want to Fight Tonight)"
Why is it that family feuds seem to go hand-in-winter-mitten with Christmas? Too much booze + resentments galore + a disappointing gift + the loudmouth boor that won't shut up + noisy brats going bonkers + the selfish prick who wants to control everything = a ticking time bomb. Well, here are the Ramones, those punk rock pioneers from Forest Hills, Queens, to remind us all that Christmas ain't the time for breaking each others' hearts. This video features vocalist Joey (Jeffrey Hyman, a nice Jewish boy who knew a thing or two about family feuds), lead guitarist Johnny (John Cummings, a fighter for all seasons), drummer Marky (Mark Bell), and bass player C.J. (Chris Ward). Original bassist Dee Dee (Doug Colvin) played on the studio version of this song, which was released as the B side of the single "I Wanna Live" in 1987. (Factoid: The Ramones have written at least eight songs with the words wanna or want to in the title.)

Day 2
Run-DMC: "Christmas in Hollis"
Put a little hip-hop in your holly jolly holiday with this cool cut from Run-DMC. Formed in Hollis, Queens, in 1981 by Joseph Simmons, Darryl McDaniels, and Jam Master Jay, Run-DMC was one of the earliest and most influential of the hip-hop groups. Like many rap songs, this one employs "sampling," a technique in which an artist takes a portion (sample) of an existing recording and re-uses or re-formats it for use in a new song. In "Christmas in Hollis" you'll hear snippets of "Frosty the Snowman," "Jingle Bells," and "Joy to the World." But the main riff is derived from a 1968 Clarence Carter song called "Back Door Santa."
Don't give rap a bad rap. It's urban poetry with a beat that wakes yer feet. Now, open your mind and take a listen.

Day 3
James Brown: "Santa Claus, Go Straight to the Ghetto"
Unlike some of his contemporaries, Godfather of Soul James Brown carefully distanced himself from the civil rights movement of the 1960s. But in the aftermath of Martin Luther King, Jr.'s assassination in April 1968, he did write one or two songs of a socio-political nature. The most famous was "Say it Loud, I'm Black and Proud." During that same time frame, he also penned a number with a more subtle message: "Santa Claus, Go Straight to the Ghetto." It's a very stylish tune that paints a picture without being overly sentimental or accusatory. But there's an aura of sadness there: Never thought I'd realize I'd be singing a song with water in my eyes. Hey, Santa! Don't you forget those kids in the projects. Tell 'em James Brown sent ya!

Day 4
The Rolling Stones: "Winter"
Lots of popular holiday songs have no mention of Christmas in their lyrics: "Sleigh Ride," "Winter Wonderland," "Let it Snow." I'd like to add one of my personal favorites to the list: "Winter," a lovely 1973 ballad by The Rolling Stones. Although guitarist Keith Richards is credited as having co-written the song with Mick Jagger, he didn't play on it. The role of lead guitarist was filled by the talented Mick Taylor, whose brilliant fingerwork gives this song its beauty. Mick may be singing about his longing for hot California summers, but to me this is a love song to dreamy, dark, magical winter – one of my favorite seasons.

Day 5
The Futureheads: "Christmas Was Better in the 80s"
I think almost everybody has an era they'd like to revisit…a time that evokes bittersweet memories of people and places we miss…the days when we had better hair and hips. But you know darn well those "good old days" weren't really THAT great while we were actually living them. Just like now, we were bitching about one thing or another, looking back at so-called happier times, and dreaming of better days ahead.
Now, here's a British post-punk band called The Futureheads, reminiscing about a favorite time: Christmas in the 1980s. It was a time when young people could find amusement with Cabbage Patch Kids, Rubik's Cubes, and Nintendo, while adults could entertain themselves with the Sony Walkman, porno tapes on the newfangled videocassette player, and cocaine. (As for me, I'd like to revisit Christmas of 1967, when I received my all-time favorite gift: my Aurora HO-scale slot-car racing set; it still works and I still play with it.) Now, check out this delightful video from The Futureheads. I hear shades of Devo and XTC here!

Day 6
R.E.M.: "Christmas Griping"
I'm so sick of hearing about Grandma getting run over by a reindeer that I'm ready to throw myself under a speeding sleigh. I need something new in the dark humor category, don't you? Take a minute to listen to Michael Stipe and his R.E.M. bandmates conjure up some even stranger scenarios:
I'll tell you what: if I hear 'Rudolf the Red Nosed Reindeer' one more time I'm gonna go up on a tower with a high powered rifle…
Wouldn't you just love to throttle the person that invented fruit cake?…
Take a white marshmallow, put it on a coat hanger, put it on the fire, get some chocolate bars and some bread crackers, and then you slush it, and then you eat a hundred of them and vomit…
I'm still having nightmares about Burl Ives…
Aren't they merely saying what we're all really thinking by now? Okay, so this isn't much of a song, but it was the one R.E.M. chose to release as the 1991 Christmas single for their fan club (a tradition popularized by The Beatles, by the way). This little nonsense tune is really growing on me. It's got a great beat and I can bounce up and down to it while I act all bah humbug and shit. Boom shaka laka laka, ho ho ho.

Day 7
Hurts: "All I Want for Christmas is New Year's Day"
Did you ever have a year so bad you couldn't wait for it to end? I know it's silly to think that the simple act of turning a calendar page will wipe the slate clean and give us a fresh new start, but we all wish for it, don't we? Here are singer Theo Hutchcraft and synthesist Adam Anderson – two guys from Manchester who call themselves Hurts – singing about the hope that the new year holds. All of the bells ringing out for Christmas / I'm saying goodbye to the year before / I know that the next one will be different / so much more. The song's video features stylishly solemn mourners at a grave site. As they bury the old dead year, a lovely tree of hope emerges and lifts their spirits. This is haunting, dreamy, and beautifully melancholy – three of my favorite states of being.

Day 8
The Knife: "Christmas Reindeer"
This quirky little song about a Scandinavian reindeer is the true oddity of this bunch. I wanted to present one tune from another country (besides the U.K.), and this is my favorite. Too bad it wasn't sung in Swedish. It would have enhanced the hypnotic mood of the song. But at least with English lyrics you can better appreciate the somewhat poetic words: and you move like shadows / in the dark / and you glitter and you glimmer / and you bark. Now, here's Karin Dreijer Andersson and Olof Dreijer – a brother/sister duo called The Knife – with their electro-pop "Christmas Reindeer" song. (I don't think Rudolph has anything to worry about.)

Day 9
Low: "Just Like Christmas"
This gorgeous song by a 3-member indie band from Duluth, Minnesota, has cut me deep. I only recently discovered it, and yet I feel like this sound has been buried somewhere in my heart all my life. It's a weeping willow of a tune, with a shuffling beat, sleigh bell sounds, and distant thundering drums — sung by a woman named Mimi Parker who sounds a bit like Carly Simon. She and her bandmates Alan Sparhawk and Steve Garrington appear to have found a fan in singer Robert Plant. In 2010, he recorded two of Low's songs for his "Band of Joy" LP. That same year he praised their album "The Great Destroyer" during an interview with Chris Talbott of the Associated Press, saying, "It's great music; it's always been in the house playing away beside Jerry Lee Lewis and Howlin' Wolf…" Click here to sample some of Low's work.
But first, take a listen to "Just Like Christmas." I hope you like it as much as I do.

Day 10
Poly Styrene: "Black Christmas"
Don't be fooled by this tune's lively reggae beat. It's a big slice of sad social commentary, not gooey fruit cake. But I'm including it because it represents how an artist was personally affected by news of a horrendous event. British punk rock pioneer Poly Styrene (Marianne Joan Elliott-Said) was inspired to write this song following news of a Los Angeles man, Bruce Jeffrey Pardo, who went on a killing spree dressed as Santa Claus in 2008. Ms. Styrene, the daughter of a Scotch-Irish legal secretary and a dispossessed Somali aristocrat, fronted an early U.K. punk rock group called X-Ray Spex. Her daughter Celeste co-wrote "Black Christmas" and appears in the video with her. Poly died of breast cancer at age 53, a few months after this song's release. So, check out "Black Christmas"…and remember, the holiday season can be a sad, lonely time for more people than you may ever imagine. (Note: you can get rid of the annoying box that appears over the video by clicking the X in its top right corner.)

Day 11
The Pogues: "Fairytale of New York"
This song by Celtic punk/folk band The Pogues is said to be the most popular Christmas carol in Ireland (do people stroll from house to house singing it?) Well, it's one of my personal favorites, as well – at any time of the year. On the surface, it's about despair and disillusionment: the dreams of dysfunctional immigrant lovers fly away with the sidewalk soot of the big city. They fight and they curse, in high Irish style:
He: You´re a bum, you're a punk / You´re an old slut on junk.
She: You scumbag, you maggot / You cheap lousy faggot.
But the melody is lovely, with lyrical references to two beloved Irish tunes, "Galway Bay" and "The Rare Auld Mountain Dew" (I turned my face away / and dreamed about you). You may think I'm nuts, but I sense an aura of hope tucked away in this song. The closing words convince me that these two alley cats are going to stay together for a long time. It's them against the world, after all.
I've got a feeling this year's for me and you.
So happy Christmas — I love you baby.
I can see a better time where all our dreams come true.
So, here then is the lovely duet by razor-toothed, whisky-wracked Shane MacGowan and the late Kirsty MacColl. Pogues producer Steve Lillywhite said of "Fairytale:" "It's for the underdog." I guess that's why I love it so much. (The group's original name, Pogue Mahone, is an Anglicized version of the Gaelic expression póg mo thóin, meaning kiss my arse.)

Day 12
The Pretenders: "2000 Miles"
And on the 12th day of Christmas, I leave you with this 1983 song written by Chrissie Hynde and performed by her band The Pretenders. This one is for all who are gone, 2000 miles…and beyond this physical world. For all the ones we wish were here today.
He's gone 2000 miles
It's very far.
The snow is falling down
Gets colder day by day.
I miss you.
The children will sing
He'll be back at Christmas time.
In these frozen and silent nights
Sometimes in a dream you appear.
Outside under the purple sky
Diamonds in the snow sparkle.
Our hearts were singing
It felt like Christmas time.
Two thousand miles
Is very far through the snow.
I'll think of you
Wherever you go.

I wish you all a peaceful holiday season and a new year without fear.
© Dana Spiardi, Dec 14, 2015