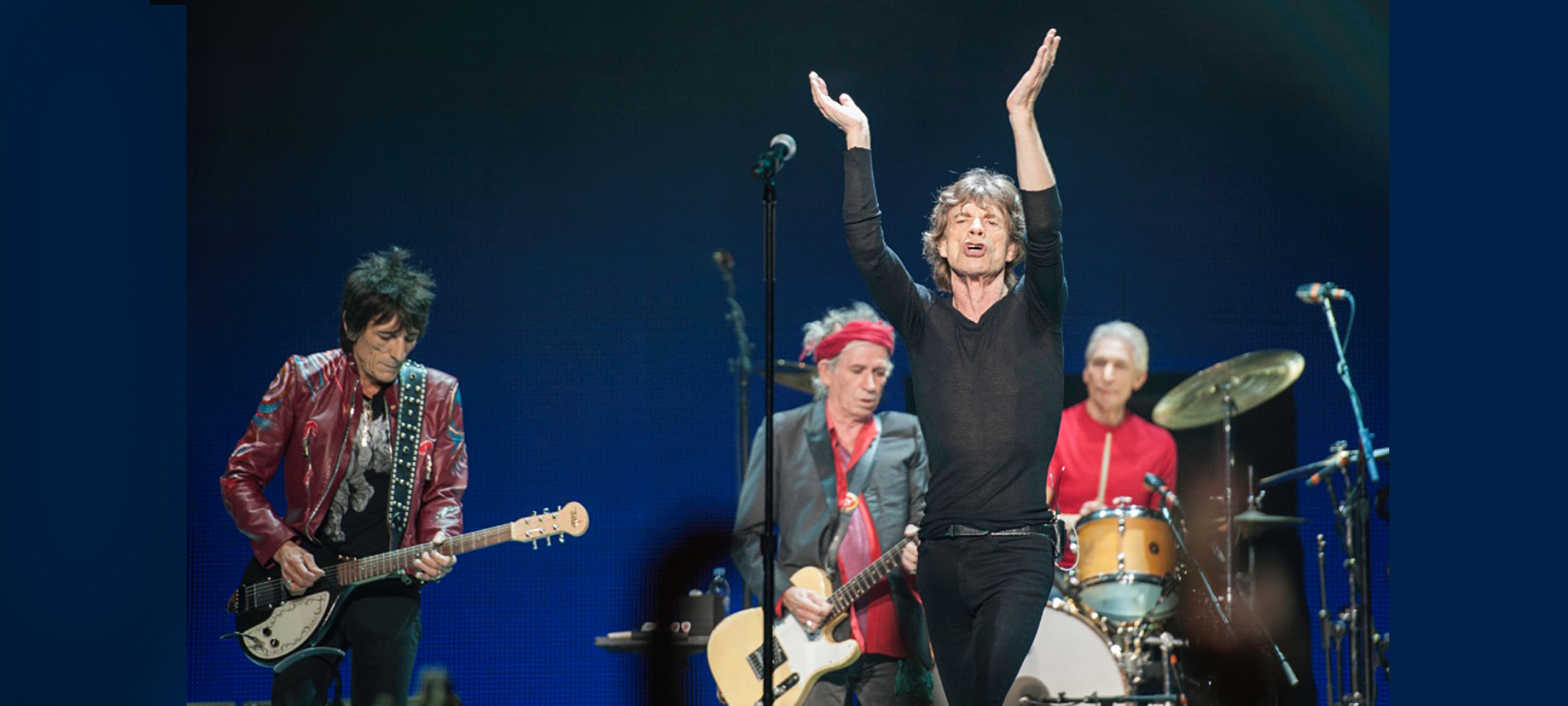 When yer blogger was 16 she had her first erotic dream. Mick Jagger. A fountain. Somewhere in sleepy London town.
How's that for a teaser? Now that I have your attention, please allow me to introduce my midnight ramble about The Rolling Stones' June 18 concert in Philadelphia, and — more specifically — the enduring appeal of the band's strangely sexy frontman.
This year The Stones have been hanging fire all across North America with their 50 & Counting Tour. Fifty, as in 50 years of belting out what is arguably the most organic, unadulterated rock and roll ever to emerge from American blues, R&B, and country-honk tradition.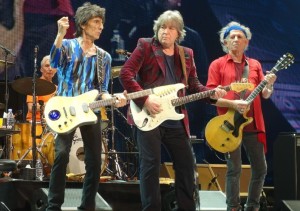 Musically, these borderline septuagenarians haven't aged one iota. They skillfully jammed half a century's worth of essential rock into a two hour show – rough edges and all – much to my eternal delight. And here's just one indication of how much the 20,000 spectators savored every second: In my 37 years of attending rock concerts, this is the first time I witnessed NO ONE getting up for a pee break or beer run — not even during the show's quietist number, "You Got The Silver."
Hmmm…what song would open the show? I had refused to look at set lists from previous concerts, preferring to be surprised. So I'm betting "Jumpin' Jack Flash" with that insane buzz-saw power riff. No, instead they hit the stage with a tame rendition of "Get Off Of My Cloud" – not exactly a powerhouse opener. But by the fourth song, "Gimme Shelter," the thunder was rolling out of control, and it never stopped till the house lights came up. My favorite numbers? The harmonica infused "Midnight Rambler," made all the more menacing by the grungy licks of former Stones guitarist Mick Taylor…the hip-grinding "Brown Sugar," which featured the brilliant Bobby Keys blowing a spine-chilling sax solo…a Dante's Inferno version of "Gimme Shelter," with Lisa Fischer's siren-like voice announcing the apocalypse…Mick, emerging from the shadows in a floor-length fur coat, imploring us to have some sympathy for his tail-twitching devil. Even Brad Paisley, the country artist who released the moronic "Accidental Racist," rocked the house, credibly upping the cowboy quotient of "Dead Flowers."
Would I have rather heard "Beast of Burden" than "Miss You"? Of course. Would I have chosen "Street Fighting Man" over "Start Me Up"; "Can't You Hear Me Knocking?" over "Emotional Rescue"? Absolutely. I'm never a big fan of catchy, mainstream hits. But, I'm not complaining. Nobody but The Stones can make decades-old Top 40 hits sound as vital as the day they first hit heavy rotation.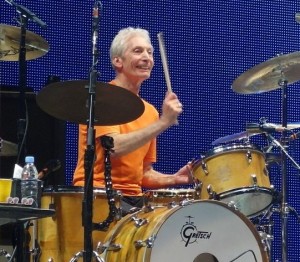 My dream of being close enough to the stage to see every vertical pleat on their leathery mugs was fully realized – thanks to my no-holds-barred approach to ticket buying. Mick was at his simian best, in shiny metallic jackets and pants so form-fitting that I wondered where he could have possibly stowed his stash — even if it is, according to Keith Richards, rather small. And speaking of Keef, he looked his usual bad boy self in his trademark gypsy-pirate head wrap, flashing his shiny New Millenium teeth. The Riff Master was having the time of his life staggering bent-kneed around the Tongue Pit, where disciples prayed to catch one of his flying guitar picks. Axeman Ronnie Wood, with his dyed-black 70s shag and skeletal frame, played with steely intensity; 8 stints in rehab haven't numbed his chops one bit. Drummer Charlie Watts, the oldest member at 72, remains the zen master of this crew: ethereal, steadfast, and always elegant – even in a plain orange t-shirt. And bassist Darryl Jones kept the rhythm thumping, letting loose with an impromptu solo when Mick seemed to forget some lyrics to "Miss You."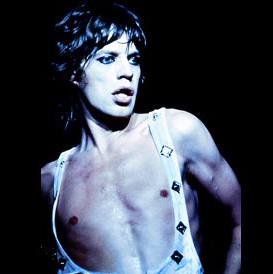 So, what's the dope about me and Mick in that fountain? Well, in my senior year of high school I was in full-tilt Stones mania. Mick had always intrigued me. I loved to crank up the volume on "Sticky Fingers" and Jagger-dance in front of the mirror of my bedroom/rock shrine. I pored over photos of him in music mags: there he was, pouty-lipped, looking absolutely fetching in mascara, wispy bangs, scarves, and bare midriff tops. And that tiny butt, shimmying in slinky size 0 pants. Those of you too young or too old to experience this Jagger zeitgeist can't possibly comprehend his appeal. You're thinking he looks like a skinny old prune, but once upon a time in a galaxy far, far away…lots of us rock chicks were sleeping with Mick in our minds.
When the Stones were first starting out, a producer from England's Thank Your Lucky Stars TV show told the band's manager Andrew Loog Oldham: "Get rid of that vile-looking lead singer with the tire-tread lips." Oh, if he only knew that janitors in dance clubs all across the U.K. were mopping teenybopper piss off the floor after concerts, cursing the monkey-boy singer who caused all this mayhem. Mick knew exactly what he was doing. Just listen to "Stray Cat Blues": I bet your mama don't know you scream like that…I bet your mother don't know that you scratch like that.
Nobody writes about the erotic vibe of Mick and The Stones quite like rocker-poet Patti Smith. She first saw them perform on The Ed Sullivan Show, sitting in the living room with her dad, who was "cussing his brains out." Here's part of a famous rant she penned for the January 1973 issue of Creem magazine, titled "jag-arr of the jungle":
That was my introduction to the Rolling Stones. they did Time is on my side, my brain froze. I was doing all my thinking between my legs. I got shook. light broke. they were gone and I cliff-hanging. like jerking off without coming. Pa snapped off the tv. but he was too late. they put the touch on me. I was blushing jelly. this was no mamas boy music. it was alchemical. I couldn't fathom the recipe but I was ready. blind love for my father was the first thing I sacrificed to Mick Jagger.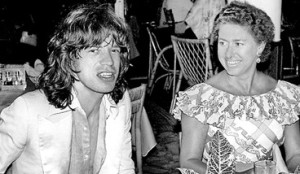 Mick-lust often defies logic. Like the case with Princess Margaret, the libertine sister of England's Queen Elizabeth II. It's long been rumored that she had a fling with Mick in the 1970s. This is why it's all the more remarkable that Her Majesty knighted him. Ah, but Queenie's a shrewdie. She knows that Brit rockers have done more to swell her empire's coffers than any number of old soldiers and scribes.
But decades before he became Sir Mick he was already on the path to high celebrity, rubbing elbows with various glitterati and titterati at pleasure domes like Studio 54. I would always love the greatest frontman of all time, but eventually my tastes would run along a darker line, and I would worship at the altar of Keith. His anti-authority, fame-eschewing persona is as sexy to me as any of Mick's gyrations. And his riffs just slay me. Today I count him as one of my greatest rock-n-roll heroes — even if he can't manage to color-coordinate his outfits. He just doesn't give a shit.
So what makes these guys wanna hit the road for another tour — their 41st since 1963? Some say they're only in it for the money. Well, I suppose Mick can always use another cool million to support his large brood of seven kiddies – which includes the illegitimate ones he's always taken care of. But really, money doesn't enter into the picture. What matters to them, and to us, is pure rock and roll. No gimmicks, no politics. Like the mighty cockroach, the music of The Rolling Stones will survive plague, nuclear war, and alien invasions. To end this tale, just call me mesmerized. I'm in need of some restraint.
Mick wishes Philly a happy birthday, thanks the mayor for declaring "Rolling Stones Week," and presents his own little Liberty Bell.

© Dana Spiardi, June 26, 2013