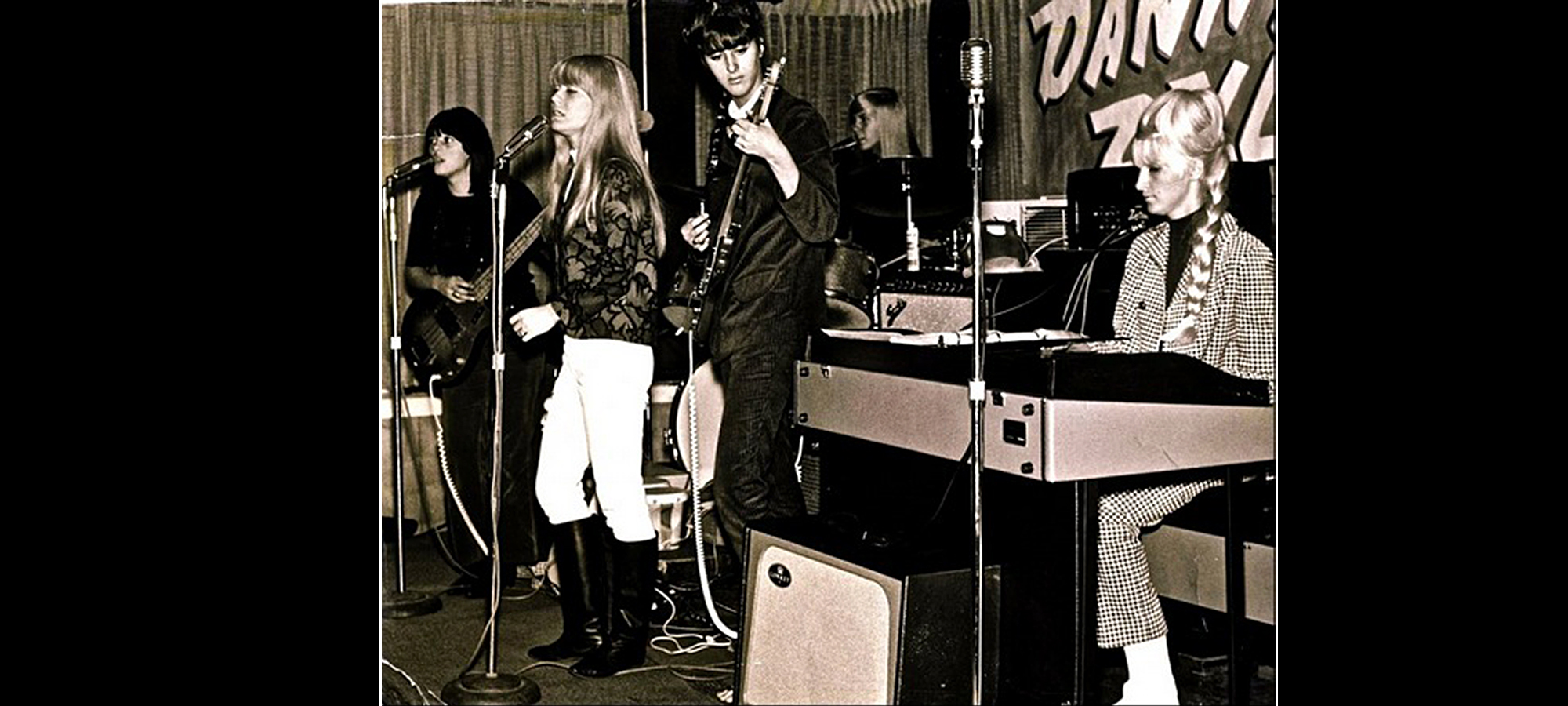 When a group of sisters got together in the early '60s to come up with a name for their rock and roll band, they turned to that greatest of reference guides — the dictionary. You could always count on ol' Funk and Wagnall for inspiration. Or even Merriam and Webster. (Kids, you can Google those names.) Leafing through the large tome, they came across the word "hedonist." Definition: a pleasure seeker. Bingo!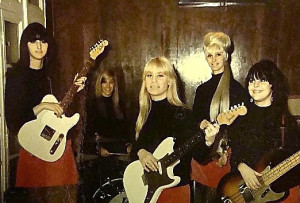 Formed in Grosse Pointe, Michigan, in 1964 by 17-year-old Patti Quatro, The Pleasure Seekers were born of Beatlemania and bred on Detroit muscle. The original lineup included Patti's younger sister Suzi on bass, Diane Baker on piano, Nancy Ball on drums, and Mary Lou Ball on guitar. Eventually, the band became a true family affair when Arlene Quatro took over as pianist and sister Nancy stepped in as drummer.
Within a year of forming, they signed a contract with Hideout Records and released their first single, "Never Thought You'd Leave Me" b/w "What a Way to Die."
The Quatro girls came from a musical family that encouraged them to follow their rock dreams. Their brother Michael, a Detroit concert promoter, got them bookings in top local clubs and secured them spots as opening acts for up-and-coming artists.
"We started as teenagers," Patti told Margaret Moser of The Austin Chronicle in 2011. "There were teen clubs like the Hideout everywhere in Michigan. Everybody wanted to have a girl band to bring in the boys to the clubs. We were on the road all the time. The girl bands were such an unusual thing that we got more bookings than Ted [Nugent] and all those Detroit guys. We got out real quick and toured all over."
T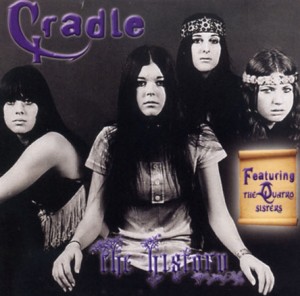 he Pleasure Seekers opened for people like Alice Cooper and Bob Seger, and even jammed with guitar great Jeff Beck, who became a mentor to Patti.
"We were trying to make it through the executives who wanted us to wear lavish costumes, like in Vegas or on The Partridge Family," Patti told The Chronicle. "Wow the crowd – tits and ass. We weren't having it. That was always the fight with the executives. They just didn't know what to do with women. They were scared you'd fall in love and get married."
In 1968, the Seekers signed with Mercury Records, released a second single, "Light of Love" (which charted), and toured the U.S. They played everything from original material to Beatles tunes to Motown hits, and were one of the first bands to feature light shows in their act.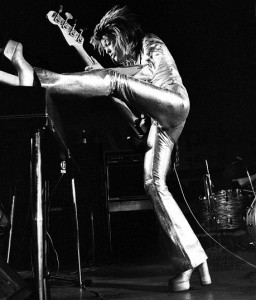 Seeking a harder edge, the band morphed into Cradle in 1969. They performed at pop and rock festivals and even toured Vietnam before disbanding in 1973.
Patti went on to play with the 1970s all-female rock band Fanny for a while, and later managed Cradle Rock Publishing with sister Nancy. She currently runs a tour services company – Starlight Travel – that caters to rock artists and actors.
And then there's Suzi, the Quatro sister who struck out on her own and put some major dents in the glass ceiling of rock and roll.
It's a pity that many people remember her primarily for her role in the 1970s sitcom Happy Days – as guitarist Leather Tuscadero, younger sister of Fonzie's girlfriend. Suzi is the genuine article. Decked out in her trademark leather jumpsuits and platform shoes, this 5-foot firecracker was the first true female singer/guitarist rock star – backed by an all-male band, no less!  In 1975, she had the honor of being the first female electric guitarist ever featured on the oh-so-sacred cover of Rolling Stone magazine.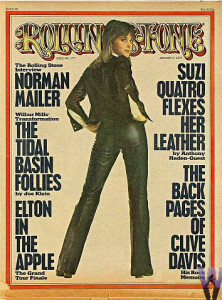 Suzi released a slew of singles that topped the charts in Europe and Australia, and has sold 50 million albums during her career. Although she never really broke big in her native America, she was a major influence on future female guitarists, from The Pretenders' Chrissie Hynde to The Talking Heads' Tina Weymouth. She's acted on the London stage, has appeared in British TV shows like Absolutely Fabulous, and hosted rock and roll programs on BBC Radio. A rocker till the end, she still performs live around the world.
We'll end with some wise words of advice from Patti Quatro to young women everywhere who seek pleasure as professional musicians: "Develop the thickest hide you can. And rock 'til you drop."
Here are The Pleasure Seekers singing one of their most popular songs. This was before they ditched the glittery mini-dresses favored by the record label executives. 

Here's the harder-rocking Cradle:

And finally, check out the absolutely fabulous Suzi Quatro, performing her biggest hit "Can the Can" in 1973 with her all-boy backup band!

© Dana Spiardi, May 2, 2014
Save
Save