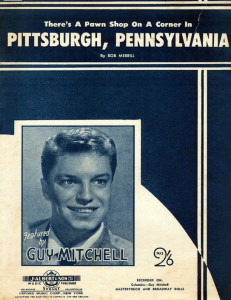 "There's a pawn shop on the corner in Pittsburgh, Pennsyl-vay-nee-a, and I ain't got a thing left to hock." My mom used to sing those words to me all the time when I was a little kid. They're from the song "Pittsburgh, Pennsylvania," one of many odd little long-forgotten ditties Mom entertained me with. She most likely overheard these tunes being played on the jukebox of her dad's family-style tavern, which was located in a small village 35 miles east of Pittsburgh called Cokeville, PA. That's a picture of her below, standing next to that old Wurlitzer. She grew up with music, and always loved it as much as I do.
The Pawn Shop song was written by Bob Merrill and released in 1952 by a singer/actor named Guy Mitchell, who was born on this date in 1927 (he passed away in 1999).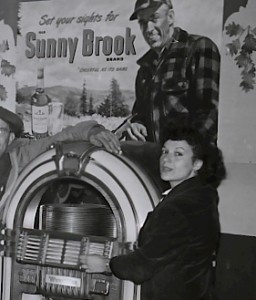 Mommy still remembers all the lines. I especially like hearing her sing this one:
If you should run into a golden-haired angel
And ask her tonight for a date,
She'll tell you somewhere there's a rich millionaire
Who is calling again about eight.
Guy Mitchell was quite popular in the U.K. In fact, any time I travel there, someone invariably asks me about the Pawn Shop song when I tell them I'm from Pittsburgh. A craftsman at the Waterford crystal factory in Ireland even asked me to sing it for him. And I did, much to the chagrin of my husband Ed. Well, I got a round of applause from the glass maker and a few of his co-workers, anyway.
Thanks, Mommy, for teaching me sweet little songs like this. These tunes may sound corny today, but they're all part of that eclectic musical stew that made yer blogger the pop/rock-aholic she is today.
Now, here's birthday boy Guy Mitchell singing his Pawn Shop song. The video features many interesting old scenes of Pittsburgh, including the old Forbes Field baseball park, the steel mills, and West View Park's Danceland (where the Rolling Stones performed in 1964!). There is a reference to "the clock," which we Pittsburghers all know is the one that's still on the corner of the old Kaufmann's Department Store building. "Meet me under the Kaufmann's clock" was a common Pittsburgh saying. By the way, this song is typical of the old "dancehall" style enjoyed in England by many Brits in that tame era before The Beatles!

© Dana Spiardi, Feb 22, 2015