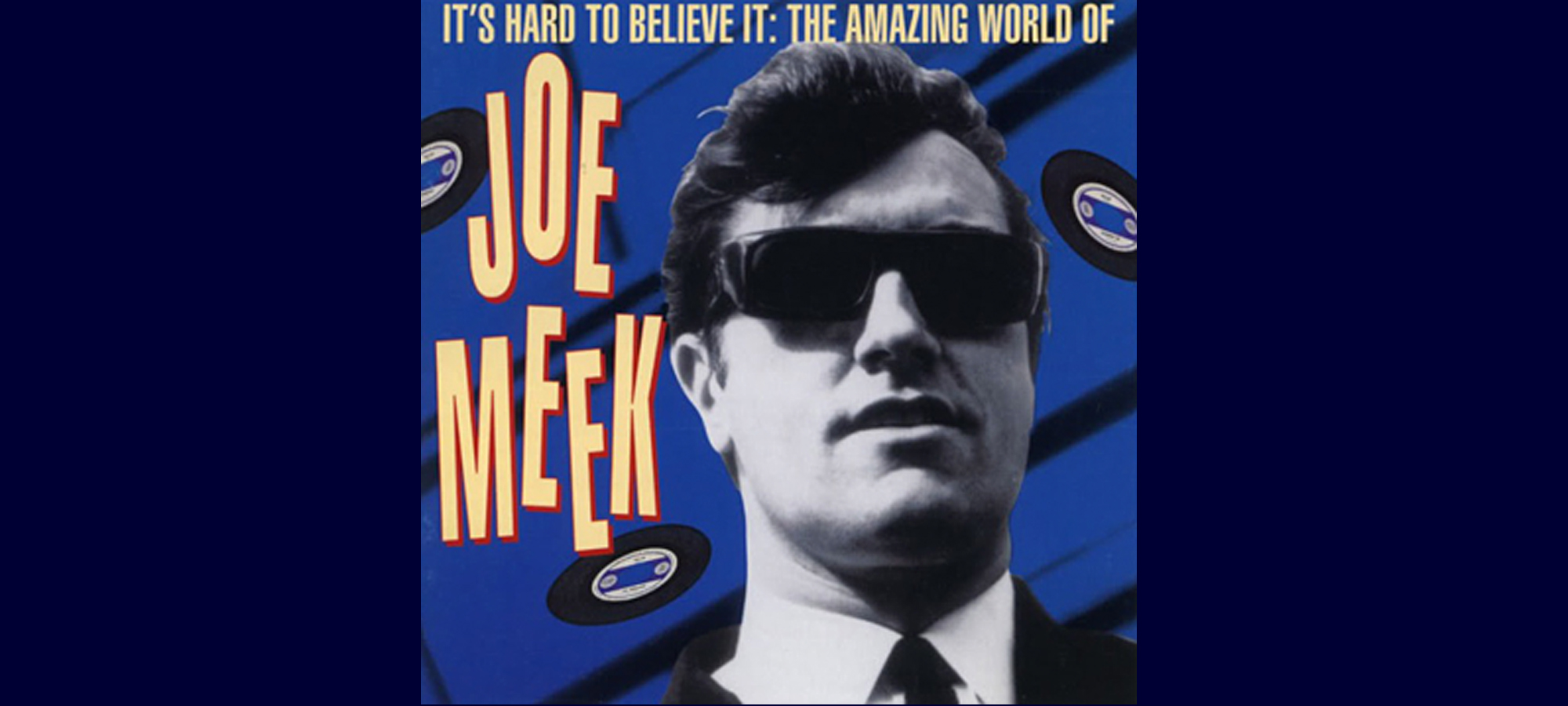 Okay, this is a strange story, but yer blogger is a pretty spooky gal, and she'd feel remiss if she didn't pass on this ghoulish, but essential, piece of trivia regarding Buddy Holly's possibly avoidable death-by-aircraft on February 3, 1959.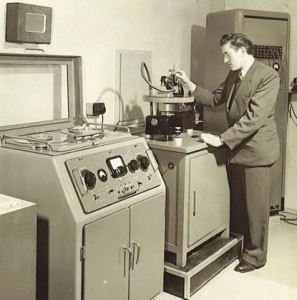 The tale begins with a man named Joe Meek, a British songwriter and record producer who pioneered the use of quirky production techniques – echo, reverb, sampling, multiple overdubbing – in recordings that he made in his home studio above a leather goods shop in London. He wrote and produced the Tornados' 1962 novelty hit "Telstar," which featured a clavioline, an electronic keyboard that produced a sound that all Martians were surely grooving to at that time. "Telstar" went on to sell 5 million copies and was only the second British single to hit the number one spot on the U.S charts in the pre-Beatles era. (The first was the clarinet instrumental, "Stranger on the Shore.") Meek's work on "Telstar" won him Britain's most prestigious songwriting honor, the Ivor Novello award. He worked with artists such as Petula Clark, Gene Vincent, and Lonnie Donegan, and was the first audio man to record a little known blaster named Tom Jones.  Meek also wrote what might be the first concept album, "I Hear a New World," which he described as an outer space music fantasy. It was recorded by The Blue Men in 1959.
I guess you could call Joe Meek the British equivalent of American record producer Phil Spector. Both men were as loony as they were innovative. Meek was a drug-using, manic-depressive, rageaholic, closeted homosexual who suffered from paranoia and feared that industry insiders were wiretapping his rooms to steal his ideas. He was also an occult junkie. He believed he could communicate with the dead, and sometimes took tape recorders to graveyards to capture the voices of departed souls. On night in early 1958, he was reading Tarot cards with some friends, when he received a premonition that Buddy Holly, one of his idols, was scheduled to meet his maker on February 3 — no year given. He tried desperately to get in touch with his myopic hero, but Holly either didn't get the message, or dismissed Meek's warning as the ranting of a nut-job.
Well, we all know what happens next. A small airplane transporting Buddy Holly, Ritchie Valens and J. P. "The Big Bopper" Richardson from Clear Lake, Iowa, to a show in Moorhead, Minnesota, crashes just after takeoff on February 3, 1959. The "day the music died" inspired a young singer named Don McLean to write the 1971 hit that would guarantee he'd never have to work again, "American Pie." Indeed, we lost one of our greatest and most influential artists when Holly checked out. (And, just as tragically, we had to endure McLean's 8-minute "American Pie" for the next 40 years.)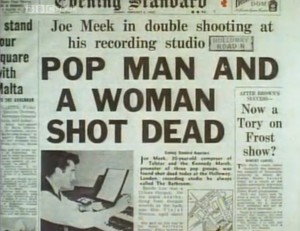 Flash forward to the mid-60s. Joe Meek's career was in steady decline. He risked losing all royalties from "Telstar" when French composer Jean Ledrut sued him for plagiarism, claiming "Telstar" was a ripoff of his song, "La Marche d'Austerlitz." The once-respected British producer was desperate and depressed. In a macabre twist of fate, he ended up pulling his own plug on the 8th anniversary of Buddy Holly's tragic demise. On February 3, 1967, Joe Meek – who slept with a gun under his bed – shot his landlady Violet Shenton and then turned the gun on himself. Just what pushed Meek over the edge that day? Did he plan the murder-suicide for February 3? Did Mrs. Shenton nag him for being late with the rent? Did she complain just one time too many about the noise emanating from Meek's upstairs recording studio?
Well, who knows what drives crazy geniuses like Meek and Phil Spector to take up arms. Phil, that fright-wigged Wall of Sound wonder, is currently serving 19 years to life in a California state prison for shooting actress Lana Clarkson. Meek, being a polite Brit, saved the courts a lot of time and trouble by kindly taking his own life.
Joe Meek is virtually unknown among most rock fans, which is a shame, because his pioneering work in audio technology paved the way for all future experimental recording. The Beach Boys may have given us surf rock, but it was Joe Meek who gave us space rock.
This clip from a BBC documentary features Joe Meek talking about the early recording industry in the U.K.

© Dana Spiardi, Feb 3, 2014