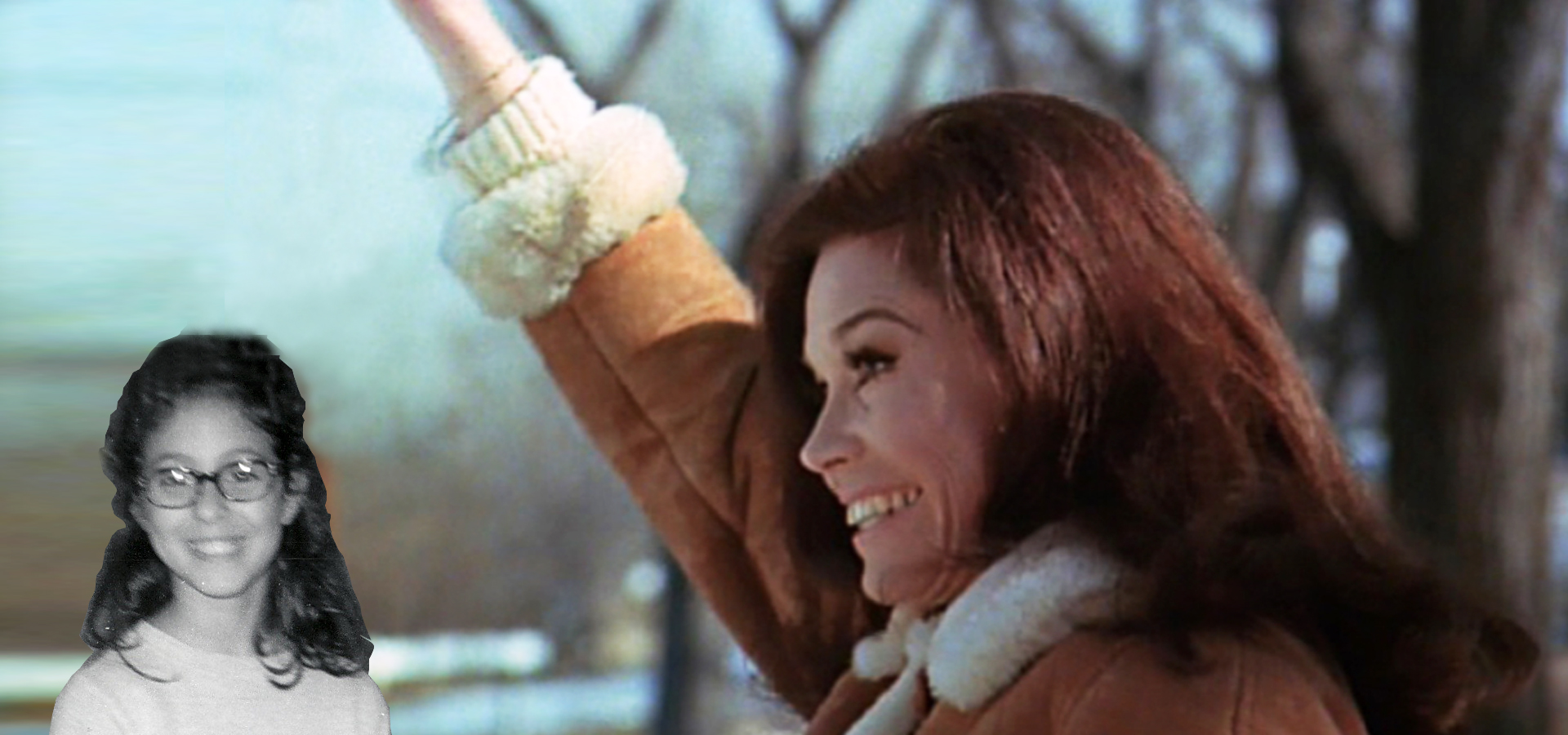 I was 13 years old, gawky, zitty, unpopular, and academically mediocre. Unlike many of the girls in my class, I didn't have a boyfriend. Mary Richards was 30-ish, beautiful, accomplished, and smart. And unlike many of the female characters on TV at that time, she didn't have a boyfriend. And that made me feel SO MUCH better!
When the Mary Tyler Moore Show debuted on CBS on September 19, 1970, I was 10, and at the height of my tuffy tomboy period. And while I liked the program's heroine Ms. Richards well enough, at that age I wasn't too interested in her career or her elegance or her fabulous wardrobe. I watched the show mainly for the laughs and the offbeat characters: Dimwitted Ted Baxter, curmudgeonly Mr. Grant, kooky Rhoda, and haughty Phyllis.
But as I came of age during the show's long network run (through 1977), I grew to embrace Mary Richards as a role model. She had a cool apartment in an old Victorian house and an exciting job in the male-dominated news business (which was of great interest to me; I'd end up declaring a journalism major in college). For all her physical perfection, she evoked an air of vulnerability as she stammered her way through arguments with her grouchy boss over pay raises and equality. She never managed to throw one decent dinner party — something I'd relate to one day. She was so tidy and practical, organizing her closets when she felt like blowing her top. But what I loved best about Mary was that she never seemed to care that she didn't have a boyfriend, a husband or kids. All too often, writers succumb to marrying off a character when they've run out of good storylines or are trying to attract a new audience. TV's first single working woman, Ann Marie (Marlo Thomas) of That Girl, remained a free agent during most of the series' five-season run, but ended up becoming engaged to goofy ol' Donald Hollinger in 1971. No, the Mary Tyler Moore Show writers (one-third of whom were women, a rarity back then!) stuck to the feminist agenda. In fact, I suspect that the sitcom's star, the talented MTM herself, wanted it that way.
I was a very late bloomer and never had a boyfriend in junior high or high school, except for a brief four-month period in 10th grade (and it's important to note that he was a boy from a neighboring town, and was either unaware or unconcerned that I was considered D-List material at my own school. Read more.) So, the fact that a beautiful, intelligent, classy dame like Mary Richards never had a steady beau gave me hope. She had an interesting career. She had friends. She was liked. She was happy. All of THAT, without a man or kids. Wow. The theme song lyrics from the show's first season said it all:
How will you make it on your own?
This world is awfully big,
Girl, this time you're all alone.
But it's time you started living.
It's time you let someone else do some giving.
Love is all around, no need to waste it,
You can never tell, why don't you take it.
You might just make it after all.
You might just make it after all.
Girls, you CAN make it. Don't ever let society pressure you into thinking you need a guy to make your dreams come true. Parents, sit your young ladies down and introduce them to the life and times of MTM!
In loving memory of Mary Tyler Moore, December 29, 1936, to January 25, 2017.
© Dana Spiardi, January 26, 2017