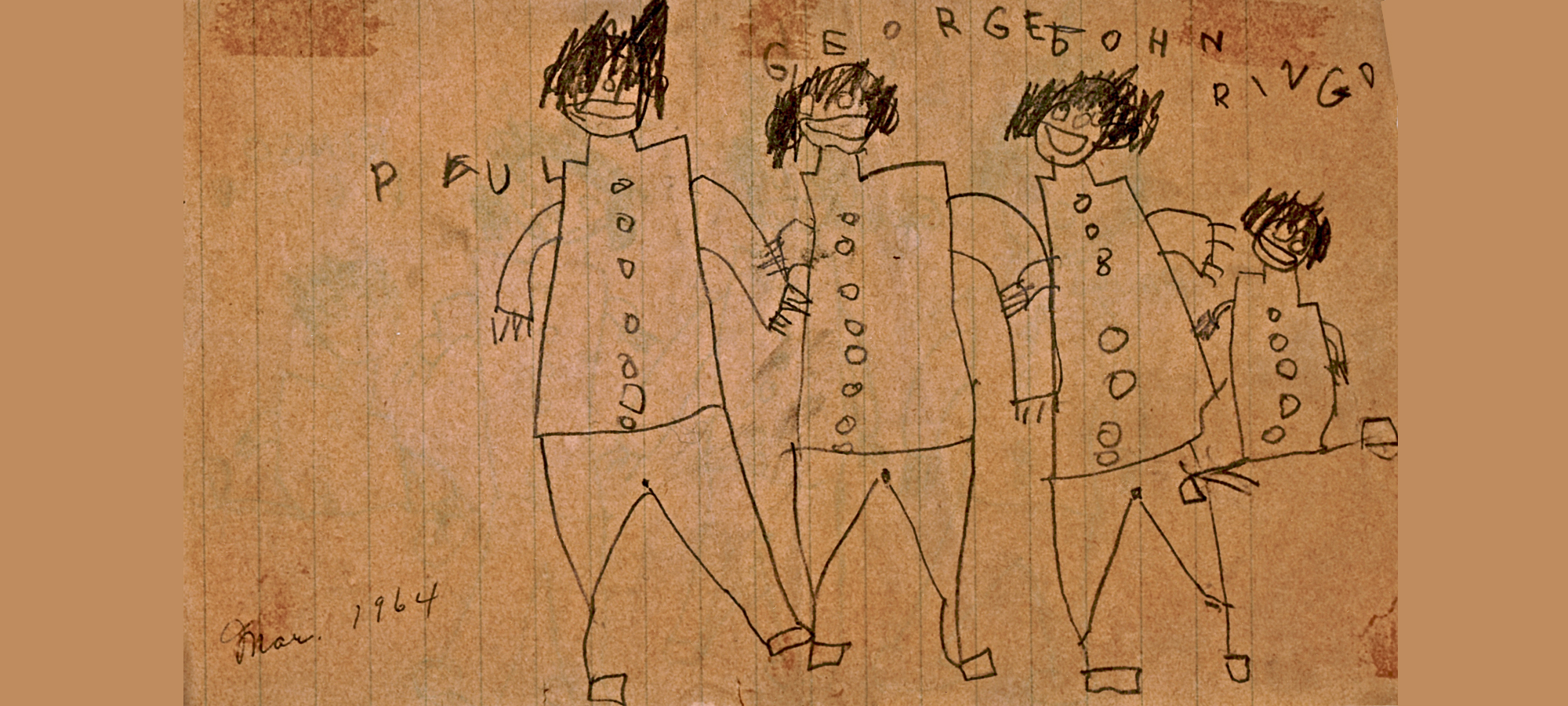 Every family has its folk tales — those sometimes sweet, often cringe-inducing stories we're forced to endure at every holiday gathering.  Like the time my grandfather decided to forgo dental expenses by removing his own teeth with the help of Canadian Club whiskey and a pair of pliers.  Or that day back in 1960 when my prankster dad deposited a piece of fake rubber vomit on my aunt's expensive new sofa. Ah, but not all of my family's folk tales are gauche, mind you. In fact, at many gatherings the most anticipated and charming story of all involves the evening of February 9, 1964, when little Dana discovered the Beatles at age four.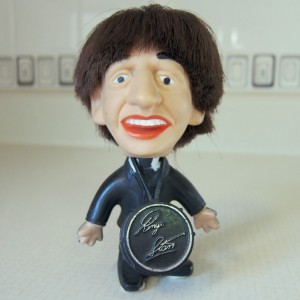 How my mom loves to spin the tale of the birth of her rockaholic daughter's lifelong obsession! News had been percolating for weeks about the arrival of the musical sensations from England -The Beatles – and my trend-spotting mom knew their upcoming television appearance would be must-see TV.  At 8:00 pm on that wintery Sunday evening, Mom (with Kent cigarette in hand) and Daddy (with Duquesne Pilsener in tow) settled into the sectional sofa to watch the Ed Sullivan show on CBS affiliate KDKA-TV, one of only two stations available in our little house near the coalmine tipple.
"You were in the kitchen," Mommy recounts, "playing in the cabinet under the kitchen sink, as you often did."  (Imagine my overprotective mother allowing me to play amid toxins in a pre-Mr. Yuck Sticker world!)  "I called you to come into the living room right away to watch The Beatles on TV. I told you it was going to be very important some day. It would be part of history. You sat in your little red rocking chair, gripping its arms, and you began to shake – from the minute they started playing till the very end. You were totally mesmerized by those boys, and from that moment on you never stopped talking about them." (Woe to the people in my world who'd have to listen to my incessant Beatle babbling through the years.)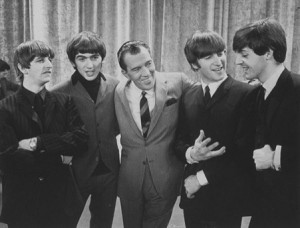 Indeed, this event shook me to my young soul. Almost immediately I began drawing pictures of the Fab Four. I sprang to life every time I heard a Beatles song blasting through the speakers of the jukebox in my grandparents' tavern. The opening drum roll of "She Loves You" – their quintessential song and still my favorite – made my heart race. It wouldn't be long before I was buying my own Beatles records. I even had a pair of child-size Beatle boots!  When my grandmother returned from an out-of-state trip she presented me with one of my most beloved possessions: a 4-inch Ringo doll. Because, as everyone knew, I liked the ever-smiling, head-bopping Ringo the best.
The Beatles' appearance on the Ed Sullivan show ushered in a new musical world order.  Their unique, upbeat sound, witty banter, and mod, yet tidy appearance provided Americans with a much-needed distraction — a new cultural vitality following the devastating assassination of President Kennedy a mere 15 months earlier. Their initial appearance on the Sullivan show drew a record-breaking 73 million viewers. Sixty percent of the nation's televisions were tuned to the event. John Lennon once said, "Even the criminals stayed home." The Sullivan theater, then known as Studio 50, was small, with only 728 seats, nearly all of them occupied by screaming, hysterical teenaged girls who nearly drowned out the sound of their idols' music. The Beatles kicked off the show performing their current hit "All My Loving."  Next came the show tune "Till There Was You," during which each Beatle was introduced by way of individual close-up and caption. (The caption for John said, "Sorry girls, he's married.")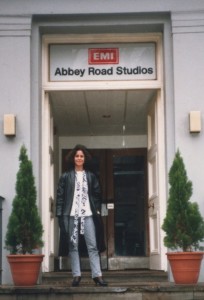 They ended the set with "She Loves You" and returned later to perform "I Saw Her Standing There" and "I Want to Hold Your Hand."Pity the other performers who had to follow the Beatles that night: magician Fred Kaps and acrobatic troupe Wells and the Four Fays.  (These kinds of acts were the mainstay of most Sullivan shows, folks!)  Also on the show's bill were impressionist Frank Gorshin and a young pre-Monkees Davy Jones, who sang "I'll Do Anything" from the musical "Oliver."
The Beatles made three more appearances on the Sullivan show – two in 1964 and one in 1965 – but none would match the excitement and historic significance of that February 9 performance. I still have a very vivid memory of watching the Fabs that night on our black-and-white Westinghouse television.  Little did I know in 1964 that one day I'd own every variety of Beatles' recording, that I'd end up traveling to Liverpool and London to walk in their footsteps, or that I'd often turn to their music for inspiration and solace. I credit my passion for rock-n-roll and all of its offshoots, including fashion, to the Beatles.  Forty-eight years later, I still swoon to their sound. Thanks, Mommy!
Here's the appearance that started it all!

© Dana Spiardi, Feb 9, 2012