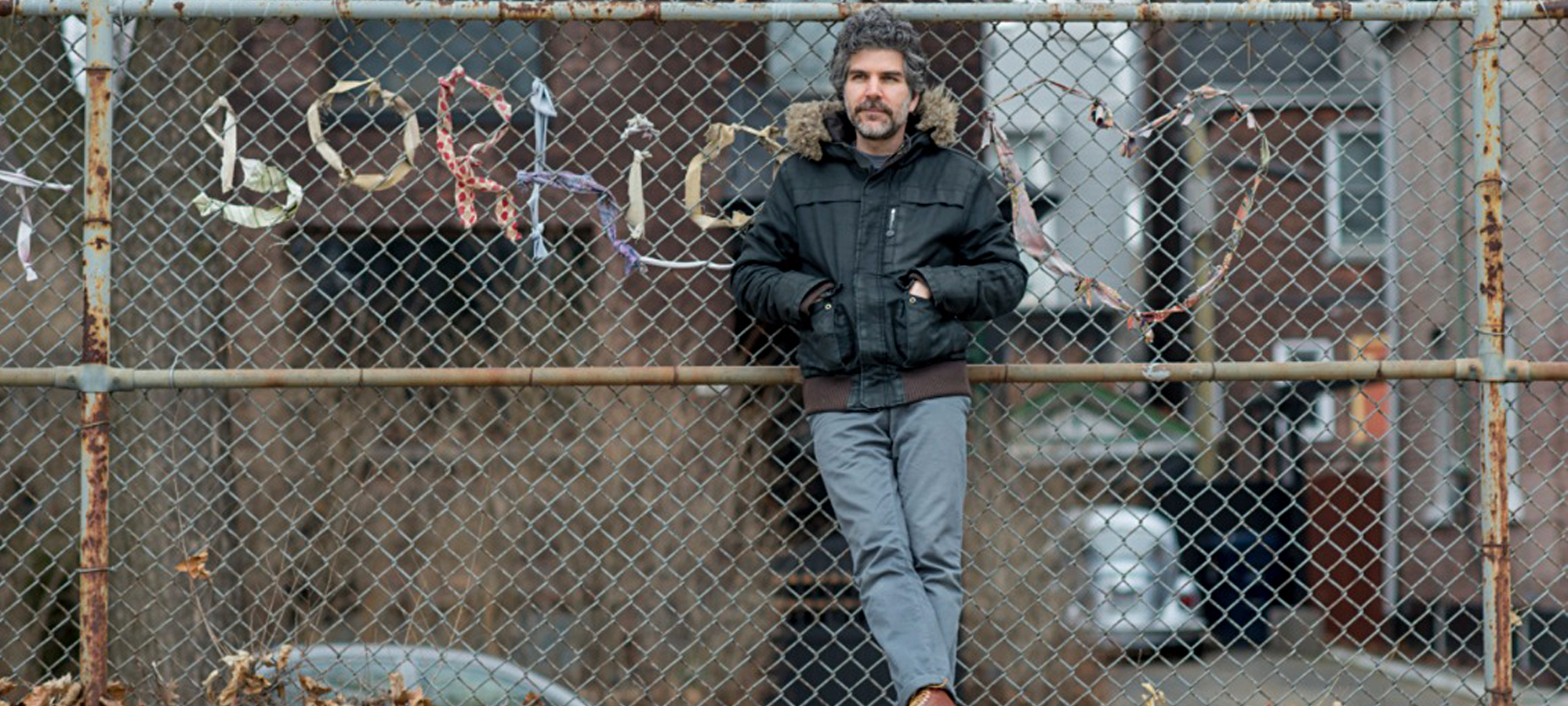 By guest blogger Adam Kukic. Full disclosure: I'm a huge fan of Canadian singer/songwriter Hayden (Paul Hayden Desser). I'll claim to be a fan since 1996, when his debut album "Everything I Long For" was released in the United States by Outpost (an offshoot of Geffen). Such is my fandom that when the artist came to Pittsburgh in 2004 to perform in an intimate setting in the city's Club Cafe, I was bound and determined to attend and support the show. I had gotten in touch with his manager, "Skinny," and volunteered to be part of the "street team" to help promote the concert.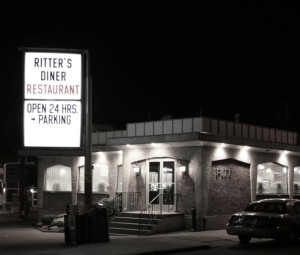 Following the performance, my future wife Allison and I, plus Hayden, Skinny, and members of Cuff the Duke (the opening band that Hayden had signed to his Hardwood Records) all went to Ritter's Diner, a 24-hour greasy-spoon Pittsburgh landmark. The scene conjured up images of Hayden's diner-themed song, "We Don't Mind." A highlight from that late night includes a slightly overweight middle-aged waitress apologizing to Hayden when attempting to pour him coffee: "Sorry babe, didn't mean to shove my tits in your face." But my wife's favorite memory of the evening is her keepsake from the outing — a vinyl press of Hayden's third album, "Skyscraper National Park," which he signed for her: "We shared white toast on September 10 / 2004."
I have a long history with Hayden's work, right up through his February 2013 release,  which I'll be reviewing in detail. But to fully appreciate the significance of his latest gem, allow me to shed a little light on the earlier pieces that all come together to form the total picture of Hayden's recording career to date.
Everything I Long For (1996)
I clearly recall enjoying a few tracks of this album when I first heard it (especially the lead single "Bad As They Seem"). Yes, in the Fall of '96 I was a freshman in college and this initial Hayden offering featured several songs of his "bedroom lore" (which he later references on 2013's "Us Alone"). And while I longed to collect boudoir tales of my own, for the time being I'd just have to be satisfied playing "We Don't Mind" in repeat mode. However, it was the "hidden track" that I found myself playing the most. One day I was sitting around with my friends in an off-campus hippie haven  down on Rose Lane. I put "Everything I Long For" on the CD player, and when it ended, no one bothered to change the disc…and that was the first time we all heard the hidden track – "Kraft Dinner & Poledo's Club Sandwich" – which features Hayden instructing us on how to make Kraft macaroni and cheese and BLTs. Thanks to this album, we had both a soundtrack and two staples for our freshmen year culinary endeavors.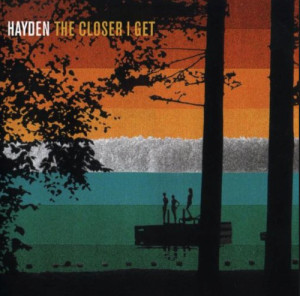 The Closer I Get (1998)
By the time Hayden's "The Closer I Get" came out, I had finally collected some "bedroom lore" of my own. Having had several "real" relationships by this point, I felt I understood Hayden's stories much more than I had initially, and ended up revisiting "Everything I Long For" in conjunction with "The Closer I Get". The standout track for me was "Between Us To Hold" — a tale of two under-the-weather lovers learning to play guitar together with the radiator serving as the percussionist (the song seemed like a natural extension of "We Don't Mind" from his first release). While not a true sophomore slump, "The Closer I Get" waned a bit in comparison to Hayden's first album; this first fully-produced Outpost disc (from-start-to-finish) left critics and fans a bit underwhelmed.
1999-2004
Then Hayden went silent. Records didn't sell like they should have. Outpost Records went under (some attribute it in part to Hayden's $1 million contract). While he no longer had a label behind him, he hadn't spent his money frivolously, so he continued to make music his way. A few small pressings were released; distribution seemed limited to his immediate geographic radius. But I didn't hear them.
I graduated college, suffered my first true heartbreak, interned for a local radio station, and then moved to Europe for two years, fancying myself a worldly expatriate. Hayden released "Skyscraper National Park" in 2001 via his own label, Hardwood (which pre-dated his deal with Outpost), but due to its limited release, I'd never had a chance to hear it — at least not before he gave Allison her autographed copy!  Later, I discovered "Bass Song," and deemed it the highlight of the album — an almost comedic tale about a musician who uses his bass guitar to fend off would-be robbers who break into his house. Another standout track on the album, "Dynamite Walls," is a depressing tale of meandering travels: Miles away or just up ahead / it doesn't matter what any of us are looking for / we'll never find it, because it's not there.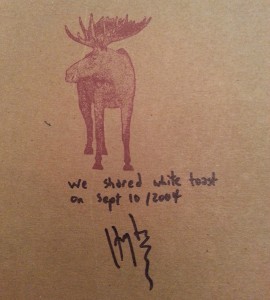 Elk-Lake Serenade (2004)
Upon my return to Pittsburgh, I found myself back with the local radio station. I forget which artist was doing an in-studio session, but someone from the band or crew passed along a demo of Hayden's 2004 "Elk Lake Serenade"!  This record was more cohesive than his previous releases. With songs that flowed and a consistent mood throughout, the stories revealed where Hayden had been for the past few years — at home or begrudgingly on the road. Many songs seemed to address a longing, but this time it was a longing for the comforts of home.
"Home By Saturday" laments having to travel and tour, as well as revealing the temptations that one faces on the road. Even "Woody," a song about Hayden's feline companion's springtime shenanigans, could easily be viewed as a parallel to the vagabond life of a musician. But it's "Don't Get Down" that is most foretelling of what's to come on Hayden's future recording, "Us Alone." Addressing the demands of the music scene (recording, touring, having to associate with phonies, etc.), it could well have been the perfect exit song to Hayden's recording career.
In Field & Town (2008)
For someone who lamented songwriting, touring and the music industry at large, Hayden was really finding his sound on "In Field & Town," with tracks like "More Than Alive" and "Damn This Feeling."  There's the quirky "Lonely Security Guard," which conjured up images of a character that Paul Giamatti would play in a film. But, the most charming moment is "The Van Song" — another tale of fledgling love — but this time told in reverse. As with "Elk-Lake Serenade," "In Field & Town" is another strong release that creates a definite and consistent mood.
The Place Where We Lived (2009- 2012)
Sadly, I must confess that I didn't even know that "The Place Where We Lived" was released until "Us Alone" debuted in 2013 (the irony is not lost on me). Apparently, this 2009 album from Hayden had no press nor tour to support it, and begs the old adage, if a tree falls in the forest and no one is around, does it make a sound? By Hayden's own admission, not actively promoting the album was a disservice to the release. A solid record produced by the talented Howie Beck, this one has a bit more of a country-tinged vibe spread across the songs. Beck's excellent production and playing helped to smooth out the rough edges that often sneaked onto Hayden's past releases, making this possibly the most radio-friendly of his albums to date. But sadly, NO ONE heard it! Highlights include the title-track, as well as "When The Night Came And Took Us" and "Let's Break Up." The closing track, "Let It Last," attests to that picturesque moment when sunlight falls just right and imprints an unforgettable memory (Australian artist Holly Throsby's guest vocals also help to enchant the listener). But many fans never heard the album, and even the ones who did were left to wonder where Hayden went. Rumors even circulated that he'd died!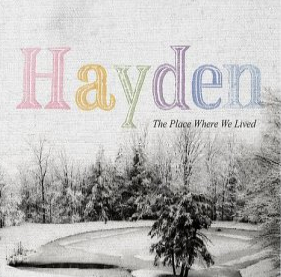 Us Alone (2013)
Nearly 20 years after Hayden's first album, "Us Alone" is equal parts a love letter to his daughter, as well as a nostalgic look back at a career lived, for the most part, his own way. It is important to note that this is his first album in 12 years that was not released by his own label, but by Arts & Crafts, a small independent Canadian label with an impressive line-up of artists: Broken Social Scene, Feist, Cold Specks, to name a few. How does Hayden fit into that mix? Well, maybe as a legend of the Canadian music scene. Did he ever attain the sales and the following amassed by Feist or Broken Social Scene?  Well, probably not in the sales category. But as for fans, he definitely has a cult following…as well as the respect of fellow musicians and the Canadian music industry. In fact, "Us Alone" was was nominated for a Juno Award (Canada's equivalent of the Grammys) for Adult Alternative Album of the Year in 2013.
At its heart, "Us Alone" is that Kodachrome experience we've grown to expect (and love) from Hayden. It's being touted as his most autobiographical release to date. I'm not sure if this is entirely true, as he's sung about similar themes and topics in the past. Yet, no doubt these songs have more meaning as his life has become a lot more than just a collection of bedroom conquests.
"Us Alone" begins with "Motel": I agree, we should leave in an hour, or better right now / or we'll never lift this anchor. But, in what would appear to be the start of another tale of  bedroom lore, we realize something quite different, as Hayden confesses:  I can't go on, pretending this song is about young lovers born to run / when it's so clearly about you and me / and I agree, we'll get no sleep until we strap her into that seat, and stop this terrible sound by driving her around / 'til we pass that motel. And just like that we realize that Hayden's all grown up (as are we), weaving his daughter's sleeplessness into a song.
The next track, "Just Give Me A Name" is rather dark and foreboding, contrary to the instrumentation. It is the tale of a cuckolded lover, indifferent to his cheating partner (or at least not wanting to know the how and why of her indiscretions). He repeatedly requests: Just give me a name, like the name of his street, where he likes to eat, and what time he gets home from work.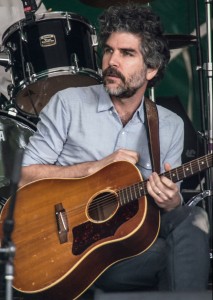 Next up is the album's second single, "Blurry Nights" — a song of desperation and despair about lovers, possibly past their expiration date. A rare treat is that this is a duet between Hayden and Lou Cannon, an artist he had signed to his Hardwood label. The duet allows a his-her view on the same stale relationship. Hey, out of my blurry night, ours was the one I liked most of all / it's ok that we had nothing to say, and that didn't get in the way if I recall. While the female protagonist seems to be a bit more into the relationship, they both agree that nothing good can ever come from this in the long run / but let's not dismiss all the fun we can have tonight, if we forget how we might feel in the morning light. It's as if the characters that almost came to fruition in "Motel" found their home in "Blurry Nights"…although a crying baby is clearly NOT the cause of their sleepless night in this song.
Pulling the family guy/parent card, Hayden receives the "ahhh" from countless fans for this one: Clearly an ode to his daughter, "Old Dreams" addresses Hayden's new-found priorities: I don't want my old dreams / now my dreams are your dreams / all I want is you to be happy.  What is slightly ironic is that I'm not sure the "Hayden" that Hayden Desser is singing about was ever the Hayden that we knew: I don't want the bright lights / I don't need more invites / I don't need more reviews / not unless they're from you. To this fan, it never seemed as if Hayden was ever concerned or interested in these things. However, this tune is the perfect segue to the following track.
"Almost Everything" seems to continue the autobiographic theme. From his teen years to his "stardom" (even referencing the labels' bidding wars to sign him back in '96, which included Neil Young trying to sway him to sign with Vapor Records) to Hayden the family man, "Almost Everything" could stand as his perfect bio. So I recorded and I sang, about the things that I knew of back then / and some kids who heard, saw me in them / at a time in their lives when music was everything, it was everything. And, Hayden continues to write of the things he knows now, telling tales of parenthood and a domestic lifestyle. He's grown and matured — and so have we fans who can still find ourselves in his songs. Fortunately, Hayden did not hang up his guitar and strap: But I'm recording once again, while my kid is upstairs in bed / and I'll admit that now and then, some nights when I'm strumming, or maybe just dreaming / music's still everything / well, almost everything.
Out of obligation to my wife, I must offer up her observation that "Oh Memory" starts with an allusion to "The Nutcracker," whether intentional or not. Well, maybe this "Nutcracker" reference is to help spur memories of our youth. "Oh Memory" seems to be about a deceased parent who is visually fading from the singer's memory. No matter how hard I tried, I couldn't find the image of your face in my mind / oh memory, you're so unkind.  However, he finds solace in legacy: You're in my favorite things about me / you're how I hope to one day be / and sometimes I can really see you there / inside of that little stare.
"Rainy Saturday" could be a continuation of "We Don't Mind" from his debut album. We find those familiar characters still together after almost two decades. The isolation of the lovers this time doesn't appear to be lust, but more from the nesting that comes after decades of being together. After the thrill and excitement of new love fades, you're faced with the choice: do you fight through the ennui of relationship, or do you cut and run? I don't know how we did it, but we made it through the winter just in time / you know we really had it tough there baby / we really couldn't catch a break / we both were just lying there waiting / like every day was a cold and rainy Saturday. Seems like Hayden would encourage sticking around until the storm passes.
The official "final" song on the album, "Instructions," is rather dark, even for Hayden. If you were hoping for him to provide instructions on how to live a happy life, you'll have to look elsewhere, as this song addresses the issue of what to do with his body and notebooks of songs after he's died — ashes to ashes.
Fortunately, the album does not end on such a bleak note. It fades off into the ether with a hidden track that this time does NOT provide instructions on how to make BLTs or mac & cheese. Rather, "Us Alone" is a fully realized song that appears to be a continuation of "Motel" — indicating where the car ride has taken them, and conveying that even though life is heavy, sometimes unfair, it's good to know that the power of music helped them overcome.
On November 11, 2013, I found out that Hayden was again coming to Pittsburgh. This time, the performance was in a run-down venue known more for the quality of performers than the atmosphere. The stop was a late addition to the tour — just a convenient place to play, sandwiched between two other cities. It was a cold weeknight and the turnout was poor. The peeling walls of this old storefront and cobwebs in the corners of the high ceilings set the tone. Hayden and his band sat on sofas that looked as if they'd been discarded from front porches in a college-town. Something about this venue and scene served as a perfect complement to "Us Alone"… but also served as a reminder of how limited Hayden's commercial success has been. I chatted with him a bit before the show — small chit chat. I mentioned neither the waitress nor the toast from 2004. I just wanted to be sure to thank him for coming back to Pittsburgh, and for continuing to make music. For some of us, music is still – to borrow Hayden's words – everything…well, almost everything.
Click here to visit Hayden's official website.
Here's he is, singing "Blurry Nights," featuring Lou Cannon.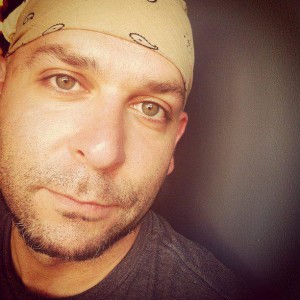 © Adam Kukic, Feb 28, 2014
Host & Producer, The Coffeehouse on WYEP 91.3fm
Sundays, 8 to 11 am EST
Streaming worldwide at www.wyep.org
[Photo of Ritter's Diner by Ruth E. Hendricks.]