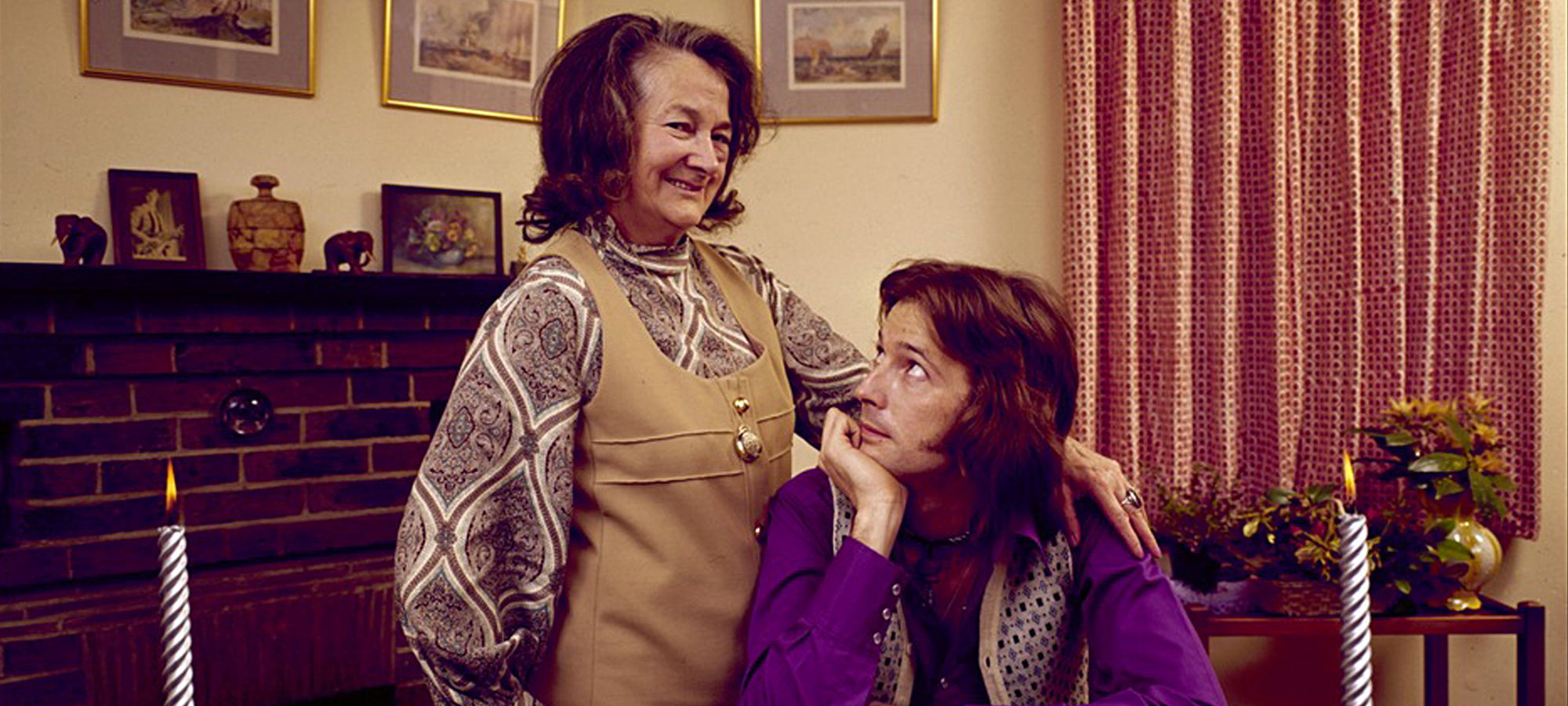 The Rolling Stones' 1966 release, "Have You Seen Your Mother, Baby, Standing in the Shadow?" isn't a song normally thought of as a Mother's Day tribute tune. Nor was it intended as such. Its ambiguous lyrics hint that mom's doing something of a shadowy nature. Mick Jagger sings the narcissistic lyric, "tell me a story about how you adore me." Shouldn't that line be the other way around? Okay, so although this is definitely NOT a song you'd want to include on your mix-tape for Mother's Day, it does serve as a reminder: have YOU seen your mother lately, baby?
Today let's take a look at the women who gave life to some famous entertainers, starting with the mother of Mick himself. Eva Jagger was a hairdresser and an active member of the Conservative Party. According to Philip Norman, who's written five books about The Stones, Eva was not enamored of Mick's on-stage shimmying: "..his mother thought all that dancing was just nonsense and show-off and use to laugh very hard with Mick Jagger's moves." But, to pervert a line from Shakespeare: "love is not love which alters when it androgyny finds." Eva was Mick's biggest fan, according to those who knew her.  So why does Mick look so glum in this photo?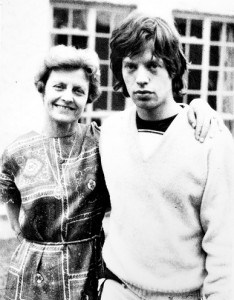 Rolling Stones guitarist Keith Richards considered his mom Doris "his mate." She always encouraged him. In his memoir Life he tells a sweet story about her final days: "I sat on the end of her bed two days before she kicked the bucket. I brought round a guitar and sat there and played to her…Next morning, she wakes up and tells my secretary, who goes round to see her every day: 'Did you hear Keith play? He was a bit out of tune.'" Here's Doris, taking her only child for a walk.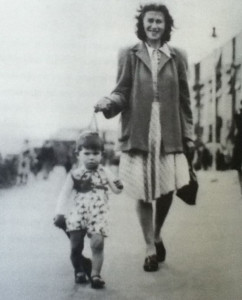 It's not surprising that rock's poet laureate Bob Dylan would have nothing to do with Hallmark cards.  At around age 10, he penned a Mother's Day poem for his mom, Beatrice "Beatty" Zimmerman.  He wrote, My dear mother, I hope that you / Will never grow old and gray / So that all the people in the world will say / "Hello, young lady, Happy Mother's Day." Legend has it that she showed it to all her friends, and kept it, along with her son's letters, in a footstool with a hinged lid. "One of them I read over so often that the wording was nearly rubbed off the paper," she's reported to have said.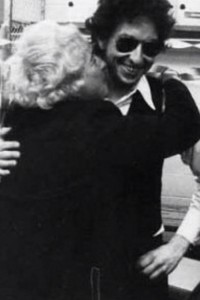 Mike Nesmith's mother Bette Nesmith Graham not only gave birth to a Monkee, she also gave the world Liquid Paper. While working as an executive secretary for Texas Bank & Trust in Dallas in 1951, this high school dropout came up with an idea to put tempera water-based paint in a bottle and apply it to paper with a small brush, thus hiding her typing mistakes. In 1956, she established the Mistake Out Company, later renamed Liquid Paper. In 1967 she moved from her home kitchen laboratory to her own factory, and by 1976 the Liquid Paper Corporation was turning out 25 million bottles per year. She sold the company to Gillette Corporation in 1979 for $47.5 million. Mike, her only son, inherited half of her estate. No wonder he was able to sit out all those Monkees reunion tours.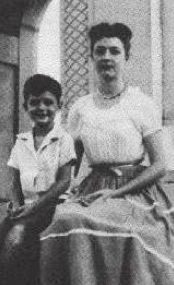 Janelle Johnson was the mother of Monkee Micky Dolenz.  She worked as an actress in numerous films, including the award-winning Since You Went Away, in 1944. Before he became a pop star, Micky was a child actor who appeared in the TV series "Circus Boy" in the late 1950s. Here's a picture of Janelle applying his makeup on the set!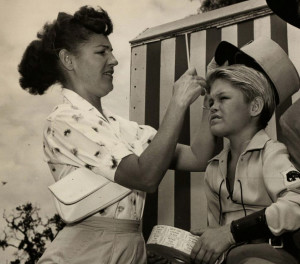 Lenny Kravtiz's mom was Roxie Roker. She's best known as the character Helen Willis, a black woman married to a white man, on the popular 1970s sitcom The Jeffersons. They were the first mixed-race couple on prime time TV. In fact, her real-life husband, NBC television news producer Sy Kravitz, was white. Roxie was an Obie Award winner and a Tony Award nominee and appeared in dozens of television shows.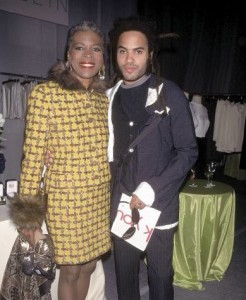 Frank Sinatra was the bad-ass rock star of his day. His mother Natalie, known as Dolly, provided an interesting free service back in Hoboken, New Jersey: she ran an illegal abortion business from her home. She was arrested several times and convicted twice for this offense. Her nickname was "hatpin Dolly."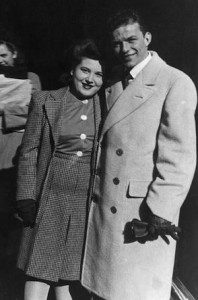 Bruce Springsteen's Italian-American mother Adele was the family's chief breadwinner, working as a legal secretary while Bruce's dad bounced from job to job. When Bruce was inducted into the Rock and Hall of Fame in 1999, he dedicated his award to his mother sitting in the audience, saying, "I'd like to thank my mother, Adele, for that slushy Christmas Eve, that Christmas Eve – a night like the one outside – when we stood outside the music store, and I pointed at that sunburst guitar, and she had that 60 bucks, and I said, 'I need that one.' She got me what I needed, and she protected me, and provided for me a thousand other days and nights. As importantly, she gave me a sense of work as something that was joyous, and that filled you with pride and self-regard, and that committed you to your world."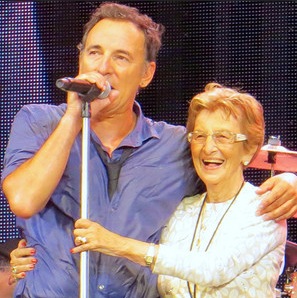 Rapper and actor Tupac Shakur's mother Afeni Shakur was an active member of the Black Panther Party in New York in the late 1960s and early '70s. Afeni gave birth to her son a month after being acquitted of more than 150 charges of "Conspiracy against the United States government and New York landmarks" in the New York "Panther 21" court case.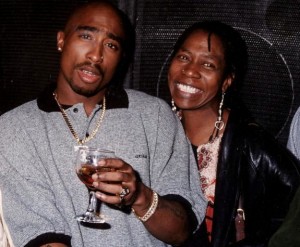 I love this photo of The Who's original bassist John Entwistle, playing guitar while his mother Queenie darns his socks. John died in 2002.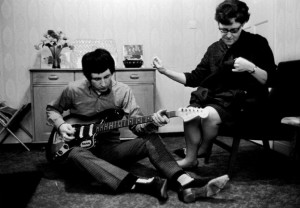 Ola Hudson, mother of Saul Hudson – better know as the guitarist Slash – is an African-American costume designer whose clients included David Bowie.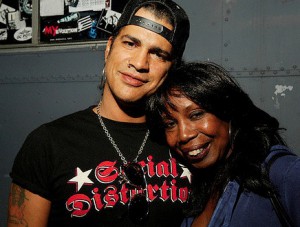 "Mother Mary" came to him, speaking words of wisdom: "Let it Be."  That's a song that Paul McCartney wrote for his mum Mary, who worked as a nurse and a midwife. She suffered from breast cancer, and died of an embolism shortly after an operation to stop the spread of the disease. Paul, pictured in front in the photo below, was 14 at the time of her death.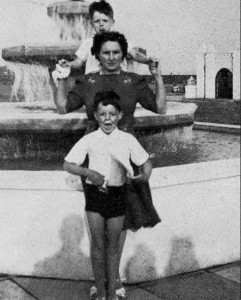 John Lennon was raised by his mother's sister, Mimi Smith. She was a resident trainee nurse at Liverpool's Woolton Convalescent Hospital, and later worked as a private secretary. Below is one of only a few photos of John with his mother Julia, who taught him to play the banjo, his first instrument. She died when a car driven by an off-duty policeman hit her while she was crossing a street. John was 17 at the time. He later wrote two songs in memory of her: "Mother" (Mother, I had you / but you never had me), and "Julia" (Julia, seashell eyes, windy smile, calls me / so I sing a song of love, Julia).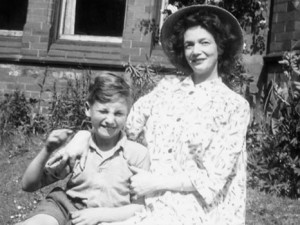 George Harrison's mom Louise worked as a shop assistant. She helped answer all his fan mail in the early days of Beatlemania.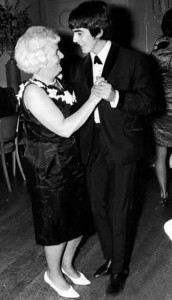 Elsie Starkey, mother of Ringo Starr, loved to dance and was known to have a beautiful singing voice. She was very protective of her only child.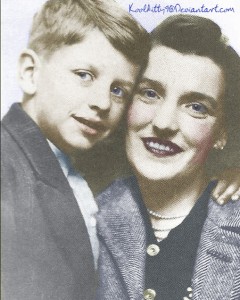 Cyndi Lauper's mother Catrine, a Sicilian-American, worked 14-hour days as a waitress. She appeared in several of Cyndi's music videos, including "Girls Just Wanna Have Fun" and "Time After Time." "My mother loved music and art and drama," said Cyndi in her 2012 memoir. "She adored and craved the culture that life in [her] neighborhood denied her."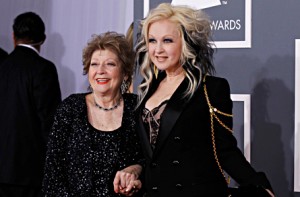 David Bowie's Irish mother, Margaret Mary "Peggy" Jones, worked as a cinema usherette.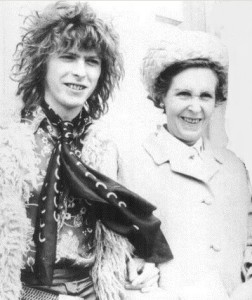 Sir Elton John, born Reginald Dwight, was the only child of Sheila Eileen Dwight (née Harris). She did not marry Elton's father Stanley until the boy was 6 years old. Elton credits his mom for his early interest in rock and roll:  "I remember so well the day my mother came home with a 78 of 'Heartbreak Hotel.' She said she'd just heard it in the record shop and she knew she had to buy it straight away. So she put it on for us both to listen to and I'd never heard anything like that before in my whole life. It completely changed the way I listened to music forever." Look at those identical smiles!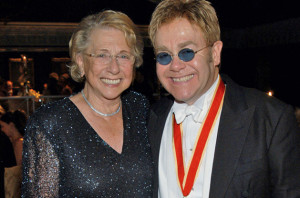 "My mom loved rock songs even when she was 80 years old," Patti Smith once said of her mother Beverly, who worked as a waitress. I relate to rockin' mothers. My mom's 83 and still calls me on the phone with announcements like, "Hurry up and turn on your TV. The Doors are on PBS!"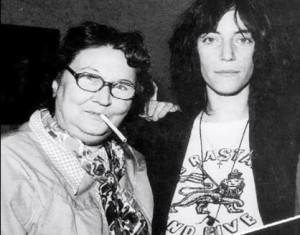 Alice Cooper says his mother Ella Mae Furnier still has the original pair of panties that came with his 1972 "School's Out" LP.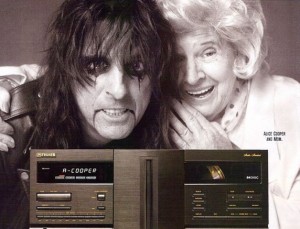 Here's Punk Brother #1, Joey Ramone (born Jeffrey Hyman) with his mom Charlotte. The caption for this photo on Joey's Facebook page says, "Be nice to mommy, and she'll make you nice salami sandwiches, and help you grow up big and tall, and taller." And that's why the late great singer was 6'6″.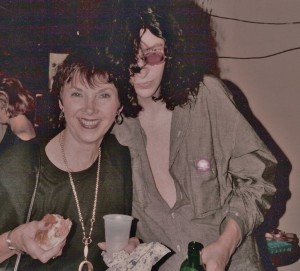 Grace Slick's mother Virginia descended from Mayflower stock. She was a one-time nightclub singer and did some acting in the early 1930s. Okay, Grace, for the sake of baby China, let's hope you weren't seeing white rabbits that day.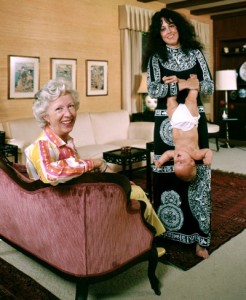 Country rock pioneer Gram Parsons was the son of Avis (née Snively) Connor Parsons, the wealthy daughter of a citrus fruit magnate who held extensive properties in Winter Haven, Florida, and Waycross, Georgia. She died from the effects of severe alcoholism the day Gram graduated from high school. Seven years earlier, Gram's alcoholic father had committed suicide. He inherited his parents' addictions, dying at age 26 from an overdose of morphine and alcohol. Gram wrote the song "Brass Buttons" in memory of his mother.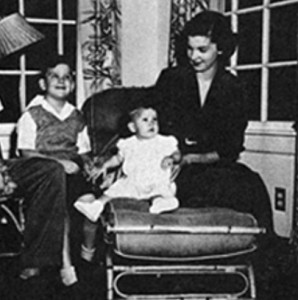 Anne Ritchie, mother of John Simon Ritchie, AKA Sid Vicious of The Sex Pistols, admits to supplying him with the dose of heroin that killed him in 1979.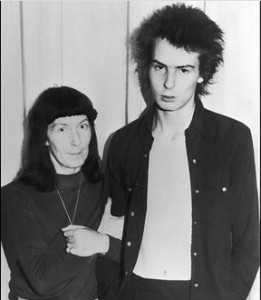 Ginger Baker was the first in a long line of madman drummers, and without doubt the most ornery. He made a mighty noise in the 1960s with Cream, the British supergroup featuring Eric Clapton and Jack Bruce. Here's the fiery Ginger with his mom Ruby Streatfield in 1970.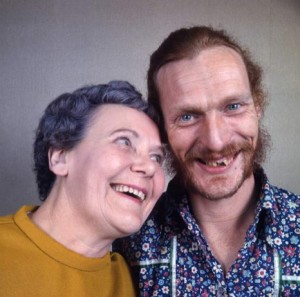 Patricia Clapton gave birth to son Eric out of wedlock, at age16. Her mother Rose raised Eric, telling everyone he was her son, and that Patricia was his sister. He learned the truth at age 9, but remained with his grandparents. Rose is pictured below.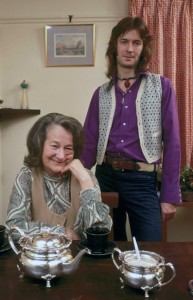 Janis Joplin's mother Dorothy was a registrar at a business college. She once said of her daughter, "She was unhappy and unsatisfied without [receiving a lot of attention]. The normal rapport wasn't adequate." Pity that Janis will never know just how much attention her music has received in the 45 years since her death at age 27.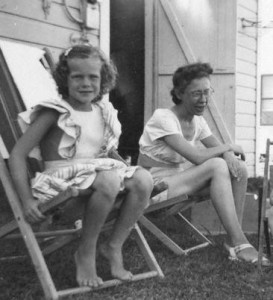 And finally, here's the beautiful Helen Spiardi, my Rock of Gibraltar. I love and thank her for her never-ending encouragement of my reading, writing, and record-buying. She's never closed her mind to the music or the art or the weirdness that I love so much. In the words of the great singer/songwriter Laura Nyro, she cradled me during my stoney end days.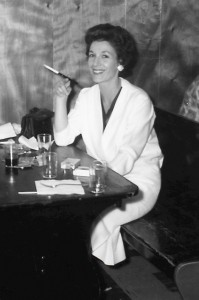 Here's the late Tupac Shakur, singing about his "Dear Mama:"  "I can always depend on my Mama / And when it seems that I'm hopeless / You say the words that can get me back in focus…And there's no way I can pay you back / But my plan is to show you that I understand / You are appreciated."

© Dana Spiardi, May 10, 2015