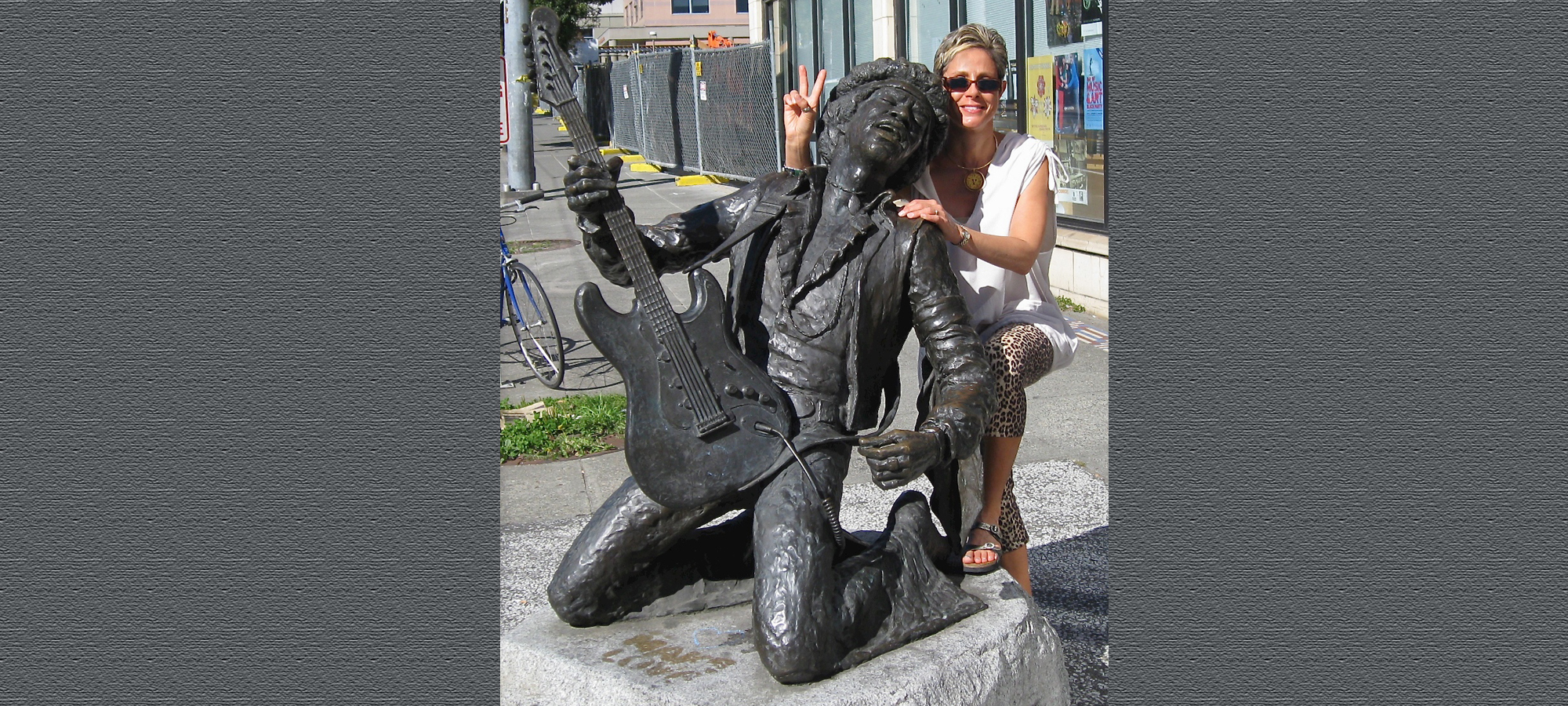 Oh, Jimi Hendrix! Why did you have to swallow those 9 sleeping pills, suffocate in your own vomit, and deprive us of many more years of power-charged electric rock? You would have turned 73 years old today. We can only imagine what contributions you would have made had you not expired at age 27 in a London apartment.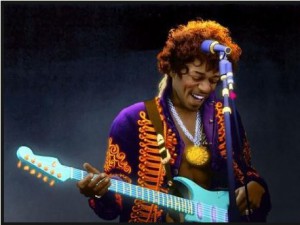 Had you lived, you might have experimented with myriad musical genres and collaborated with all types of people – from country artists to rap stars. In time, you would have moved beyond the guitar-smashing, guitar-burning gimmicks, stopped using your teeth as guitar picks, and saved your body the agony of playing your Strat behind your back. Your music alone was always enough to hold anyone's attention.
Still, it didn't hurt that you looked so groovy. You were the original Space Cowboy, soaring through a purple haze. There is almost no image that best represents the 1960s psychedelic ethos than visions of you in velvet orange pants, paisley ruffled shirts, brocaded vests, feather boas, dress uniform jackets, beads, headbands, and hats. And that hair! We know you admired Bob Dylan's music, but who would have imagined that you coveted his curly locks! Not to embarrass you, but I hear that one of the few possessions you traveled with was a set of hair curlers.
You had been honing your craft in the US for years, but it was London that first embraced you. You arrived there as "Jimmy" in 1966 after meeting Keith Richards' then-girlfriend Linda Keith in New York City. She introduced you to record producer and manager Chas Chandler, who brought you to England, signed you to a contract and found you two bandmates, bassist Noel Redding and drummer Mitch Mitchell. You would be known as Jimi Hendrix, and your power trio The Experience would release one of rock's classic albums, "Are You Experienced?"
Eric Clapton, who only a few years earlier was declared "God" in graffiti all over London, admitted his jealousy upon seeing you perform live for the first time. And he wasn't the only superstar who took notice. At a 1967 concert at London's Saville Theater, those watching in awe included the rock royalty of the day: Paul McCartney, George Harrison, Brian Epstein, Spencer Davis, Jack Bruce, pop singer Lulu, and Clapton. That's a pretty impressive draw for a guy who was relatively new on the scene. You opened the show with your own wild rendition of "Sgt. Pepper's Lonely Hearts Club Band," the title track of the The Beatles' album that had been released just four days earlier! In gratitude, Paul McCartney routinely includes a set of your songs during his concert performances.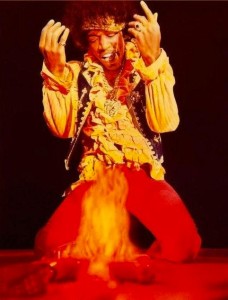 The Who's Pete Townsend may have been the first rocker to smash his guitar on stage, but nobody looked sexier than thou as you destroyed your fiesta red Stratocaster at the 1967 Monterey Pop Festival. The audience surely had a group orgasm as you straddled your Strat, made love to it, then turned it into a sacrificial pyre and split it to smithereens. An eerie omen of your own pending self-destruction, perhaps?
Like many rock stars who died early from misadventure, your death was not without controversy. Like your peers, you were a user of LSD, amphetamines and pot, but you weren't known to be a degenerate, wasted drug fiend. While you did inherit alcoholic genes, it's not clear that you were a booze addict. According to your girlfriend Monika Dannemann, on the night of your death you took increasing amounts of Vesparax because you couldn't sleep. How and why you suffocated is a matter of debate. John Bannister, the doctor who attended to you, was criticized for not performing a tracheotomy, even though he detected a large amount of wine in your airways.
And then there are the murder rumors. According to a book by a former Animals roadie James "Tappy" Wright, your manager Mike Jeffery admitted to ramming pills and wine down your throat because you were worth more to him dead than alive. Supposedly, Jeffrey had taken out a $2 million life insurance policy on you, naming himself the beneficiary. As late as 1992 your biographer Tony Brown managed to convince Scotland Yard to investigate a possible murder case. But it led nowhere.
In the end, we are left to enjoy your music as a snapshot of an era that is long gone. During your lifetime you produced only a few albums, but in the years since your death you've been regarded by most rock critics as the most creative and daring guitarist of all time, as well as a mild-mannered, sensitive artist. It's a shame that your music ended so soon. But death, as they say, can be a great career move.
Here's our wild thing Jimi,at the Monterey Pop Festival:

© Dana Spiardi, Nov 27, 2011