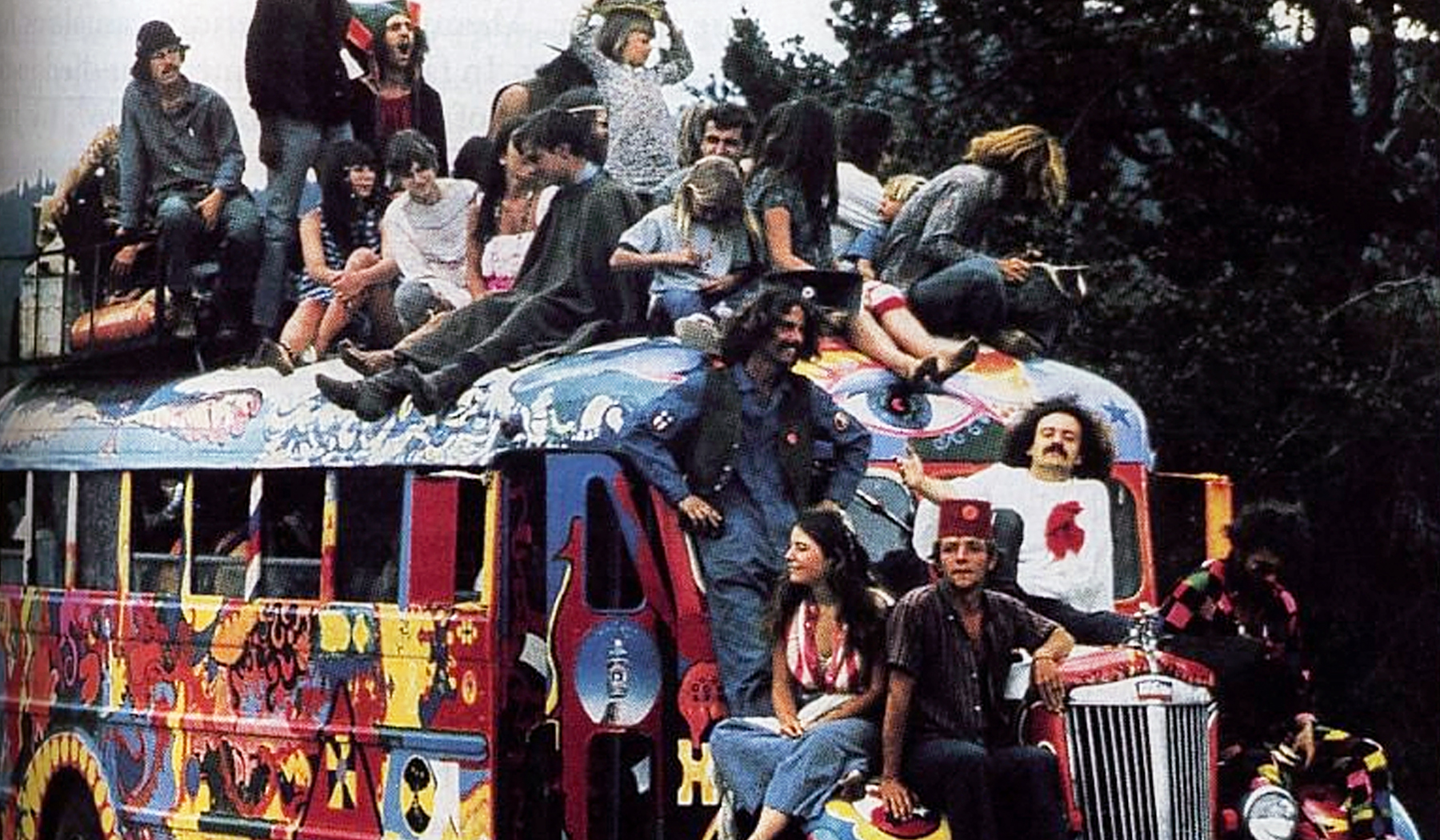 So, you're trippin' with your blue-jean baby down a marijuana-scented street, wearing your tie-dyed shirt, love beads and huaraches, when you hear an announcement blaring from a packed tour bus: "Now, ladies and gentlemen, if you look to your left you'll see a hairy hippie passed out in front of the Phật Phúc Noodle Bar. Ahead on the right you'll notice a parade of shaved-head Hare Krishnas — such a happy lot, wrapped in their orange gauze! Oh, and do you see those scraggly kids carrying signs that say 'drop acid, not bombs'? They're the pinko-loving, un-American war protestors. Now, just up ahead on your left is a store where stoners buy things called zig-zag paper and roach clips. They call it a 'head shop'….don't ask me why!"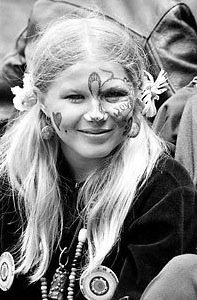 What better way to take in the sights, sounds and aromas of the Summer of Love than to book a reservation on a Greyhound Bus Line "Hippyland Tour" of the famous Haight-Ashbury district.
This San Francisco neighborhood was the epicenter of psychedelia in 1967. Musicians, akin to snake charmers, hypnotized the beautiful flower-children who gyrated like whirling dervishes. India-inspired glad rags and Peter Max posters filled the funky shops. And LSD had everybody seeing white rabbits. Kids were heading to SF with flowers in their hair to obey Jefferson Airplane's directive: find somebody to love. George Harrison dropped down from the heavens to partake of the scene. The Monterey Pop Festival was the place to be, and the Beatles' "Sgt. Pepper" album (released on June 1) was the LP to smoke dope to. Time magazine's July 7 cover story was "The Hippies: The Philosophy of a Subculture." Mainstream society was catching on. TV's most trusted anchorman, Walter Cronkite, clued the clueless in on the happenings on his nightly network news report.
I, a child of 7 whose favorite "Revolver" song was the hypnotic "Tomorrow Never Knows," stared at our black-and-white cabinet TV with envy at the scenes of peaceniks putting daisies in the barrels of police rifles, hippies dancing in a hallucinogenic stupor in Golden Gate Park, and pinkos burning draft cards in Chicago. Heck, by the time the Age of Aquarius hit Pennsyltucky it was already the Age of Libra. But I could dream, couldn't I?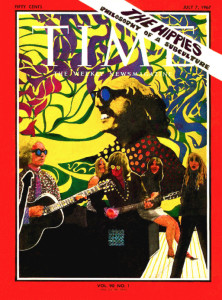 It was cultural voyeurs like me (and profit potential) that no doubt inspired Greyhound to launch a "Hippland Bus Tour" of the Haight district in April of 1967. Imagine, everyone from wanna-be hipsters to well-coiffed housewives to short-haired accountants (as John Lennon described the unhip) gawking through bus windows, in awe of this psychedelic horn-a-plenty! It was a Magical Mystery Tour for those who dreaded what their kiddies might dream of experiencing. The media played up the Greyhound tour, drawing thousands of kids to the Haight to perform like wild zoo-children, while spectators snapped photos with their little Kodaks, safe behind tempered glass.
The youthquake of 1967 was a short-lived diversion from the troubles of the day. It wouldn't be long before 1968 ushered in some of the worst tragedies of the decade: the mayhem at the Democratic National Convention, student-cop clashes on campuses, mounting Vietnam War horrors, and the assassinations of two leaders who offered us hope: Bobby Kennedy and Martin Luther King, Jr. "Blood on the streets runs a river of sadness," sang Jim Morrison.
Here's the original Scott McKenzie song that set the mood for 1967. "If you're going to San Francisco, be sure to wear some flowers in your hair."

Nearly a year after first publishing this article, I was thrilled to receive an email from the beautiful young lady in the photo at the top of this post. Her name is Kathy Aydelotte Castro, and she was only 16 when photographer Robert W. Klein took this picture of her during a Summer Solstice gathering in San Francisco's Golden Gate Park in 1967. He took the photo for the Associated Press; it was later published in various newspapers and magazines. Klein may or may not have asked for her written permission to publish this photo. Nevertheless, the name "Judy Smith" became attached to it. She's never received any type of recognition for the picture, so I hope to correct that now!  Thanks, Kathy, for finding my blog and contacting me. It's great to connect with someone whose photo I chose from the dozens I screened for this article. (Apologies to Mr. Klein for using the photo without his permission.)

© Dana Spiardi, May 6, 2014
Save
Save