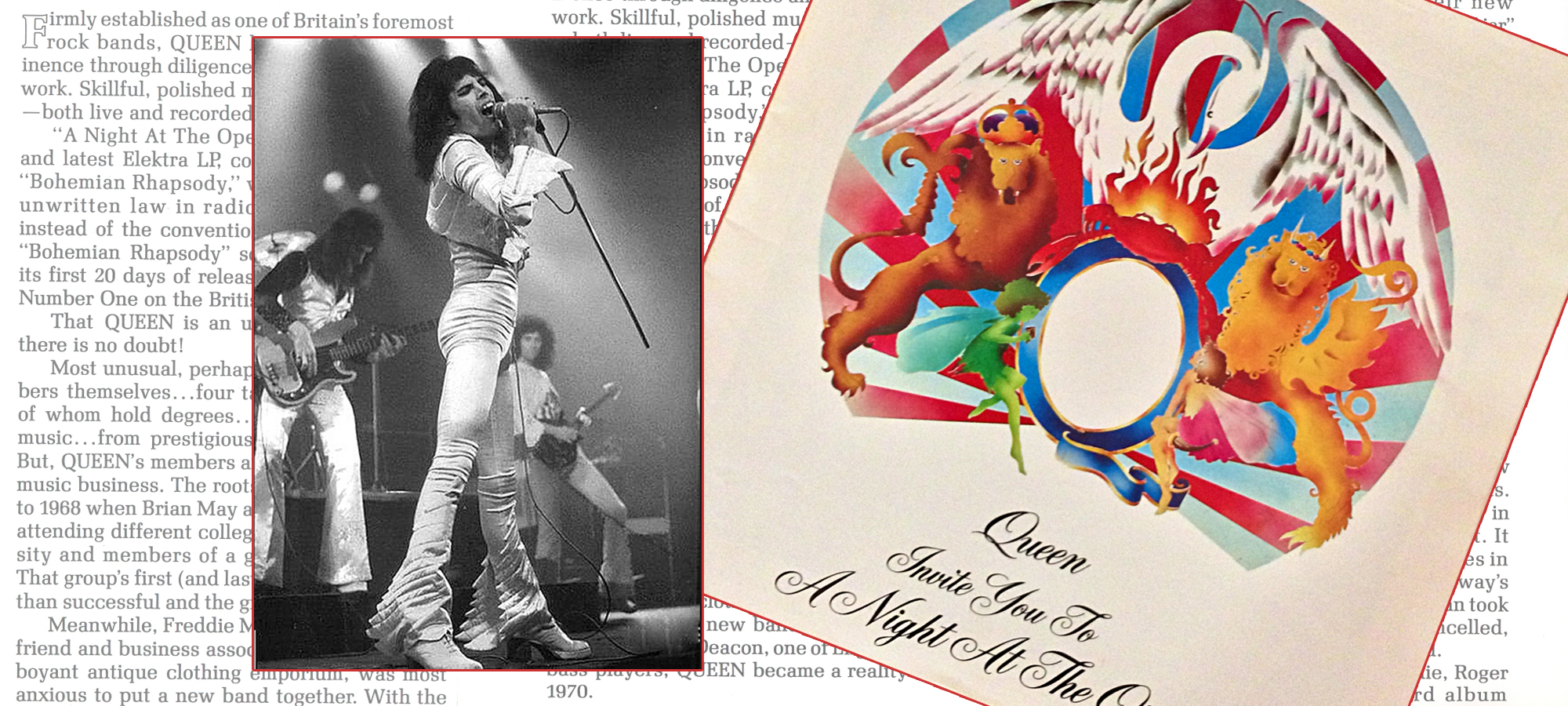 Question: what's the next best thing to seeing your favorite artist perform at a rock concert? Answer: receiving a copy of the show's program from a friend who attended the gig.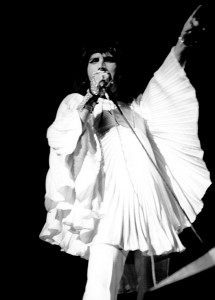 Okay, I know that's a stretch. Sure, you can drool over a concert program all you like, flip its pages till they fall out, and take it to bed and read it under the covers with a flashlight. But it will never sing to you. It won't make your ears ring for hours on end. And it will never blind you with pyrotechnics.
Nevertheless, I experienced a true rock-shock when my friend Tony Vigliotti walked into sixth period French class and presented me with a souvenir concert program from the Queen show he'd seen the night before at Pittsburgh's Stanley Theater. This was the concert I'd been dying to see. Or rather, this was The Freddie I'd been dying to see. Frontman Freddie Mercury had become my style icon — my Killer Queen, so to speak, with his shaggy long-cut black pageboy and his fairy-inspired frocks. I didn't want to sleep with him, mind you. I wanted to BE him. Or at least go shopping with him.
Queen was in town to promote their fourth studio LP, "A Night at the Opera," which featured their opera-palooza "Bohemian Rhapsody."  I wouldn't have even considered asking my strict parents if I could attend the show, had it not been for the fact that Tony V. was going.
I was 16, lived 35 miles east of Pittsburgh, couldn't drive, and had never been to a rock concert. Surely my parents would trust Tony to take me! He was a year older and was held in high regard by my mom, who had known his family her entire life. Tony's grandmother was my mom's beloved comare – her godmother – a relationship of special importance in Italian families. Tony may have been the leader of Blairsville's one and only rock band, Rampage, but he was no wild one. He was a good boy. A sensible, respectable boy.
But while my mom had no doubts about Tony's superior character, she just wasn't convinced that this Queen concert was a good idea. It was in the city, in a big stadium that was no doubt full of people on drugs. There would be big parking lots and possibly some nighttime outdoor walking involved. And, because it was February, there might be weather.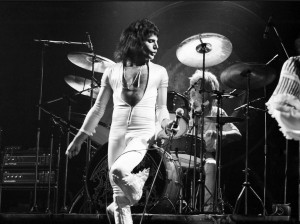 I accepted her decision, as I always did, without argument. But as much as I desired to see Queen in that career-defining zeitgeist, as much as I longed to see Freddie command the stage in the sartorial style I tried so hard to emulate, I quickly got over it. In fact, within a few months, I had gotten over the bulk of my Freddie obsession. (Teens, take my word: whatever IT is, you will get over it.)
Besides, why should I have sulked over missing that gig? I already had my tickets to see Bruce Springsteen play the nearby Cambria County War Memorial in two months. And there would be no worries about transportation: Mommy and Daddy would drop me and Barb L. off at the arena entrance and pick us up in the same spot afterwards. Despite the skepticism of my rock mentor ("I can't believe you're making your concert debut with Springsteen," said Tony. "He's all hype") I would forever regard that April 12, 1976, show as the best concert of my life. (Okay, so Tony missed the mark…just that one time. I once predicted Madonna would fade away. Even rock aficionados are wrong sometimes).
But talk about a friend! Here was my Beatle-lovin' brother…the guy I most enjoyed talking to in high school…the person who planted the seeds of my never-ending rock-n-roll education…the mate who understood, like no one else, how much I longed to see that Queen concert…the friend who thought enough to bring me a souvenir that I'll prize forever.
I finally got to see Queen a few years later at the Pittsburgh Civic Arena. And you know what? Receiving that program from 1976 is a much sweeter memory.
Thank you, "Tony Velot."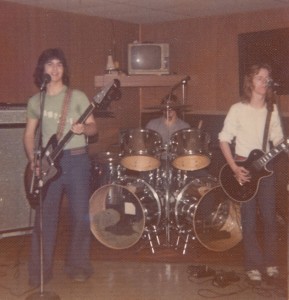 Here's Tony, at left, playing bass with his band Rampage in the summer of 1975 at the Eagles Club in Blairsville, PA. Jeff "Turtle" Baker is on lead guitar and Gary McCrady is on drums. Today, Tony Vigliotti is best known as Tony Michaels, General Manager of WHJB 107.1 FM in Greensburg, PA. He hosts Jukebox Saturday, a long-running classic hits request show that airs on Saturdays from 10 am to 2 pm on three stations: WHJB, WDAD 1450 AM in Indiana, PA , and KOOL 103.3 FM in Punxsutawney.
"Sweet Lady" is my favorite song from "A Night at the Opera." That album had the distinction of being the most expensive ever produced at the time of its release in 1975. I like this video because it shows a collage of clips featuring the Freddie I loved best, in the style that once made me swoon. But even after he cut his hair, grew the moustache, and swapped the white billowy caftans for hot pants, there would always be a special place in my heart for that "Good Old Fashioned Lover Boy" of 1976. RIP, Freddie.

 Dana Spiardi, Feb 20, 2015