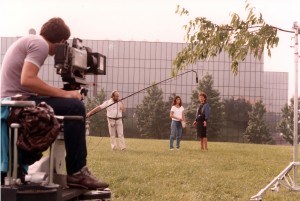 My first job at Westinghouse Electric Corporation was as a writer/producer in the company's video department. This was the heyday of the early 1980s video boom – pre-Internet, pre-DVD – when managers and marketers required an endless supply of VHS programming to help sell products, train personnel, communicate to employees, and roast retirees.
My crew and I traveled around the country to videotape nuclear plant scenes, industrial processes, and talking heads of engineers and managers. It was a constant logistics nightmare. For five years my life revolved around maintaining overlapping production schedules, hiring freelance crews, auditioning actors, renting equipment, commissioning soundtracks, preparing budgets, writing scripts and supervising all-night editing marathons. When the budget allowed, I was able to produce many polished, broadcast-quality programs, such as video news magazines and slick promos featuring well-known Pittsburgh theatrical actors and TV news personalities.
When I left Westinghouse in November 1995, I established my own video company, Heritage Studios, which specialized in the production of video histories of families and organizations. I no longer operate Heritage Studios, but I love to make videos for fun, using Final Cut Pro.  Below you can view some of the videos that I produced for Westinghouse, as well as a few that I created during my Heritage Studios days.  Click here to view all my videos on YouTube.
Westinghouse Videos
Westinghouse Project Man
I produced this video about computerized nuclear project management in 1984. The hardware looks primitive, but it was cutting-edge at the time! The video features actual and amateur actors (Westinghouse employees), plus one "highly-paid" horse who traveled from across the state to appear in this show. Well-known Pittsburgh-based actor Chuck Aber ("Silence of the Lambs") appears as Project Man. Kevin Hyde wrote this very funny script. My friend Tom Nypaver created the video animation sequences.

Westinghouse Pocket Plant Analyzer – 1984
I produced this funny video for a "commercial break" during a motivational employee meeting for nuclear engineers. The star is Pres Rahe, formerly of Westinghouse. He was a real sport and quite a natural. (1984; Writer: Kevin Hyde, who also appears with "the Gizmo")

Westinghouse COMPETE Network – 1984
This funny video was used as a "commercial" during an employee conference in 1984. This is one of four pieces that I produced for that event. Given the tight budget, I also supervised makeup (check out Mr.T) and wardrobe (Superman's outfit was a real paste-up job!) Mel Harris stars as Mr. T. and Jim Little appears as Superman. (Writer: Kevin Hyde)

Westinghouse Quality Magazine – 1984 through 1985
I wrote and produced three installments of this video news magazine for Westinghouse in 1984 and 1985. The host is the late Patti Burns, who was a well-known Pittsburgh TV news anchor (KDKA-TV) for nearly 20 years. Due to the length of these shows, only the opening sequence of each episode is being broadcast.  Tom Nypaver created the video animation sequences.

Westinghouse – Progress Through Partnership – 1983
I wrote and produced this video to highlight Westinghouse Electric Corporation's work in the international nuclear industry. It was directed by Lee Knepshield and shot on location in Belgium, Spain, South Korea, the Philippines, and at many U.S. nuclear plants.

Heritage Studios and Personal Videos

A Shining Season: Fox Chapel Girls' Swim Team, 1995-96
I produced this video to commemorate the swim team's winning season. My client was swim coach Jim Skirboll.

Basement Daze:  1981 – 1985
This is a video highlighting the people and places associated with my madcap years as a video producer for Westinghouse – 1981 through 1985.

Bulgarian Cultural  Center Anniversary Video
In 2010, I produced a video commemorating the 80-year anniversary of the Bulgarian Center.
The program was videotaped and edited by Kamen Bonev.

The Magic of India and Nepal
Ed and I traveled to India and Nepal in 2000.  This video highlights our fabulous trip.