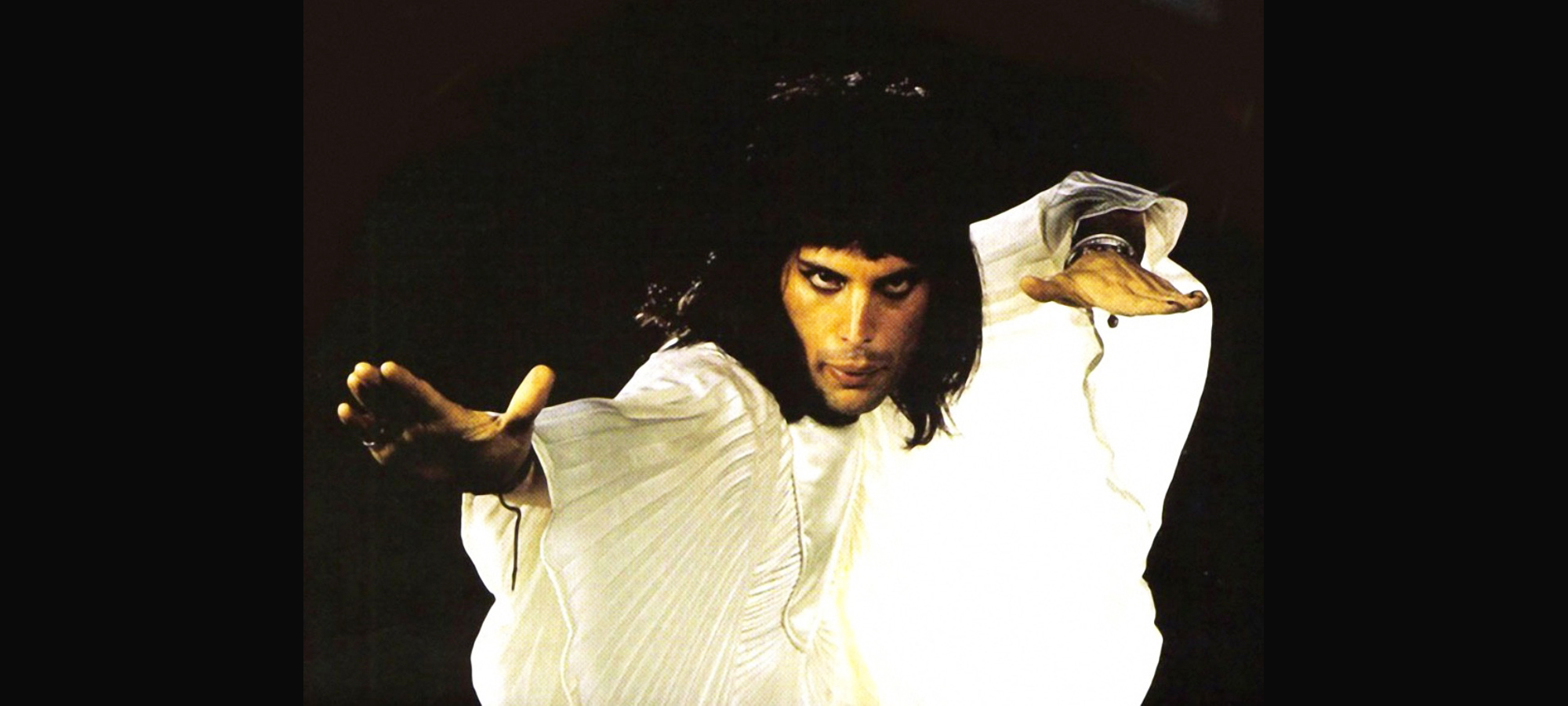 When I was 16 years old, Queen vocalist Freddie Mercury was the man I most wanted to meet. I didn't want to sleep with him, mind you. I wanted to BE him. Or at least go shopping with him. Seriously, he was one of the people who inspired me to get out of my tiny Pennsyltucky hometown. I figured that if I studied hard enough, I could go to college, get a good job, save my money, and then move to London and hobnob with him and my other Brit rock idols. As it turned out, I went to college, got a job, moved to a strip-mall-suburb, and got to hobnob with Nuclear Regulatory Commission Chairman Harold Denton in the backroom of an Italian restaurant just off the interstate. But THAT'S another story.

I flipped for Freddie just after the album "Sheer Heart Attack" was released (it featured the ultra-cool track "Killer Queen," which was supposedly inspired by Jackie O). Freddie was the most fashionable creature I had ever laid eyes on. I adored his exotic looks – the kohl-rimmed eyes, the long, shimmering hair. It never even occurred (or mattered) to me that he might be gay or bisexual!  After all, the rock 'zines like Creem and Circus frequently mentioned his live-in girlfriend Mary Austin. I was dying to know all about her. What did she look like? Did they exchange clothes? And it's funny, but in the early days the rock press never alluded to the fact that Freddie Mercury was actually Farrokh Bulsara – a Parsi born in Zanzibar! Imagine my delight when I learned that fact. A dusky, dashing man from a country named Zanzibar.
Because of Freddie, I took to wearing black nail polish – on one hand only – as did he. I layered on the best waterproof  eyeliner I could find in the local Rexall. I bought a black shiny trench coat and fancied myself the Black Queen of the band's second LP. And I sought out the most outrageous Freddie-inspired clothes I could find, most of which I found in two small boutiques — Paraphernalia and The Piscean – both located at suburban malls. That's me in the photo, trying to look like dynamite-with-a laser-beam.
Alas, my royal crush had run its course just about the time the band released the "News of the World" LP – which contained those two tiresome stadium anthems, "We Are The Champions" and "We Will Rock You." By this time, Freddie had sheared off his beautiful locks and was sporting a close-cropped haircut and a mustache. He cast aside his Carnaby Street frocks and elegant, billowy kaftans and bared his furry chest. But I never stopped adoring that good old-fashioned lover boy.  I jumped at the chance to see Queen when they played the Civic Arena in Pittsburgh in 1980.  Musically, it was a great show. I still have an indelible image of Freddie strutting around – bare-chested – in tiny red shorts!  But Queen was never just a glam-band. Guitarist Brian May kept the electricity surging at peak level. Frank Zappa once said, "Actually I get more surprises listening to a Queen album than I get out of Jimi Hendrix's albums….Some of the things that they're doing mix-wise on these albums are very difficult." Now that's quite an endorsement, coming from a hard-to-please cynic like Zappa.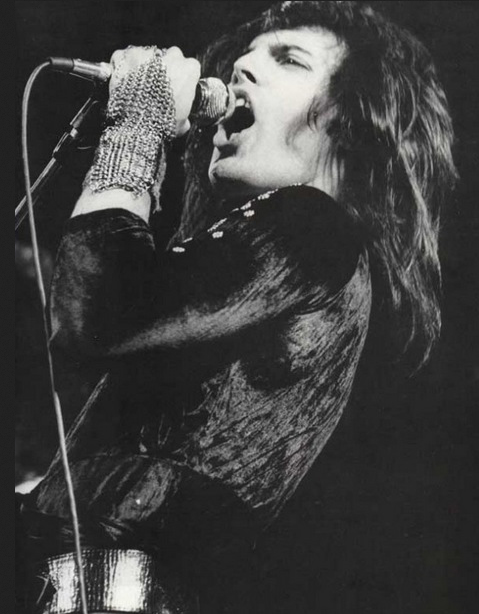 Queen's popularity seemed to decline in the US by the mid-1980s, as Freddie became increasingly flamboyant.  Americans, with their puritanical roots, probably had trouble embracing a performer who was – by that time – so openly gay. But Queen's appeal never waned in Europe.  The band's only major faux pas was their decision to perform in apartheid South Africa in 1984, thus breaking the United Nations cultural boycott (they were subsequently fined by the British Musicians Union). Brian May justified the move, claiming the band was non-political. "We play to anybody who wants to come and listen," he said.  It was a bad move, nonetheless.  But, as I've said before, I'm pretty forgiving when it comes to rock-n-roll.
When Freddie passed away from bronchial pneumonia resulting from AIDS in 1991, I felt like I had lost an old friend. I've digitized my old vinyl Queen albums and enjoy listening to those fabulous, underrated songs from the early 1970s: "Death on Two Legs," "Sweet Lady," "The Seven Seas of Rye,"  "Now I'm Here," "Brighton Rock," and "Tie Your Mother Down."  AND, like those morons in the movie Wayne's World, I never fail to crank up the dial, bop like mad, and sing my lungs out every time I hear "Bohemian Rhapsody" on the car radio.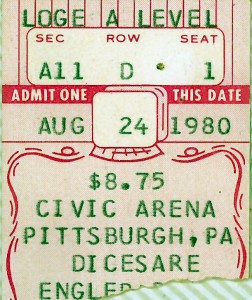 Queen has enjoyed a resurgence in popularity in recent years, due to a certain Lady who claims she adored the band's singer and took her stage name from the group's song Radio Ga Ga.  Thanks, Freddie, for inspiring a whole new generation of brave, over-the-top performers.  But I think that even the outrageous Mr. Mercury would have considered a raw-meat dress a bit gauche.
Happy Birthday, Freddie!   September 5, 1946 – November 24, 1991
Here's the clip that started it all for me!

And here's Brian, explaining the famous"waltz-riff" he developed for "Sweet Lady." Check out Freddie's performance! This is my favorite hard-rocking Queen song.

© Dana Spiardi, September 5, 2011
Save
Save
Save
Save
Save
Save
Save
Save
Save
Save
Save
Save
Save
Save
Save