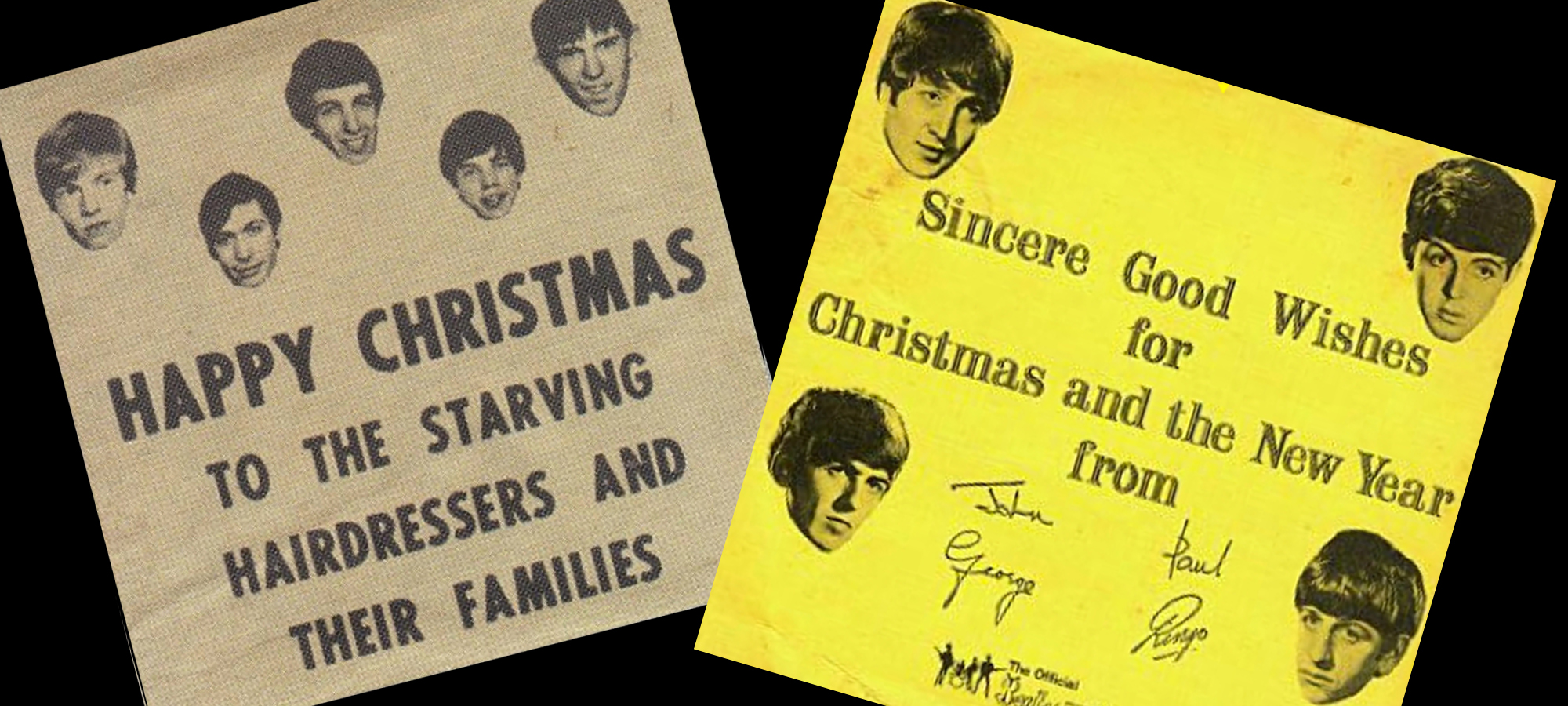 In the early 1960s, The Beatles came off as cute and cheeky, while the Rolling Stones – marketed by manager Andrew Loog Oldham as the anti-Beatles – were seen as snide and snarky. The difference in their personas, real or perceived, is evident in this example of how the two bands expressed their Christmas spirit.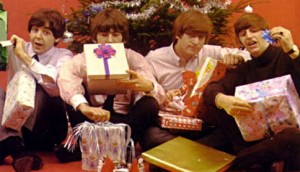 As both the Beatles and Stones ushered in the era of long hair, barbers and stylists all across the U.K. began losing customers; some even aired their gripes publicly on the telly and in newspapers. The shrewd, 20-year-old Oldham knew how to capitalize on the situation and further his boys' reputation as Britain's premier "up yer bum" band. On December 26, 1964 – known as Boxing Day in the U.K – he took out an ad in England's New Musical Express (NME), wishing a Happy Christmas to the Starving Hairdressers and their Families, from the Rolling Stones!
I'm sure that John Lennon, the sardonic Beatle, wished his band could have pulled that off. But upper-crust manager Brian Epstein was careful to portray his lads as lovable mop tops who adored their public — even to the point of issuing special Christmas records for fan club members AND the royal family, to boot!  Can you imagine how much the Beatles disliked having to pose for silly yuletide photos like the one above?
Well, here they get their chance to cut loose, revealing their true irreverent, silly natures with this (chemically induced?) Christmas message from 1964. By the way, the boys' code phrase for "let's have a joint" was "let's have a laugh."

Okay, these days the Stones are old and sentimental, and make a point of issuing all kinds of bubbly thank yous by way of YouTube, Facebook, Twitter, and the like. Oh that Mick! What a Sir! What a spokesman! Here's one of their most recent greetings:

But the best message of all is this one from Keith — obviously feeling a bit silly holding his "ball." Oh, how we love him.

Yes, folks. Yer blogger is (in the words of Mott the Hoople's "All the Young Dudes") back at home with her Beatles and her Stones – now and forever.
Merry Christmas and Happy New Year! Thanks for following The Hip Quotient!
© Dana Spiardi, Dec 26, 2014