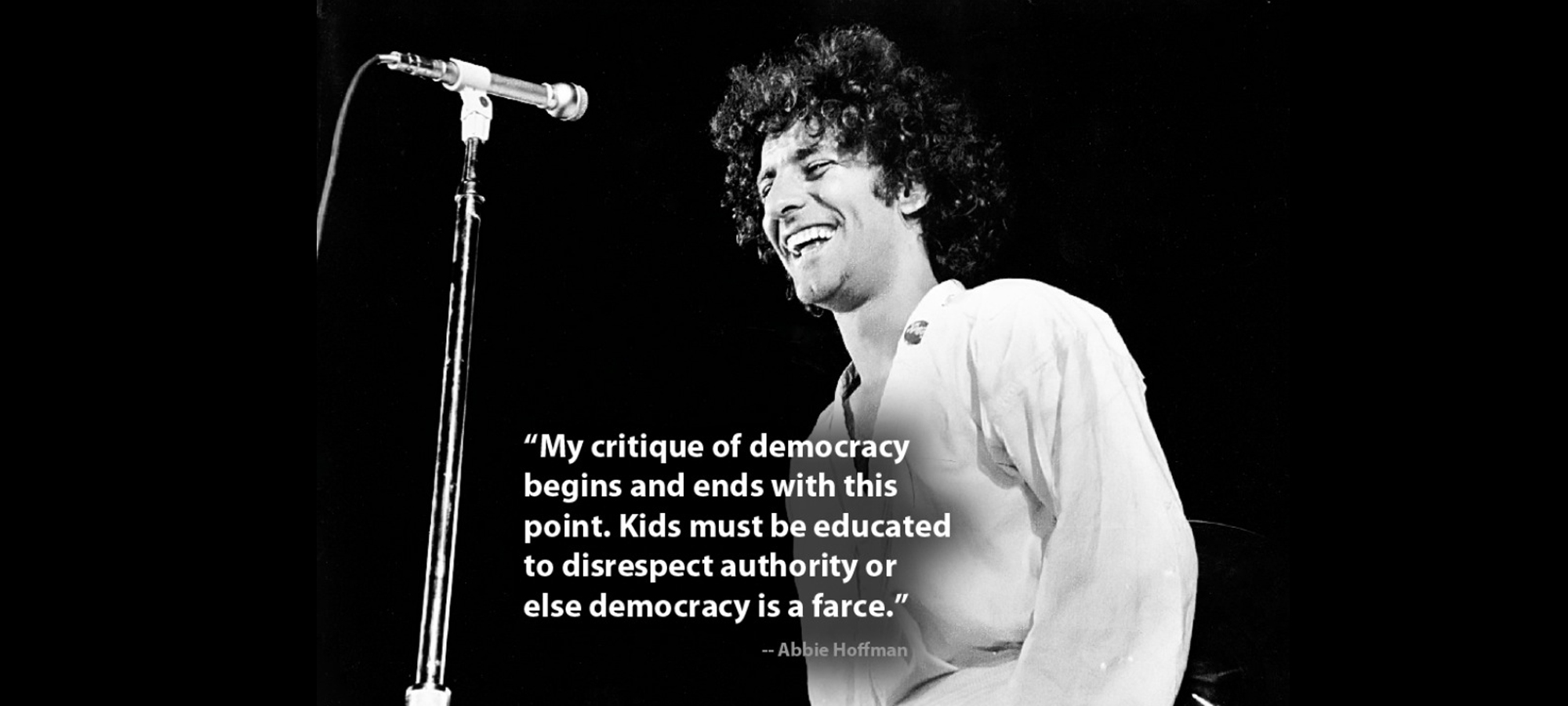 Wanted: Charismatic crusader. Someone who can combine smarts, satire, moxie, and adrenaline to combat all that plagues modern society, from gas drilling to corporate pillaging.  Well, we have just the man for the job. Too bad he's dead.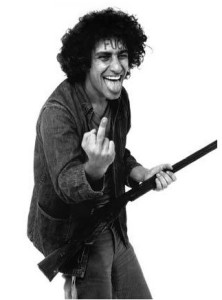 Attention: this is an important history lesson for all you sweet young things born after the baby boom!  The subject is Abbie Hoffman, who died 25 years ago today. He was one of the most colorful pranksters and political activists of the 1960s, and a hero to many.  He was a founder of the Youth International Party (Yippies) and one of the "Chicago Seven," a group arrested for conspiracy and inciting a riot during the 1968 Democratic National Convention. His outlandish behavior inspired many to become politically active, question authority and protest the Vietnam war. What an adorable little bad-ass Jew!
The Nixon government considered him a subversive, due to his association with such controversial groups as the Black Panthers, the Student Nonviolent Coordinating Committee (SNCC) and the Socialist Workers Party (SWP). His FBI file consisted of over 13,000 pages.
One of his grand symbolic stunts involved taking a group of Yippie followers to the New York Stock Exchange in 1967, where they tossed both real and phony dollars from the gallery, amusing themselves as traders went wild trying to catch the falling bills. No one in Hoffman's entourage even thought to alert the press ahead of time, but the story spread like wildfire through the media. As a result of the prank, the NYSE spent $20,000 to enclose the gallery with bulletproof glass.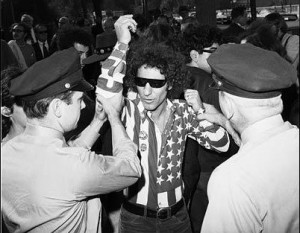 Another of his capers involved leading a group of war protestors to the Pentagon, only to find that a throng of soldiers had formed a human chain to prevent them from nearing the building. Abbie suggested the use of psychic energy to levitate the Pentagon until it turned bright orange and began to vibrate – thus bringing the Vietnam war to an end. Allen Ginsberg was on hand to lead the crowd in Tibetan chants.  Oh, what a time!
The courtroom trial of the Chicago Seven was like a scene from a Marx Brothers movie.  Abbie and fellow defendant Jerry Rubin wore judicial robes to court one day. As Abbie was being sworn in, he managed to flash the finger while his hand was on the bible. When asked to give his state of residence, he replied, "the state of mind of my brothers and sisters." He led his codefendants in daily harassments of Judge Julius Hoffman (no relation). Abbie told the judge, "you are a 'shande fur de Goyim' [disgrace in front of the gentiles]. You would have served Hitler better."  During the trial he repeatedly called the judge "Julie," and even suggested he try LSD, promising to set him up with a dealer in Florida.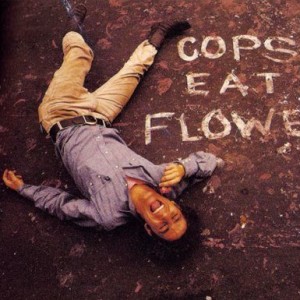 Abbie and four of his codefendants – Rubin, David Dellinger, Rennie Davis, and Tom Hayden (who later married Jane Fonda after their controversial jaunt to North Vietnam in 1972) – were found guilty of "intent to incite a riot while crossing state lines." They were fined $5,000 and sentenced to five years in prison, but the convictions were later overturned when a commission ruled that a "police riot" caused the violent clashes at the Democratic convention.
When Abbie was convicted for wearing a shirt resembling the American flag – which police had torn from his back –  he announced, Nathan Hale-style, "I only regret that I have but one shirt to give for my country."  (To make matters worse, he had a Viet Cong flag painted on his back.)
Through the years Abbie continued to stir things up. He jumped on stage while The Who were performing at Woodstock, and delivered an LSD-fueled message: "I think this is a pile of shit while [militant counterculture leader] John Sinclair rots in prison."  Pete Townshend charged at him, whacking him with his guitar for violating the "sanctity of the stage." (Townshend denied striking him; accounts vary.)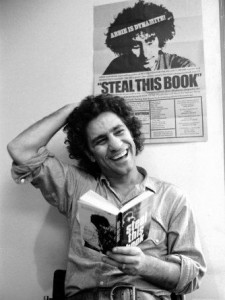 In 1973, police nabbed Abbie for "intent to sell and distribute cocaine." Maintaining that he was framed, he skipped bail, underwent plastic surgery and went into hiding, finally surrendering in 1980 (he served a four month sentence). In 1986, he (along with President Carter's daughter Amy) was arrested for trespassing during a protest of CIA actions on the campus of the University of Massachusetts at Amherst.
Along the way, he authored the wildly popular guide to political activism, "Steal This Book," and, with Jonathan Silvers, co-authored "Steal This Urine Test," which exposed the flaws in the government's war on drugs.
As the Reagan '80s progressed, Abbot Howard Hoffman remained active in social causes, but was battling bi-polar disorder and no doubt bemoaning the lack of activism among young people.  On April 12, 1989, at age 52, he washed down 150 phenobarbital tablets with liquor.  Some say it was an unintentional overdose, but swallowing 150 pills does require some effort on the part of even the most experienced aficionado. It was ruled a suicide.
Abbie would have approved of the eulogy delivered by Rabbi Norman Mendell, who said that his activism and rabble-rousing were in keeping with "the Jewish prophetic tradition, which is to comfort the afflicted and afflict the comfortable."
Now, let's all steal THAT philosophy!
"Revolution is not something fixed in ideology, nor is it something fashioned to a particular decade. It is a perpetual process embedded in the human spirit."
After Abbie told a Chicago city official that he'd take $100,000 to call off the massive demonstration planned for the 1968 Democratic Convention, a reporter asked him if he was serious. Here's what he said.

By Dana Spiardi, April 12, 2014
Save