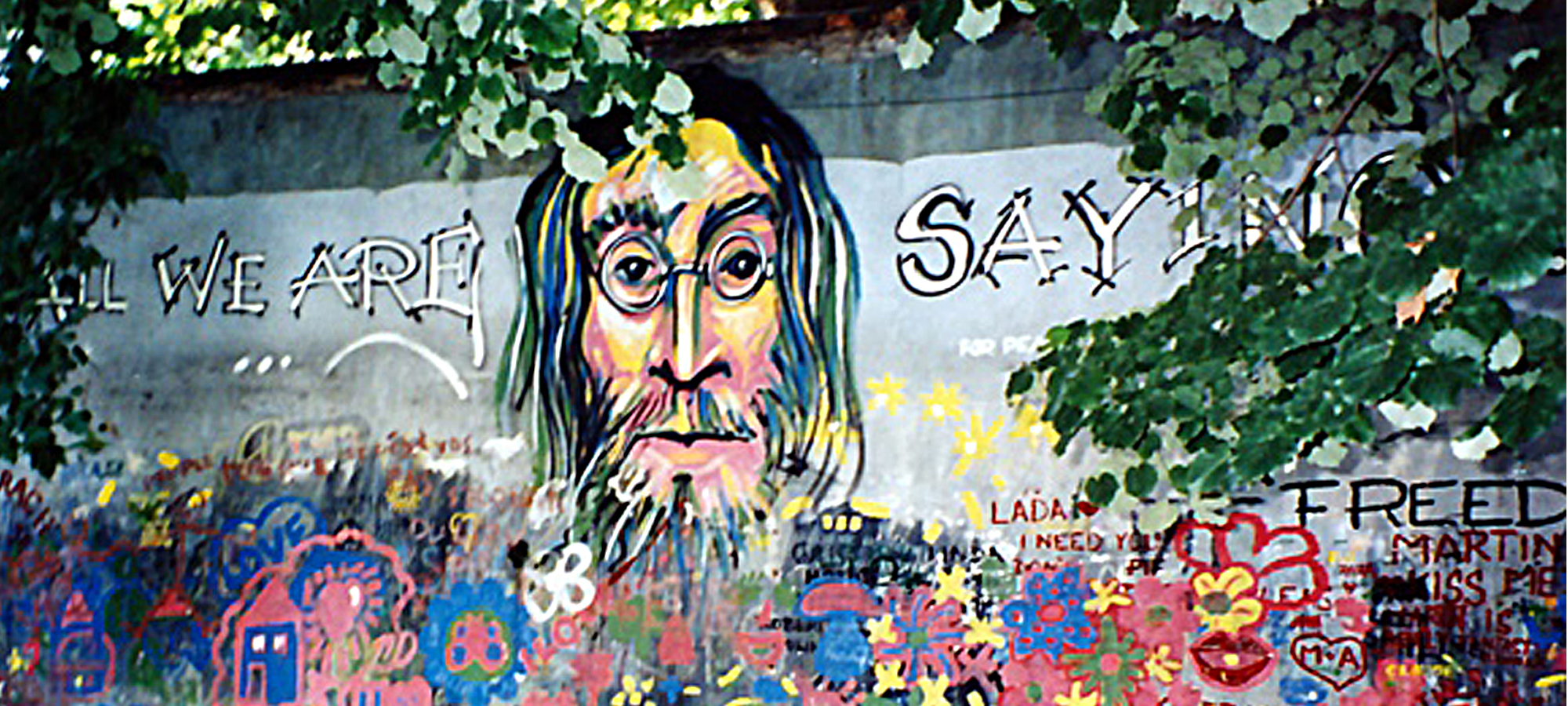 Each year on the anniversary of John Lennon's death, his son Julian thanks his Facebook followers for their heartfelt condolences, and asks them to buck up, remember the good times, and not wallow in sadness.
Right on, Jules. Even though I shed a tear each and every December 8th – the date of John's murder in 1980 – this year I'd like to present an upbeat memorial to the man whose music changed my life. How about a little story about his influence on the city of Prague, the capital of the Czech Republic, where the Lennon Wall – Lennonova Zeď – stands as a symbol of freedom.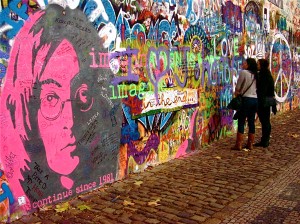 John was a voice of peace all over the world – even in the Communist-controlled countries of the former Soviet Union. The Commies tried their best to halt the influx of Western pop culture and fashion, but no Iron Curtain or Berlin Wall could keep out the Beatles. All the kids knew of them. And if you had black market connections, you could get your hands on one or two of their records — or at least a bootleg made from smuggled-in originals.
Enterprising music lovers routinely duplicated records using a device known as a roentgenizdat to press sound grooves onto the acetates of discarded x-ray plates. Imagine placing a film of Uncle Vladimir's spleen on the turntable and rocking to "Abbey Road."
The news of John Lennon's murder in December 1980 sent shock waves around the world. In Prague, young people paid their respects by establishing an "unofficial" memorial to the fallen Beatle. They singled out a large wall at Grand Priory Square, and began covering it with beautiful graffiti images of John and his lyrics. The more rebellious of the lot – inspired by his message of "Power to the People" – also used the wall as a canvas on which to scrawl their grievances, particularly against Gustáv Husák, who ruled the country (then known as Czechoslovakia) – from 1969 through 1991.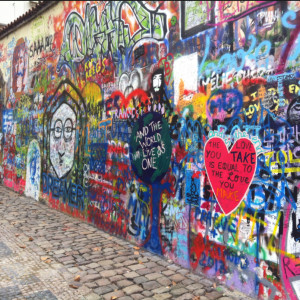 Husák succeeded President Alexander Dubček, whose liberal policies brought about the famous Prague Spring of 1968 — a period of relative freedom that effectively ended when Moscow rolled its tanks into the city's Wenceslas Square as a clampdown on any burgeoning democracy. With Dubček soon banished, Husák reversed his short-lived policies and purged the country's Communist Party of all its liberal members. The Czechs' brief taste of freedom was gone.
Flash forward 20 years: young men and women were increasingly aggravated by Husák's growing conservatism. In the fall of 1988 they took to the Lennon Wall, airing their complaints in the form of anti-government graffiti. This and other acts of protest led to a huge clash between the police and hundreds of students on the city's treasured Charles Bridge. The protestors called their activist ideology "Lennonism." Czech authorities denounced the rabble rousers as crackpots, alcoholics, and proponents of Western capitalism. That episode was one of several that gave way to the Velvet Revolution, which culminated in the end of communist rule in November 1989.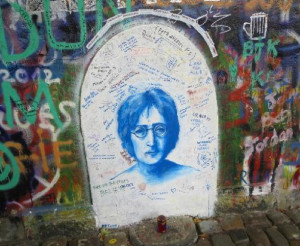 But despite its role in socio-political discourse, the wall never lost its original purpose: as a memorial to John's life, music and messages. Czech authorities occasionally painted over the images, hoping to end the graffiti. But their efforts were useless. By the next day it was filled up again with Lennonisms. I had a chance to see what is perhaps the most powerful and famous graffiti portrait of John (the photo in the header above) when I first discovered the wall in 1991. Today, the memorial is a big tourist attraction – one that wasn't listed in any of the city guides when I first set foot there.
John would have loved Prague. I often think about how thrilled he would have been to know that people living in an oppressed society bucked authority by artistically promoting his messages of peace and love, in pursuit of freedom. "Give peace a chance?" Yes, they certainly did.
© Dana Spiardi, Dec 8, 2013
Header photo by Kevin McCann
Save
Save