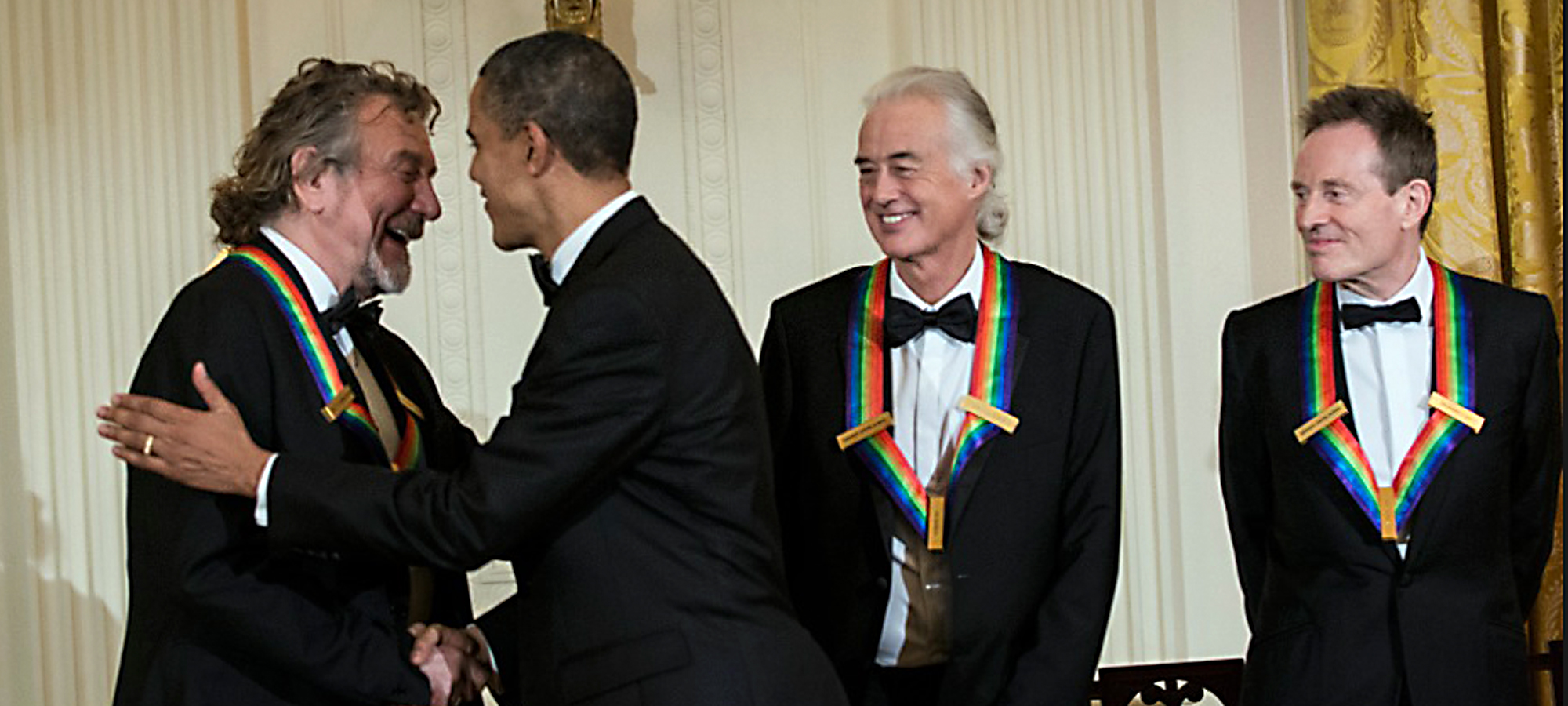 Been a long time, been a long time, been a long lonely, lonely, lonely, lonely, lonely time….since the musical machinations of Led Zeppelin first set my turntable needle ablaze. Sure, I enjoyed weapons-grade guitar noise before the Zep – in the form of Clapton, Beck and Hendrix – but it was the deafening decibels of those Men of Led that finally drove our kindly upstairs neighbor, Mary Jane (who I childishly dubbed "Mari-Ju-Wanna") over the hills and far away.  In fact, I can pretty much pinpoint the exact moment of her breaking point: my initial blasting of "Nobody's Fault But Mine," in 1976.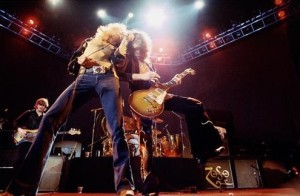 Led Zeppelin – the first band cited by audio engineers as the loudest on earth – was perhaps the most enigmatic mega-group in rock. Atlantic Records co-founder Ahmet Ertegün, who signed them to his label, said, "Peter Grant, their manager…kept them hidden in a shroud of mystery. They became the most unapproachable band in rock history." Journalists on the group's 1977 tour were given these instructions: "1. Never talk to anyone in the band unless they first talk to you. 1A. Do not make any sort of eye contact with [explosive, alcoholic, now-deceased drummer] John Bonham. This is for your own safety." Album titles and artists' names and pictures were virtually non-existent on their LP covers. On one album, they used only symbols to identify their names, pre-dating Prince by several decades.  Rumors abounded for years about devil worship, Faustian bargains and wild sex orgies involving fresh fish.
Of course, most of the Zeppelin scenes of demons and debauchery so vividly depicted in books like Stephen Davis's Hammer of the Gods were mostly myths.  In reality, the men of Zeppelin were just four enormously talented artists, hell-bent on blowing our minds – and the roofs off arenas – as they toured the U.S. in luxury aboard their own private jet.   Still, despite their musical prowess and influence, Led Zeppelin is one of the last bands I'd ever expect to see honored with awards generally reserved for the likes of Sidney Poitier and Mikhail Baryshnikov. They just didn't fit the mold of accessible, media-friendly superstars. They never had a hit single and lacked a charismatic scene-stealer. They didn't go clubbing with fellow rockers, write memoirs, make headlines entering rehab, or marry leggy American models.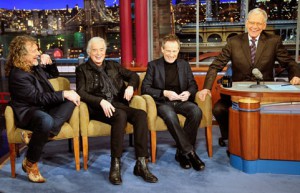 Yet, despite their non-conformist ways, there they were, at the White House on December 2, 2012 — guitarist Jimmy Page, singer Robert Plant, and bassist John Paul Jones – receiving Kennedy Center Honors medals from President Barack Obama.  There must have been a helluva lot of '70s headbangers on that nominating committee!
Later that night, they were saluted by fellow musicians, including Lenny Kravitz, Heart and the Foo Fighters, who delivered their own renditions of classic Zep tunes. And, in a media move never attempted heretofore, Plant, Page and Jones appeared on a talk show the following night, seated and chatting amiably with late-night host David Letterman, himself a 2012 Kennedy Honors recipient (all those years of Stupid Pet Tricks paid off). Jones was impishly droll. Plant appeared to have restless leg syndrome.  But Pagey just oozed class – a soft-spoken, elegant  Merlin, with silver hair replacing his once long and lovely dark tresses. No Black Dog he.
When Zeppelin first hit the scene in 1968, they toured heavily in the U.S., where they were embraced by hard core rock fans, but largely panned by critics who considered them just the latest in a long line of more superior electric blues bands like Cream and the Jeff Beck Group. Although their records sold like cannabis in a college town and took top spots on the Billboard charts, rock critics remained unimpressed.  Many accused them of covering the songs of bluesmen like Sonny Boy Williamson, Howlin' Wolf and Willie Dixon without paying royalties or listing their names in song credits.
Rolling Stone magazine gave Zeppelin's debut LP a one-star rating.  The review, by John Mendelsohn in March 1969, concluded that while Jimmy Page is an extraordinary blues guitarist, "he is also a very limited producer and a writer of weak, unimaginative songs, and the Zeppelin album suffers from his having both produced it and written most of it…"  (Interestingly, in 2003, Rolling Stone editors changed their tune, placing the LP at #29 on the magazine's list of the 500 greatest albums of all time.)  Meanwhile, on the other side of the pond, the U.K.'s Melody Maker found plenty to like about Zeppelin's freshman effort, declaring the group "a gas."  Reviewer Chris Welch wrote, "Their material does not rely on obvious blues riffs, although when they do play them, they avoid the emaciated feebleness of most so-called British blues bands."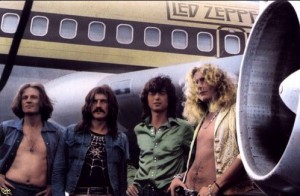 John Mendelsohn's December 1969 Rolling Stone review of "Led Zeppelin II" is drenched in sarcasm:  "…until you've listened to the album eight hundred times, as I have, it seems as if it's just one especially heavy song extended over the space of two whole sides." He gushes over the god-almighty magnificence of Page ("the absolute number-one heaviest white blues guitarist between 5'4″ and 5'8″ in the world"), the vocals of Robert Plant ("who is rumored to sing some notes on this record that only dogs can hear"), and the banging of the late John Bonham ("John demonstrates on this track ['Moby Dick'] that had he half a mind he could shut down [drummer Ginger] Baker even without sticks, as most of his intriguing solo is done with bare hands.").  Mendelsohn concludes with: "Hey, I know what you're thinking. 'That's not very objective.'  But dig: I also listened to it on mescaline, some old Romilar, novocain, and ground up Fusion, and it was just as mind-boggling as before. I must admit I haven't listened to it straight yet — I don't think a group this heavy is best enjoyed that way." Three decades later, the magazine's editors ranked "Led Zeppelin II" at #75 on its top 500 list, despite the absence of narcotic-based Romilar cough syrup in drugstores. Spin magazine has ranked it #5 on its list of The 25 Greatest Albums of All Time. The LP is now considered the foundation upon which all future heavy metal music was based.
And then there's "Led Zeppelin III," partly acoustic in nature and heavily influenced by folk and Celtic music. Its softer sounds actually stirred up comparisons to Crosby, Still and Nash, who had just come on the scene! In the November 1970 Rolling Stone review, master insult comic/reviewer Lester Bangs said: Their music is as ephemeral as Marvel comix, and as vivid as an old Technicolor cartoon. It doesn't challenge anybody's intelligence or sensibilities, relying instead on a pat visceral impact that will insure absolute stardom for many moons to come. Their albums refine the crude public tools of all dull white blues bands into something awesome in its very insensitive grossness, like a Cecil B. DeMille epic." Years later, Rolling Stone gave the LP four out of five stars.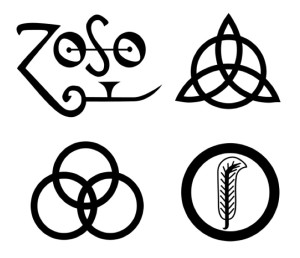 Good times, bad times – you know they had their share. But finally, in 1971, the group released its quintessential record:  the unnamed fourth album, sometimes called the "ZoSo" LP because of the name symbol used by Jimmy Page on the label. This album, the band's biggest commercial success, contains some of their most enduring songs: "Black Dog," "Rock and Roll," "Going to California," and the mother of all FM radio staples: "Stairway to Heaven."  Robert Christgau, former Village Voice music editor and self-proclaimed Dean of American Rock Critics, christened Zep's fourth album "a genre masterpiece."  It stayed on the U.K. charts for 62 weeks, debuting at No. 1. It was the biggest selling LP in the U.S. not to top the charts (peaking at #2). Rolling Stone ranked it 66th in its list of top 500 LPs.
The band released four more albums before drummer John "Bonzo" Bonham drank himself to death in 1980. They all went Platinum. But none matched the strange magic of their first four discs – LPs that forever sealed their fate as the golden gods of rock (at least that's how Robert Plant once described himself).  And now, with their multi-colored Kennedy Center Honors ribbons, they are permanently enshrined in the American pantheon of culture. Musically, their song remains the same: The boys can still breathe fire, as evidenced by their 2007 Celebration Day reunion concert at London's O2 arena. And whether Page, Plant and Jones like it or not, their image is, at last, honorable.
Now, could the U.N. please pass a resolution that bans every radio station in the world from playing "Stairway to Heaven" – a song so over-the-top, so "Spinal Tap" grandiose, that it deserves every spoof it ever spawned? (Seriously though, I do love it!)
Here's a hilarious parody from the Second City TV sketch comedy show, featuring a faux K-Tel collection of  "Stairway To Heaven" cover versions, performed by everyone from Pavarotti to Barry White:
Here's Mike Myers in "Wayne's World," attempting to give "Stairway" a go on a Stratocaster:

And finally, here's the surreal "Stairway to Gilligan's Island, performed by Little Roger and the Goosebumps.

© Dana Spiardi, Dec 5, 2012