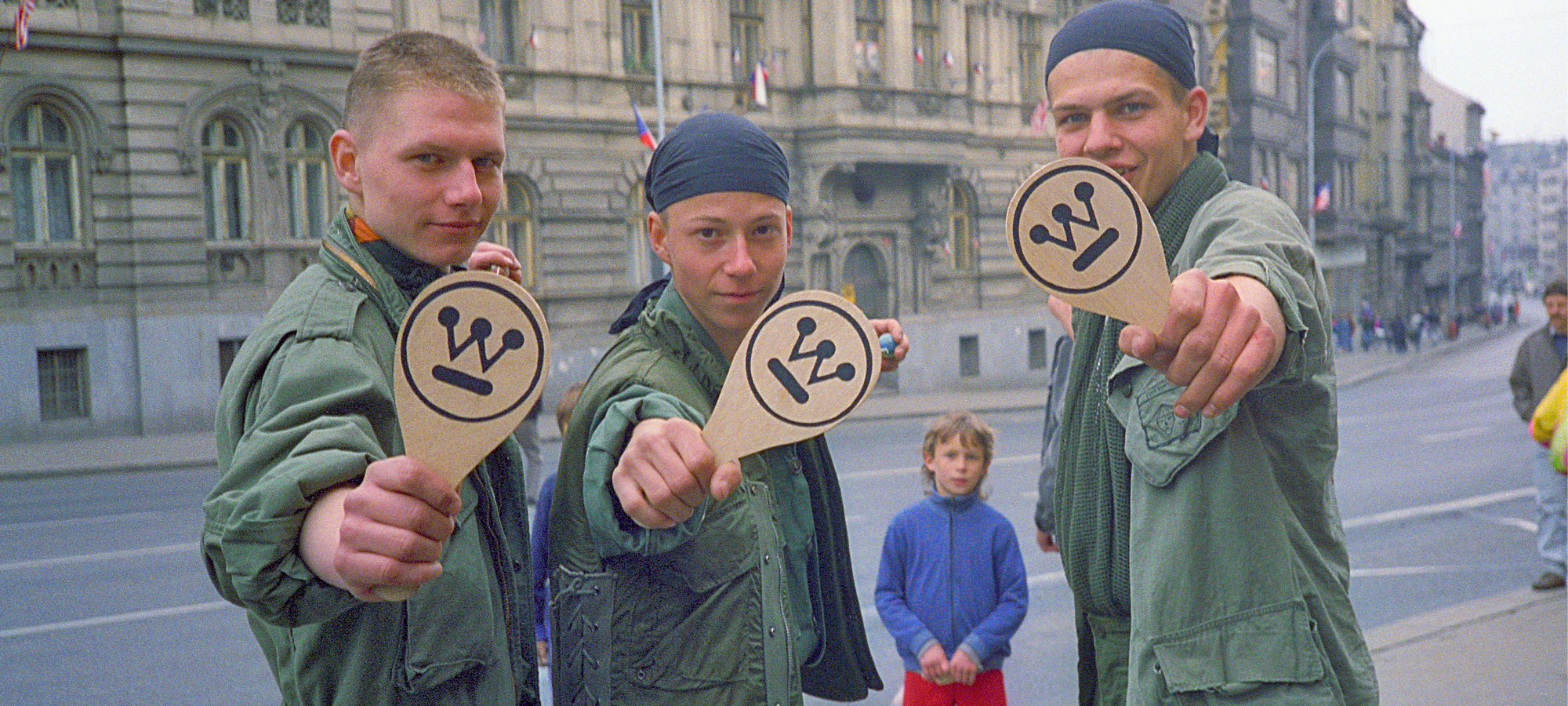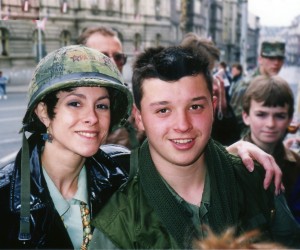 On May 4, 1991, the people of Plzen, Czechoslovakia, were celebrating "American Day" to mark the 46th anniversary of their city's liberation from the Nazis by General George S. Patton's U.S. Army at the end of World War II. It was a major event, and I was lucky to be there to take part in it.
I had arrived in Czechoslovakia on April 25 to begin a public relations campaign on behalf of Westinghouse Electric Corporation. At that time, my company was hoping to form a joint venture with a Plzen firm – Skoda – for the purpose of producing power generation equipment. When I heard about the American Day celebration scheduled to take place on May 4, I saw a PR opportunity I couldn't pass up.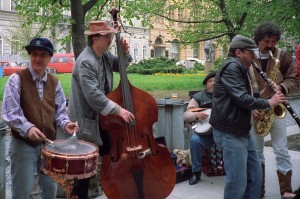 With the help of a Czech businessman I chanced to meet in Prague, I began working with Plzen city officials to secure two exhibit booths to serve as Westinghouse hospitality areas during the two-day event.  Knowing I'd need plenty of assistants, I visited the American Hospitality Center in Prague and hired four young Czech students to run errands and act as interpreters. Now, what's an exhibit booth without trinkets and other giveaways?  I phoned headquarters back in Pittsburgh (no easy task, given the horrible telephone connections) and asked my colleagues to FedEx a box of Westinghouse logo-embossed items, such as frisbees, cups, hats, buttons, and tote bags, as well as large company banners to display in the booths.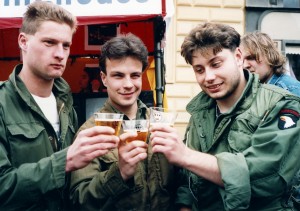 Oh, and we needed music – preferably American music. I had seen a Dixieland Band comprised of Czech musicians busking on the Charles Bridge in Prague, and hired them to provide entertainment near our booths. And no exhibit area is complete without booze. So, I sent the Czech students on numerous trips to the huge local brewery to bring back cases of beer. And not just any beer, mind you. This was Plzen, where brewers began making the world-famous Pilsner Urquell  beer in 1892.
The sound of New Orleans jazz filled the air as I distributed the various goodies to the revelers, who proudly wore the original uniforms their liberators had left behind in 1945. Like all citizens of Soviet Bloc countries, the Czechs had been cut off from American culture for 50 years, and watching them celebrate the USA in this manner was a moving experience.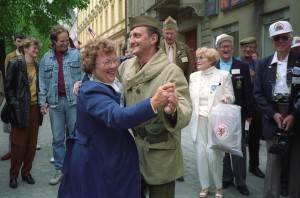 At one point during a ceremony, an official led the people of Plzen in a prayer of gratitude.  In the background, I could see the old stone buildings still scarred with bullet holes from WWII battles. I was experiencing history in a way I'd never imagined.
My first attempt to organize an event in a newly-democratic country proved quite challenging, given the short deadline, poor telecommunication systems, and my inexperience in the world of international public relations. And even though the joint venture with Skoda never materialized, Czechs had their first exposure to the Westinghouse name, and their first taste of American-style promotion.
© Dana Spiardi, May 6, 2015