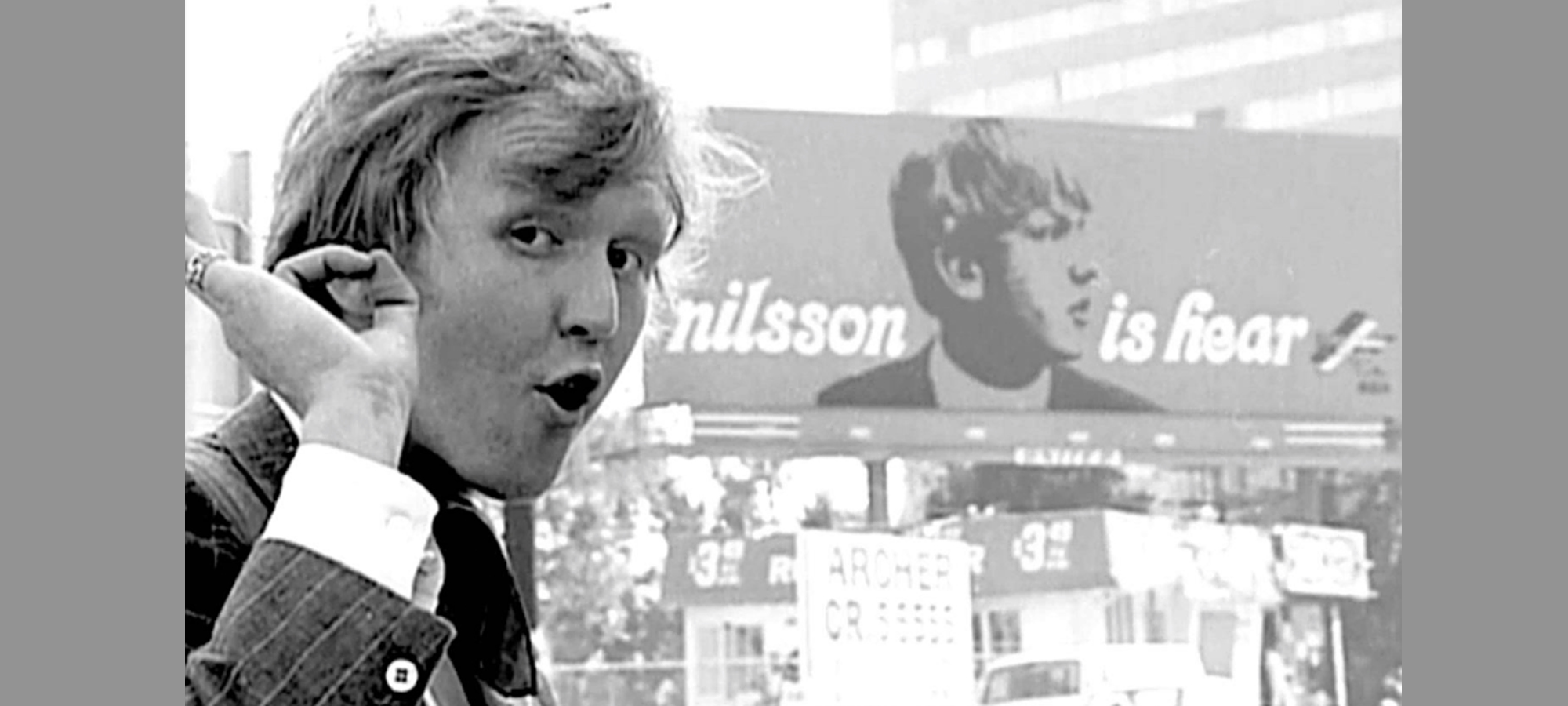 Singer/songwriter Harry Nilsson died 22 years ago today at the age of 52. I couldn't let this anniversary pass without a short tribute to one of my most beloved artists.
His first blip on the radar came when John Lennon and Paul McCartney both named him their favorite American artist during a 1968 press conference to announce the formation of Apple Corp. And who could fault their choice? Harry's voice was flawless and sublime. His writing addressed every conceivable human condition.
Satire: "Good Old Desk"  (Did you notice the initials?  My old desk doesn't arabesque, in the morning when I first arrive. It's a pleasure to see it's waiting there for me, to keep my hopes alive )
Absurdity: "Coconut" (doctor, ain't their nothin' I can take to relieve this belly-ache? Put de lime in the coconut and call me de the morning)
Irony: "1941"  (Well in 1941 a happy father had a son. And by 1944 the father walked right out the door. Now in 1961 a happy father had a son. And by 1964 the father walked right out the door)
Hope mixed with desperation: "Don't Forget Me" (And when we're older and full of cancer,  it doesn't matter now, come on get happy. 'Cause nothing lasts forever, but I will always love you)
Loneliness: "One" (One is the loneliest number that you'll ever do. Two can be as bad as one, it's the loneliest number since the number one)
Irreverence: "I'd Rather Be Dead" (than wet my bed)

Harry could…
Belt out tear-jerkers: the Pete Ham/Tom Evans composition "Without You" (You always smile, but in your eyes your sorrow shows, yes, it shows)
Croon country: Fred Neil's "Everybody's Talking" (which won a Grammy after it was featured on the soundtrack of the film 'Midnight Cowboy')
Purr pop: "Cuddly Toy" (You're not the only cuddly toy that was ever enjoyed by any boy. You're not the only choo-choo train that was left out in the rain the day after Santa came)
Scream rock: "Jump Into the Fire" (who can forget how this song revved up the action in the 'Goodfellas' scene featuring a coked-up Ray Liotta trying to escape a helicopter?)
Reinvent classics: "It Had To Be You" (his lovely take on the old classic written by Isham Jones and Gus Kahn in 1924)
And break your heart with tender-sweet melodies: "The Lottery Song" ("Loo loo loo loo." Nobody could harmonize with themselves like Harry)
His songs were so diverse, multi-layered, beautifully performed, and elegantly arranged, that I do believe you could think of him as four Beatles rolled into one zany, whip-smart, hard-living American boy.
Now, here's a little video I created in tribute to him, cut to my favorite Harry song.  I don't gamble or play the lottery, but this one has special meaning for me. It's for the dreamers.
RIP, Nilsson Schmilsson, you crazy genius.
© Dana Spiardi, Jan 15, 2016