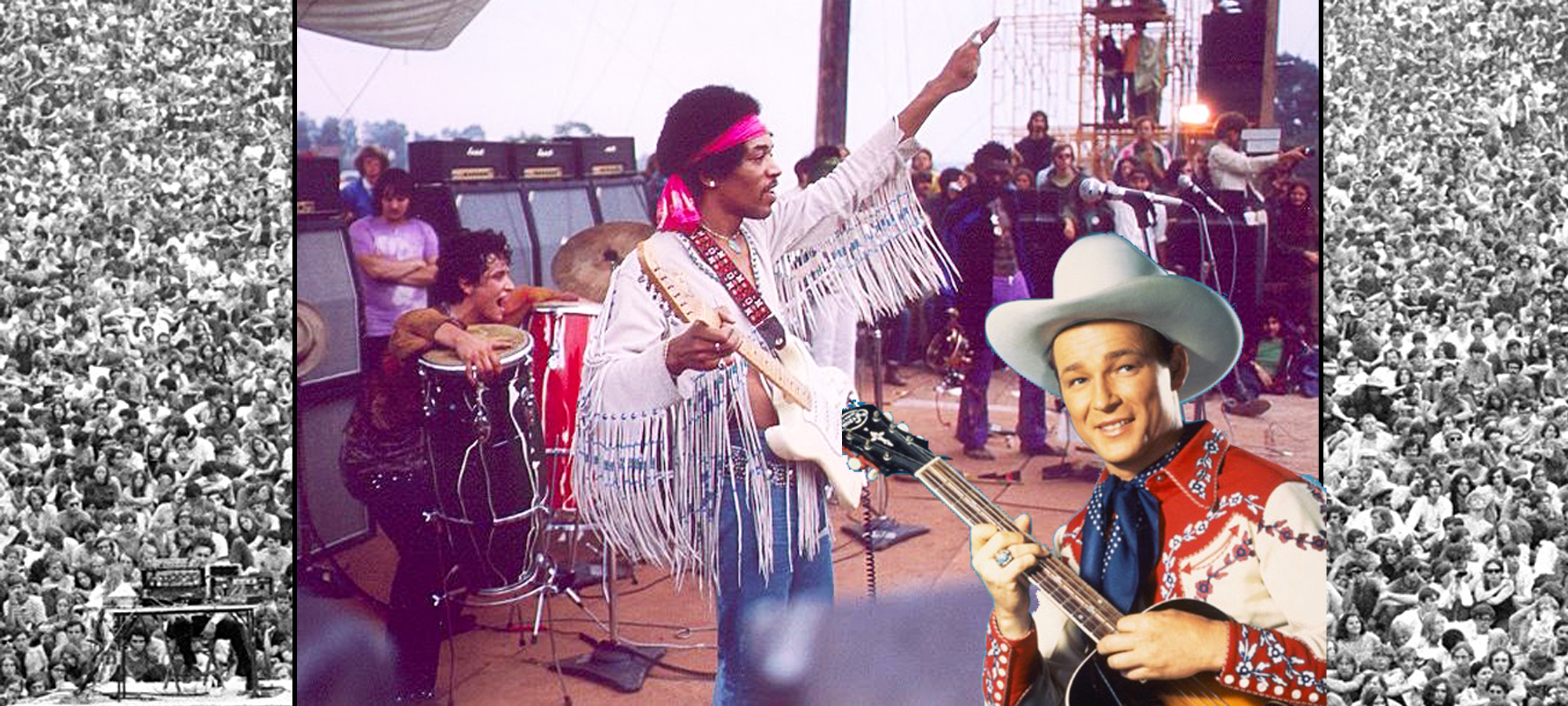 That's what Woodstock attendees might have heard at the end of the festival if Roy Rogers had agreed to close the show. Woodstock organizer Michael Lang wanted Roy to come on after Jimi Hendrix, the guitar phenomenon everyone had been dying to to see.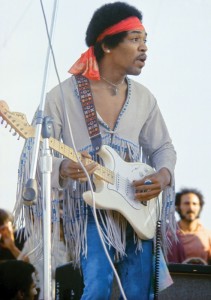 Speaking to an Academy of Motion Picture Arts and Sciences panel on October 26, 2006, Mr. Lang said, "I had this inner dream. I grew up listening to Roy Rogers sing 'Happy Trails' on the radio and I thought, 'What a perfect way to end the show.' He was the only artist who turned us down. He didn't get it at all."
Actually, I think Roy did get it, and that's why he had the good sense to decline Lang's invitation. I can't imagine the crowd's reaction to the crooning cowboy, who was 59 at that time and probably not a fan of counter-culture. They might have thought they were hallucinating (well, they probably were) seeing him on stage, especially if horse Trigger was anywhere nearby. I guess some festival goers might have found his performance a bit quaint — the Cowboy as a symbol of America. Or, they could have seen it as a joke. Whatever the case, a Roy roundup at the end of the show would have been anti-climactic, to say the least.
So, the best was saved for last. Jimi performed 16 songs between 9:00 am – 11:10 am on August 17, 1969. The 13th was his legendary version of "The Star Spangled Banner," played on a Fender Stratocaster. He wrapped up the 3 days of peace and love with "Hey Joe," a song about a man heading out to shoot his old lady down. So much for happy trails! I'm glad Jimi chose to go out that way. It was a bold move. "Hey Joe" had been performed in different styles by all kinds of artists, including folk performers in Scotland, going back to the mid-1950s. But it's his rendition that still haunts the mind.
When I think about all the photos and film footage I've seen of Woodstock through the years, the one image that burns brightest in my eye is that of Mr. Hendrix in that gorgeous white fringed shirt adorned with blue beads.
Oh, say can you hear?

© Dana Spiardi, August 17, 2015