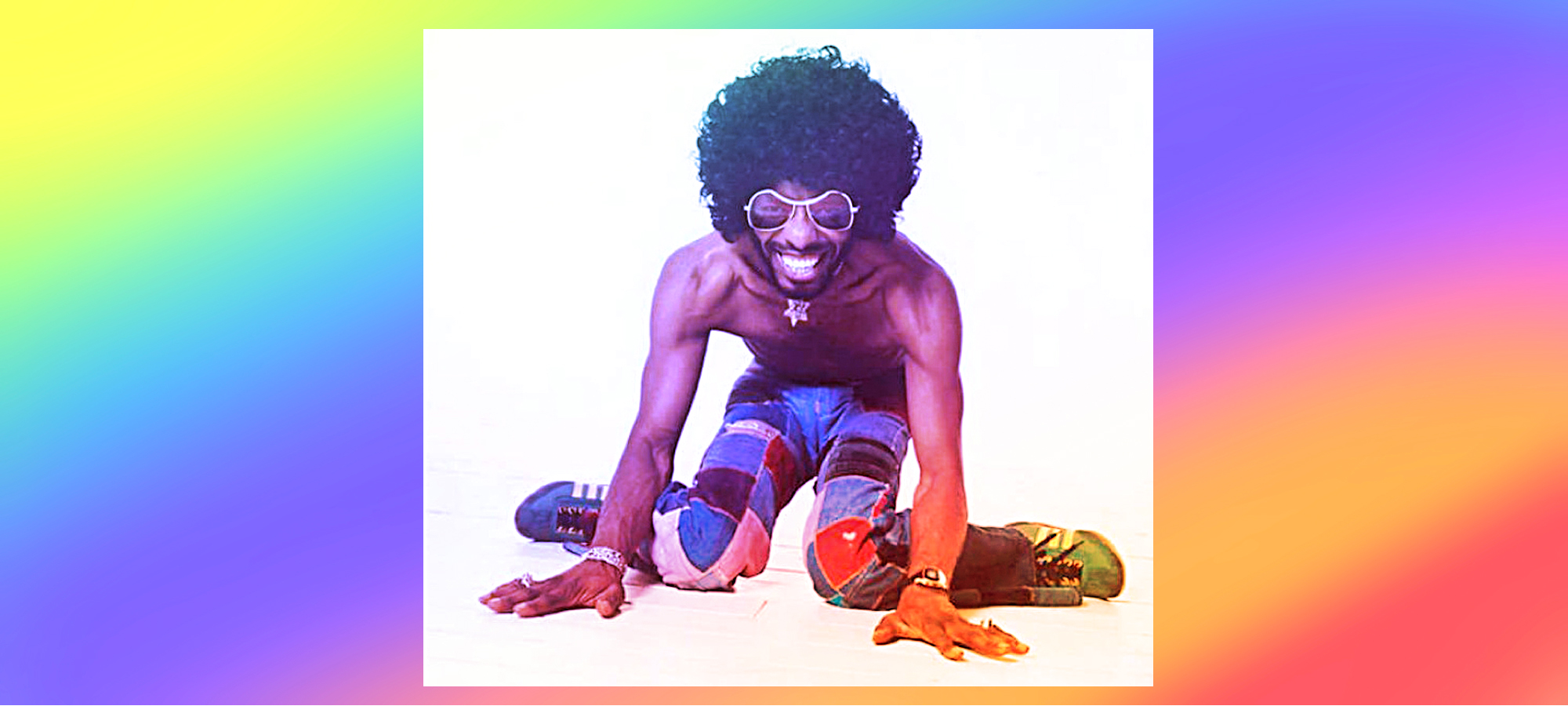 Most recording artists in the 1960s were singing about lovin' your brothers and sisters regardless of the color of their skin, but few practiced that ethos better than Sly Stone, who assembled the first – and one of the few – interracial, dual-gender rock bands of the era: the iconic Sly and the Family Stone.  They perfectly summed up the generation's quest for total acceptance with their number one hit, "Everyday People," a song that produced one of the most popular catchphrases to emerge from rock culture: "different strokes for different folks."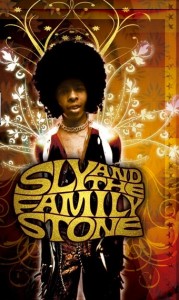 Ol' Sly Stone sure fell into the category of different folks, alright.  He was never destined to live among the ranks of everyday people.  He was one outrageous, mega-talented dude. Nobody on the planet had a funkier, chunkier Afro than Sly. That 'Fro simply knew no bounds, extending into sideburns that should have been called wideburns.  Sly shared honors with Jimi Hendrix for best dressed '60s ebony God. But while Jimi personified the gypsy as hippie with his bright paisley prints and ruffly shirts, Sly was the true sartorial spaceman in knee boots, satin, and studded leather.  He had ATTITUDE.
Sly took James Brown's innovative sound to a new level, pioneering a style and persona that influenced all the funk stars that followed, from George Clinton and Rick James to Prince and Michael Jackson. Where do you think the term funkadelic came from, anyway?  It emerged from Sly's blending of funk rhythms with psychedelic rock – with Stax soul, gospel and Motown pop thrown into the caldron to keep things interesting.
Born Sylvester Stewart on March 15, 1944, Sly was raised in a deeply religious family in Vallejo, California.  As young teens, he and siblings Freddie, Rose, and Vaetta released a 78rpm single, "On the Battlefield of the Lord," as the Four Stewarts.  Sly spent a few years as a DJ on San Francisco radio station KSOL, then went on to form his first band, Sly and the Stoners.  Meanwhile, Sly's brother Freddie was fronting his own group, Freddie and the Stone Souls.  The two bands merged in December 1966 to form Sly and the Family Stone, with Sly on organ, vocals and a variety of other instruments, Freddie on lead guitar, Larry Graham on bass, Cynthia Robinson on trumpet, and white boys Gregg Errico on drums and Jerry Martini on saxophone.  A year later, Stone sister Rose joined the lineup as vocalist and keyboardist. Sly recruited a high school gospel group, which featured Sly's sister Vaetta, to provide background vocals. He named them Little Sister.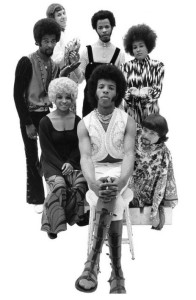 Sly and the Family Stone was revolutionary at the time, not just for the unusual racial mix, but because the group's women weren't merely there to provide eye candy, backing vocals, or dance moves. They played instruments and had a presence all their own.  Cynthia Robinson became known for her impromptu shout-outs:  "All the squares go home!"  On songs such as "Dance to the Music," various band members took turns singing lead on each verse, an uncommon style at the time.  Larry Graham's distinctive "slapping" bass guitar technique became a signature element that defined all funk music that followed.
They churned out a string of great singles: "Everyday People,"  "Thank You (Falettinme Be Mice Elf Agin),"  "Everybody Is a Star,"  "Hot Fun in the Summertime,"  "Family Affair," and "I Want to Take You Higher."  Their songs discouraged hate and discrimination and encouraged peace, understanding, self-respect and simple, shameless fun.  The band made a huge splash at Woodstock and appeared on mainstream TV programs like the Mike Douglas Show and Dick Cavett.  I can still remember the hype surrounding Sly's 1974 in-concert wedding extravaganza at Madison Square Garden. The bizarre PR stunt was chronicled in a New Yorker article, satirically titled "The Biggest Event This Year."
But like most artists of that era, the band's members fell prey to heavy drugs. Internal bickering lead to a frequently changing lineup of musicians.  Sy was under pressure from the Black Panthers to replace the two white musicians, Errico and Martini, with "brothers."  The band's record company, Epic, was demanding a higher output of marketable material.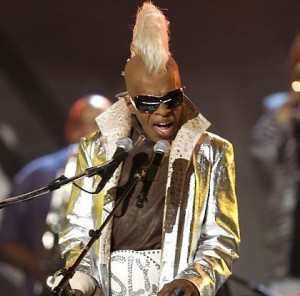 Sly forged ahead into the 1970s, but soon succumbed to near-paralyzing drug addiction, often missing gigs or just refusing to play. His spending sprees, paranoia and outlandish behavior were legendary. When the Family Stone was inducted into the Rock and Roll Hall of Fame in 1993, Sly was nowhere to be found – right up till the minute his fellow members walked to the podium to accept the award. Then, he suddenly appeared, mumbled a few words ("See you soon") and vanished.  For the past 25 years he's been one of the music world's most notorious  "whatever happened to…?" personalities.  He appeared briefly – sporting a blonde mohawk and wearing a silver lamé suit and sunglasses – for a Sly and the Family Stone tribute at the 2006 Grammy Awards, but ended up abandoning his bandmates by leaving the stage during a performance of "I  Want to Take You Higher." Several years later he attempted a comeback of sorts, when he released "I'm Back! Family & Friends" in 2011. It was his first album since 1982's "Ain't But the One Way," and featured such guests as Jeff Beck, Ray Manzarek, Ann Wilson, Johnny Winter.
A few years back, while channel surfing, I heard a TV announcer say, "Coming up next: Sly Stone – nearly homeless!"  Well, I just had to stay tuned.  It turns out that Sly has evolved into a broken down man.  He lives in an old white van in a rundown area of LA, and makes music on a laptop computer. He runs an electrical line from his mobile home to a friend's nearby house, where he goes to take showers. In an August 2013 interview with Alexis Petridis of  The Guardian, Sly's road manager Neal Austinson said the mercurial singer is fairly healthy, and "for the most part" clean of drugs. He says Sly "likes to smoke a little weed and maybe have a cocktail before he gets onstage, but he's 70 years old, he can't do what he used to do, no one can at that age. And you know, coke is a very expensive habit to maintain."
But within the past week, Sly suddenly became $5 million richer, after an L.A. jury found Sly's former manager and entertainment attorney guilty of diverting royalties that were owed to him over the past 20 years. Now, let's just hope the cash doesn't go up his nose.
Best of luck to you, Sly, on your 72nd birthday.  You burned out fast, but when it came to funkadelic rock and soul, you did it first and you did it best. And, with your wild multi-colored band of guys and girls, you were rock's first equal opportunity employer.
 Here's the original Family Stone lineup on Soul Train.

By Dana Spiardi, March 15, 2015