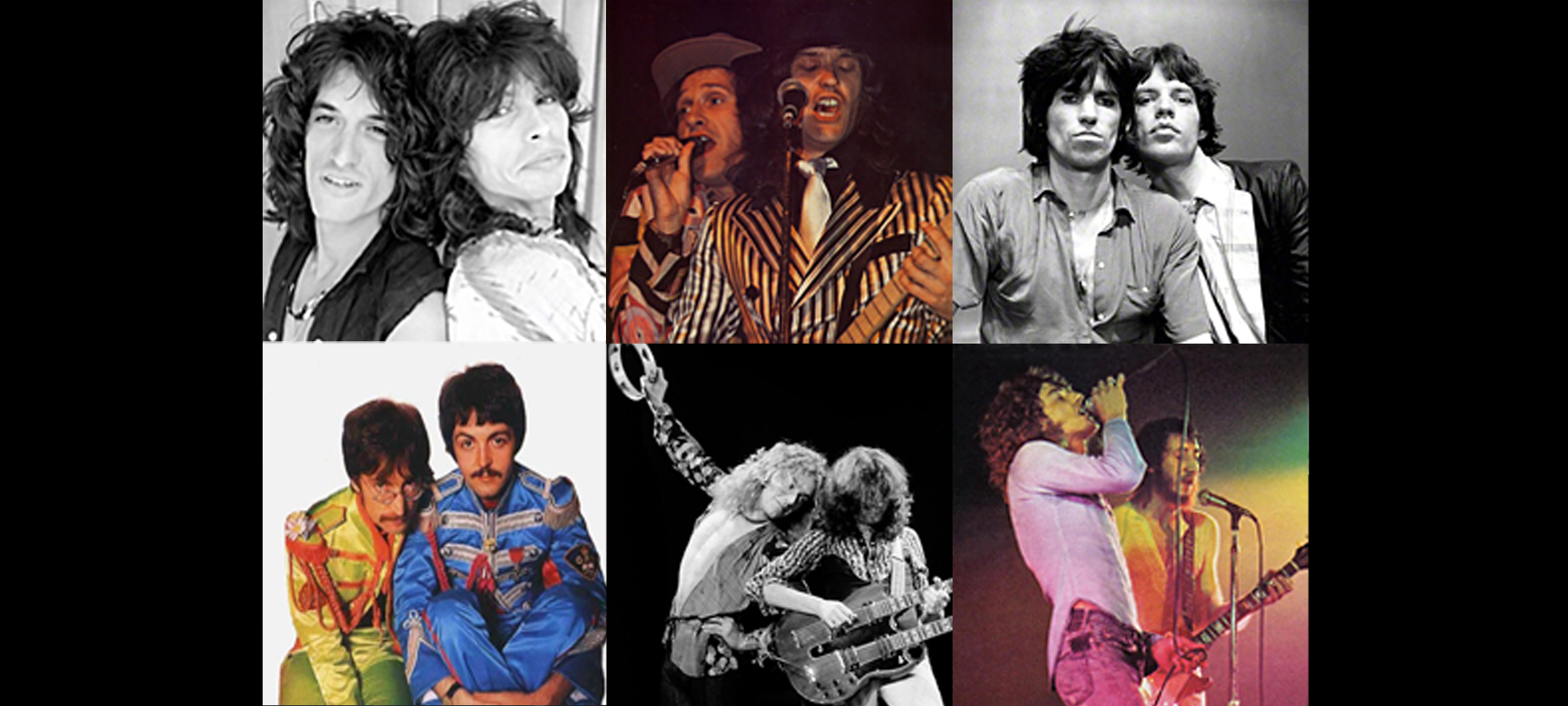 What do Nerk Twins, Glimmer Twins, and Toxic Twins have in common? They're all pseudonyms for musical duos who, through some mystic alignment (or collision) of planets, came to front legendary rock bands. Today I'll take a look at the origin of these monikers and offer up a few of my own.
The Nerk Twins — Whether you've read a single Beatles biography or merely browsed the band's Wikipedia entry, you're probably familiar with some of their early names: The Quarrymen, Johnny and the Moondogs, The Beat Brothers, The Silver Beetles. But unless you're a student of deep Beatles history, you've probably never heard of The Nerk Twins. That was the name used by John Lennon and Paul McCartney when they performed as a duo for two nights only, during a long-ago Easter holiday break. At the time, the pre-Ringo Beatles were still cutting their teeth in the sticky-floored clubs of dreary Northern England and decadent Hamburg, Germany. During a break from gig-hopping, the then-unknown Lennon and McCartney drove to Caversham, Berkshire, where Paul's cousin Betty Robbins and her husband Mike operated The Fox and Hounds pub. John and Paul not only helped out behind the bar, they also agreed to play a few songs for patrons on April 23 and 24, 1960. Billed as "The Nerk Twins" by Mike, the two sat on stools with acoustic guitars and sang, sans microphones, "Be Bop A Lula" and other 1950s favorites. Paul said he and John even made their own posters!
Despite the often nasty squabbling of John the elder and Paul the junior (by two years), the two were very much brothers in creativity during the Beatles' heyday — composing independently, but collaborating closely to bring their timeless tunes to life.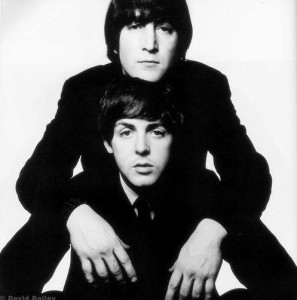 The Glimmer Twins — You may have heard this term applied to Rolling Stones Mick Jagger and Keith Richards, but do you know the origin of the name? Here's how Keith describes it in his memoir, Life: "Mick, me and our ladies took a boat to Rio that was full of these upper-class English people, all drinking like mad, pink gins and pink champagne, crowding the bar. I was dressed at the time in a diaphanous djellaba, Mexican shoes and a tropical army hat. After a while, they discovered who we were and became very perturbed. They started asking us questions: 'What are you really trying to do?' and 'Do try to explain what this whole thing is about!' We never answered them and, after a few days, one woman stepped forward from the group and said, 'We've been asking you for days and you just won't say. Can't you give us just a glimmer?' Mick turned to me and said, 'We're the Glimmer Twins.'" The two went on to use that pseudonym in the production credits of every Stones LP recorded after 1974.
Said Jagger in a 1978 interview in Rolling Stone magazine: "He [Keith] was born my brother by accident by different parents." Awww…what a sweet way to describe a relationship born of a mutual passion for playing the blues. Fifty years and thousands of gigs later, Keith would put his own spin on the partnership, accusing the Monkey Man of narcissism and megalomania – even comparing him to temperamental opera diva Maria Callas. He told Esquire in 2012, "Sometimes I despise the man, others, I love that man so much. It's like your brother. I never had one, so he's my brother. That's the way it is, bless his heart." Luckily, the Stones have survived half a century — despite Mick's power tripping and Keith's drug abusing — for the sake of the music (and the mega millions it generates).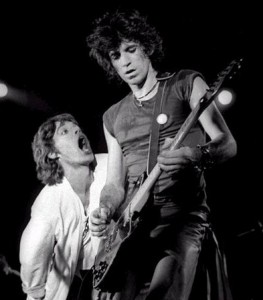 The Toxic Twins — While Aerosmith singer Steven Tyler and guitarist Joe Perry aren't in the same creative stratosphere as the aforementioned duos, they're a talented team nonetheless, having penned dozens of hits since hooking up in 1970. The two are known as The Toxic Twins for their decades-long history of bickering and heavy drug use. In his 2011 autobiography, Does the Noise in My Head Bother You?, Tyler admits to having been in rehab 9 times, including a stay at the Ritz Carlton of dry-out centers, The Betty Ford Clinic. Joe Perry has managed to stay clean since his rehab stint a number of years ago.
Tyler often jokes that he has LSD – Lead Singer Disorder – a term he coined for his prima donna behavior. Perry might have wished he'd actually dropped dead from the affliction — preferably during his gig as an American Idol judge. The guitarist and his bandmates aired their grievances against the vainglorious singer during a 60 Minutes interview in 2012. Tyler seemed incredulous to the accusations raised against him. But, a showman needs others to outshine; thus, after multiple melees, he's making music with his long-suffering players once again.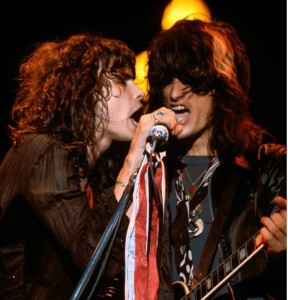 The Punch Drunk Twins – Who frontman Roger Daltry liked to punch. Guitarist/songwriter Pete Townsend liked to drink. It was a recipe for disaster. Hence, I'm bestowing this moniker upon the two remaining original members of the U.K. supergroup. Street brawler Daltry formed the band in 1964 when he was working as a sheet metal worker by day. Right from the start, he and Townsend had conflicting ideas about the band's direction and repertoire. In Geoffrey Giuliano's book, Behind Blue Eyes, Townsend said that in the early days Roger "ran things the way he wanted. If you argued with him, you usually got a bunch of fives." The golden-maned singer once cold-cocked a drunken Townsend for spitting on him during an argument. Said Pete, "When I came round an hour later my memory was gone for two days. He's a one-punch man, Roger."
Pete's managed to halt his alcohol consumption, but never his tongue. In 2006 he wrote on his website: "Roger is my partner in the Who. He is not my partner in anything else. We love each other but we are not regular social buddies like Bono and Edge, we do not discuss or share ideas, and we have no unified joint vision or strategy for the Who or for creative projects in general." Unless, of course, it behooves him to collaborate with his former sparring partner. In 2011, Townsend and company started touring again, performing their classic "Quadrophenia" album with a revamped Who lineup that included Ringo's son Zach on drums.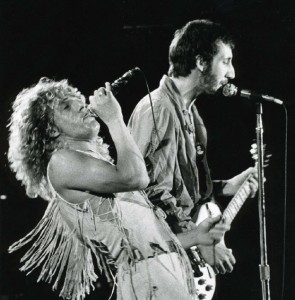 The Mystic Twins – This is my name for Led Zeppelin singer Robert Plant and the band's phenomenal lead guitarist Jimmy Page. I don't know much about the nature of their personal or creative relationship. They were, in the words of Atlantic Records head Ahmet Ertegün, "hidden in a shroud of mystery." But it's widely known that both Zep members were influenced by the occult and mythology – particularly Page, who was a disciple of British occultist, mystic, magician, and poet, Aleister Crowley. In the early 70s he purchased Crowley's former estate and established a London-based book store/publishing company that specialized in occult literature. Jimmy simply oozed black magic on stage, dressed like a hippie-wizard, seductively working a violin bow like a magic wand across the strings of his guitar. He loved cryptic insignia and directed that each band member use an abstract symbol in place of his name on the cover of the "Led Zeppelin IV" album.
Robert Plant didn't indulge in mysticism to the extent of Page. But his song lyrics reflected a deep interest in Celtic, Norse, and Welsh mythology, as well as the fantasy novels of J. R. R. Tolkien. Songs such as "The Battle of Evermore," "The Immigrant Song," "Misty Mountain Hop," "No Quarter," "Ramble On," and "Over the Hills and Far Away" evoke an aura of otherworldliness. Heck, his preternatural singing alone could conjure up visions of hobbits and gnomes, with or without the aid of LSD!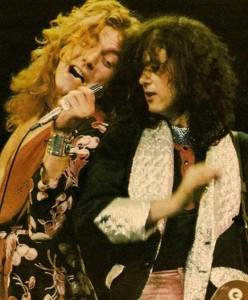 The Rooster Twins – This is how I'd describe legendary singer Rod Stewart and his longtime friend and collaborator, guitarist Ronnie Wood – both of whom sported matching rooster cuts back in the day. The two have been making great music together since their days in The Jeff Beck Group (1968-69) and Faces (1969-1975). Ronnie also played on all of Rod's solo albums before becoming a permanent member of The Rolling Stones in 1975. In his book, Rod: The Autobiography, Stewart tells a charming little story about his and Ronnie's interesting method of ingesting cocaine. According to Rod, Woody's excessive snorting had ruined his nasal septum. What was he to do? Says Rod: "We started buying anticold capsules from the chemist's, separating the two halves of the capsules, replacing their contents with a pinch of cocaine, and then taking the capsules anally, where, of course, the human body being a wonderful thing, they would dissolve effortlessly into the system." Could there be any greater bonding experience than the joint use of cocaine suppositories?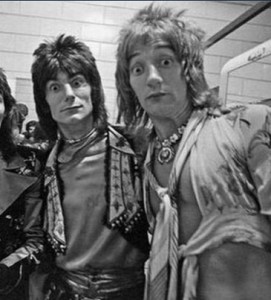 The Electric Kool Aid Twins — Does Bruce Springsteen have a soul twin? Yes, but it's not who you might think. Sure, he and the late great E Street sax player Clarence Clemons delighted audiences for years with their onstage cat and mouse clowning….like guileless sons of hip interracial parents. But it's Steven Van Zandt – AKA Miami Steve – who's been Bruce's spiritual brother since they set out from the swamps of Jersey to case the promised land over 40 years ago. Bruce once said of Little Steven, "When we met, I laid eyes on him and I knew that this was the guy who drank the same Kool-Aid that I had." We, the disciples of the Bruce-Steven brotherhood, know in our hearts that The Boss wrote the androgynous "Bobby Jean" as a farewell song to the guitarist when he left the E Street Band for a decade to pursue a solo career in 1984: There ain't nobody nowhere nohow gonna ever understand me the way you did.
I mean, what other rock duo would go to Disneyland, for crying out loud? The two visited the Magic Kingdom in 1983, BUT were denied entrance for violating Mickey's dress code. Bruce refused to remove his red bandana and Stevie his trademark male babushka, thus foiling their dreams of riding together in those spinning teacups. True rebels to the end. (Click here to read Steven's protest letter.)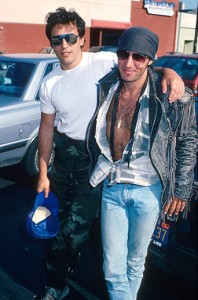 The Dublin McTwins – From all I've gathered, U2 frontman Bono (Paul David Hewson) and lead guitarist The Edge (David Howell Evans) have had a healthy collaborative relationship since forming their Irish mega band in 1976. But what's with those names? Supposedly, it was Bono's friend Gavin Friday who came up with the original moniker, "Bono Vox," an alteration of the Latin phrase "Bonavox," meaning "good voice." Unlike Ringo Starr, who was known as "Ritchie" to close friends and family, Bono is Bono, onstage and off. There are several theories about the origin of "The Edge." Some say the name is based on Mr. Evans' tendency to play on the edge of his guitar strings, resulting in a fast strumming style. Others say he's always on the fringe of what's happening. And another theory holds that Bono named him for the sharp lines and angles of his face. Geez. Those Micks are so complicated. I long for simpler times, when performers had names like Muddy, Leadbelly, and Slim.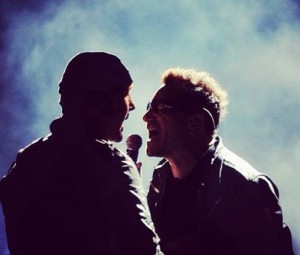 The Breakup/Makeup Twins – Guitarist Eddie Van Halen and singer David Lee Roth have had an on-again, off-again partnership since Eddie and drummer-brother Alex formed Van Halen in the early 70s. The guitarist's long-time battle with alcoholism and tongue cancer, coupled with the flamboyant singer's egomania and side projects, have made for a very dysfunctional unit. Roth has been in and out of the group so many times you need a score card to keep track. His non-band projects have been varied: he's recorded as a solo artist, worked as an emergency medical technician in New York City, hosted a radio talk show, written a memoir, appeared in an episode of The Sopranos, and trained Border Collies for herding competitions. Currently, Diamond Dave's back in the Van Halen clan (which now includes Eddie's son Wolfgang on bass) — and he's as flashy as ever, with his glittery duds, gym-rat body, leaping leg splits, and high pitched mating call. Eddie, meanwhile, appears to have triumphed over cancer and alcohol.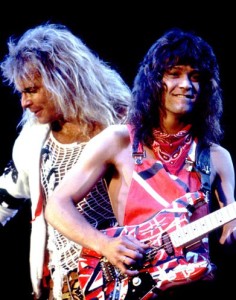 Her Majesty's Twins – The late singer Freddie Mercury and guitar virtuoso Brian May of Queen enjoyed a fruitful relationship during their two decades together. Freddie once quipped, "We still fight like kids; every time I'm in the same room with Brian, within five minutes we sort of start (to fight). I haven't hit him yet but there's still time." By all accounts, Mr. Mercury was as shy offstage as he was extroverted onstage. The humble, brainy May (he holds a PhD in astrophysics) never uttered a harsh word about four-octave Freddie. In fact, he once revealed that he contemplated suicide when the charismatic performer died of AIDS in 1991.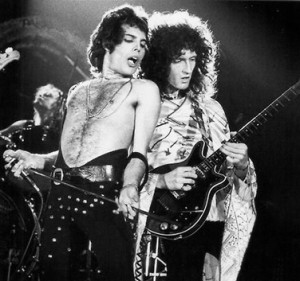 The Slash and Burn Twins – Guns N'Roses singer Axl Rose and guitarist Slash churned out some of rock's heaviest metal in their 11 years together. Fans have long hoped the two would reconcile, but Axl's burned all bridges with the band he formed in 1985. He's been troubled since his teens, when a psychiatrist attributed his delinquency to psychosis. Former girlfriend Gina Siler said that living with Rose was like "putting a nuclear warhead in your living room and hitting it with a hammer and just waiting." In 1992 he kicked his supermodel girlfriend, Stephanie Seymour, down a flight of stairs.
I guess Slash got off easy! He was able to voluntarily leave the band in 1996 with his bones intact. But Axl managed to get his digs in, sending a fax to MTV claiming that he fired the guitarist because he lost his "'dive in and find the monkey' attitude." (I wonder where Axl found his monkey.) In a 2009 interview with Billboard's Jonathan Cohen, he said, "What's clear is that one of the two of us will die before a reunion and however sad, ugly or unfortunate anyone views it, it is how it is." Slash knows the score. When asked why Axl wouldn't appear with GNR for their induction into the Rock and Roll Hall of Fame, the top-hatted guitarist simply said, "He hates my guts."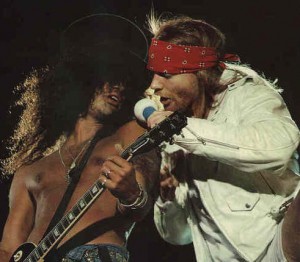 The Kinked Twins — The rivalries we've just examined truly pale in comparison to the blood battles of blood brothers Ray and Dave Davies of legendary British Invasion band The Kinks. They've fought tooth and nail in just about every setting you can imagine throughout their careers. Elder brother Ray is the more volatile of the two, once stabbing Dave in the chest with a fork for stealing one of his french fries in a restaurant. Dave strikes back with words. He once told the U.K.'s Daily Mail, "You've heard of vampires? Well, Ray sucks me dry of ideas, emotions and ­creativity. It's toxic for me to be with him. He's a control freak…With him, it's 'me, me, me'. He thinks he is The Kinks. In a March 2011 interview with New Musical Express he said, "Ray is a vain, egocentric, narcissistic arsehole, I won't have anybody call him that except me. Because I love him to death. He is my brother."
I never understood why Chrissie Hynde of The Pretenders was so enamored of Ray in her youth. She actively pursued him, ended up dating him and giving birth to his child. After 20 years of non-communication between the two, the ever-arrogant Ray surprised Chrissie by inviting her and her band to perform at The Kinks' induction into the U.K. Music Hall of Fame. The bastard didn't even speak to her – before or after the event!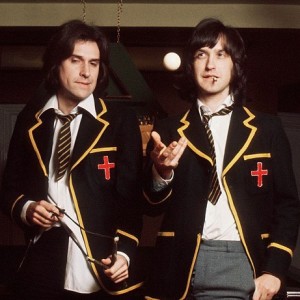 For better or worse, these dueling duos have given their fans a lot of groovy music, the rock press a lot of wild stories, and rehab clinics and psychiatrists a lot of great business.
Here's Bruce, telling Jimmy Fallon the funny story of the day he and Stevie were banned from Disneyland.

© Dana Spiardi, April 4, 2013