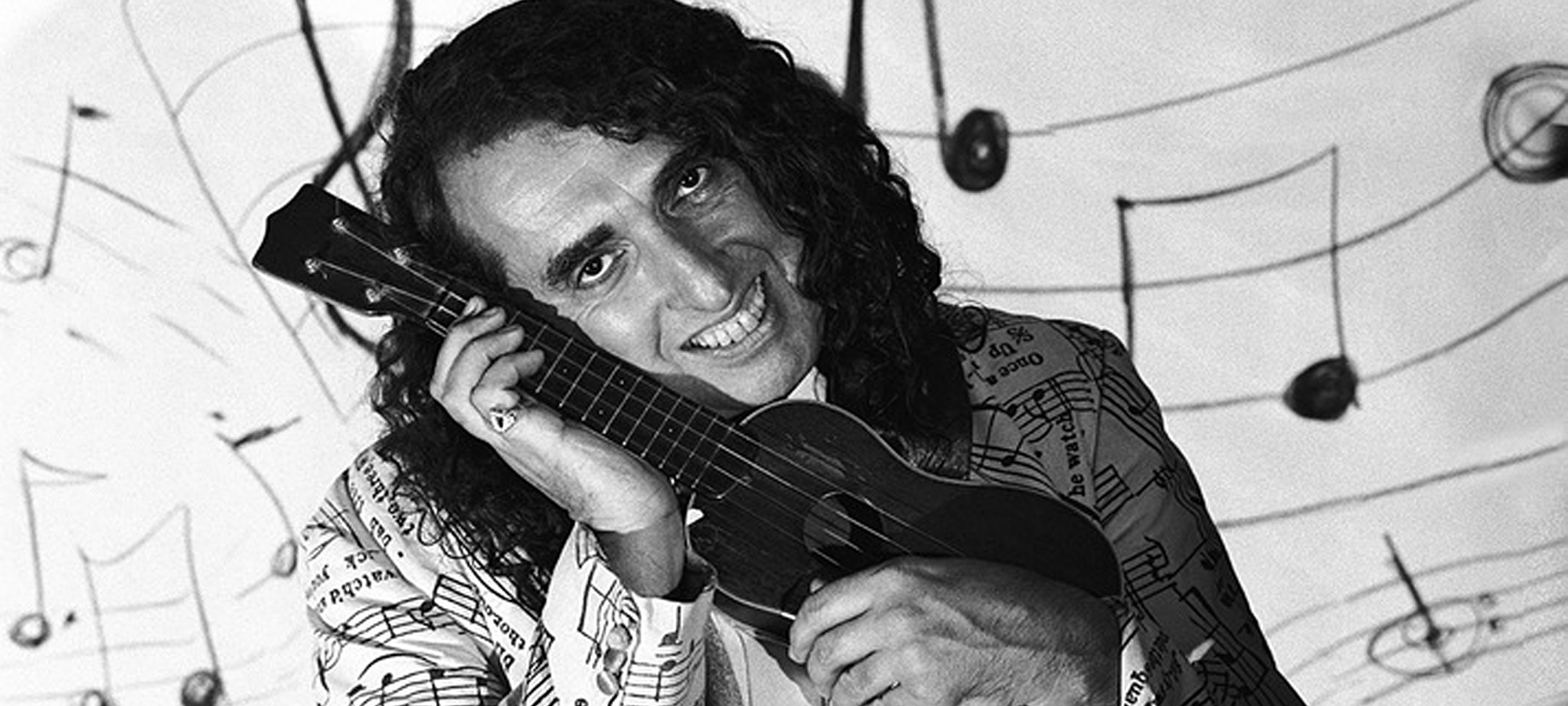 The 1960s music scene had it all: folkies, mods, electric bluesmen, surf singers, soul scorchers, R&B belters, psychedelic hipsters…and one falsetto-voiced ukelele player who went by the name of Tiny Tim.  No course on the decade's pop culture would be complete without a mention of this eccentric celebrity.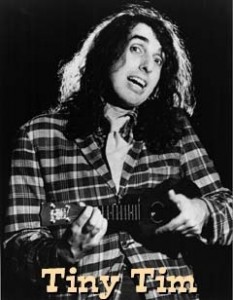 Mr. Tim, born Herbert Khaury on April 12, 1932, in Washington Heights, Manhattan, to a Polish Jewish mother and Lebanese Catholic father, personified the "let your freak flag fly" philosophy of the late 60s. He blew kisses, batted his eyes and tossed his wild, tinted hair as he strummed his ukelele and sang long-forgotten vaudeville tunes in his vibrato voice. He was probably the only sensation of the day to play a stringed instrument NOT made by Fender, Gibson, Gretsch or Rickenbacker.
He got his start in the early 1960s performing in a Greenwich Village lesbian club called The Page 3, and eventually developed a local cult following. His big break came when he was booked for an episode of the top-rated Laugh In variety show.  This led to a steady stream of appearances on programs hosted by the big names of the day:  Ed Sullivan, Jackie Gleason and the king of late night TV, Johnny Carson.  Johnny took a liking to the polite, mild-mannered oddball and offered to host Tiny's wedding to 17-year-old "Miss Vicki" (Victoria May Budinger) on the Tonight Show on December 17, 1969.  It's estimated that 40 million viewers tuned in to witness the first-of-a-kind talk show event – and I was among them!   As a kid I thought Tiny was all the rage and I managed to convince my mom to "wake me up for the wedding."  I was proud to announce to my fifth grade class the next day that I had witnessed a happening.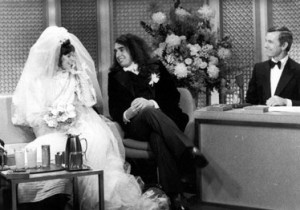 In 1968 Tiny Tim released an album on the Reprise label,  "God Bless Tiny Tim," which sold 20,000 copies and contained his sole hit, "Tip-Toe Through the Tulips." (He and Miss Vicki named their daughter Tulip.)  By the early 1970s his act had worn thin. He continued to plug away, appearing in small clubs and even performing with a circus for six months.  He experienced a minor comeback in the 1990s, appearing on the Conan O'Brien, Howard Stern and Arsenio Hall shows. In an ironic twist of fate, he suffered a fatal heart attack while performing his signature song, "Tip-Toe," during a 1999 show in Minneapolis.
Tiny Tim was a physically unattractive man with numerous eccentricities, but he had the courage to stand proud on some of the country's most famous stages, and the charisma to earn a small place among the hot acts of the hottest musical era in history. He died on November 30, 1996. RIP, Mr. Tim, and thanks for reminding us that being weird is wonderful.
Here's Tiny, singing his signature song:

By Dana Spiardi, Nov 30, 2013