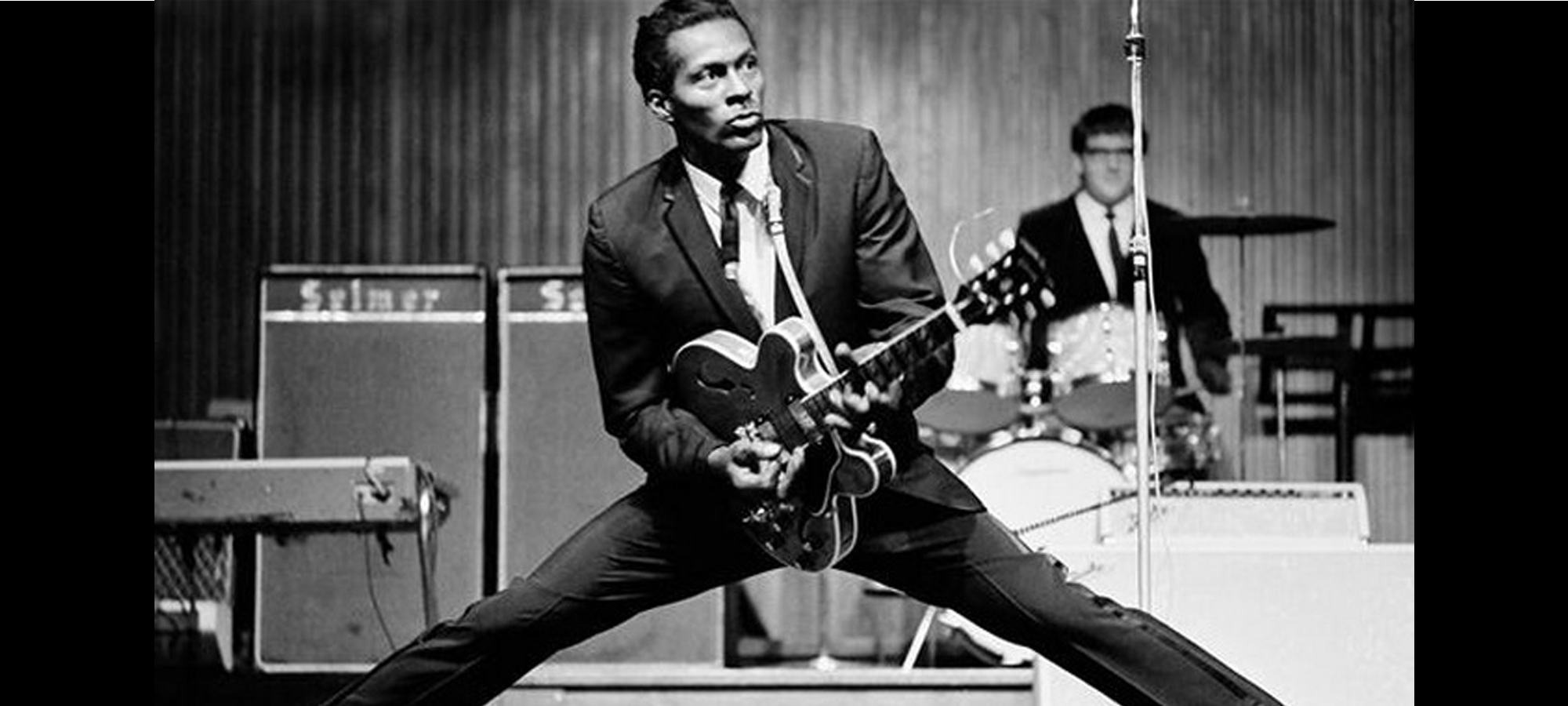 Chuck Berry is the head of my holy rock trinity, which includes John Lennon and Bob Dylan. And today's his 89th birthday.
I'll always love this ornery old genius. I had only one chance to see him live, performing a short outdoor set during the Three Rivers Arts Festival in 1983. Sure, his guitar sound and style formed the foundation for rock and roll, but he also wrote some of the best lyrics in the history of modern music. Oh hell, where do I start? Here's a favorite that springs to mind, from the song "Nadine:"
I saw her from the corner when she turned and doubled back
And started walkin' toward a coffee-colored Cadillac.
I was pushing through the crowd to get to where she's at
And I was campaign-shouting like a southern diplomat.
Everybody steals from him. There are lots of examples, some quite minor, like Queen inserting Chuck's line go, go, go, Little Queenie to close their song "Now I'm Here." And Marc Bolan ending his hit "Bang A Gong" with meanwhile, I'm still thinking, also from Berry's "Little Queenie."
The '70s rock group Jo Jo Gunne named themselves for a Chuck song with that title.
Bruce Springsteen transformed Chuck's "Bye, Bye Johnny" into "Johnny Bye Bye."
And both Bruce and John Lennon grabbed lines from "You Can't Catch Me." Bruce rearranged the lyrics New Jersey Turnpike in the wee, wee hours when he wrote "Open All Night" for his "Nebraska" LP.  But John went much further.  He actually based the Beatles' "Come Together on Chuck's song. He turned Berry's line Here come a flat-top, he was movin' up with me into Here come old flat-top, he come groovin' up slowly. Throughout the song John does his best to match the rocking-rap style and rhythm that Chuck was famous for.  He was, after all, one of Berry's biggest fans.  John once said, "If you tried to give rock and roll another name, you might call it 'Chuck Berry.'"
It was Paul McCartney who suggested John slow down the tempo of "Come Together" and add a heavy bass line to give it a more bluesy feel.  Though most Beatle fans undoubtedly missed the musical and lyrical similarities to "You Can't Catch Me," music publisher Maurice Levy did not. Levy owned the rights to Chuck's material and sued the Beatle.  To settle the case, John agreed to record three other songs owned by Levy's publishing company.  Two of these – "Ya Ya" and "You Can't Catch Me" were included on John's 1975 "Rock-n-Roll" LP. A third – "Angel Baby" – was released after his death.
Was Chuck flattered by all these references to his music? I seriously doubt it. Chuck didn't need validation from anyone. In fact, he probably would have punched out a few lights if he'd had the chance. After all, he once slugged Keith Richards in the face simply for tapping him on the shoulder to say hello. Ornery. Genius.
Here's a great clip of Chuck performing "You Can't Catch Me." Just for the record, I'd like to note that his longtime pianist and collaborator Johnnie Johnson claimed to have co-written many of Chuck's hits, like "Sweet Little  Sixteen" and "Roll Over Beethoven." In  2000 he sued Berry, seeking royalty payments. But the case was dismissed because too much time had elapsed from the date the songs were written.
© Dana Spiardi, Oct 18, 2015