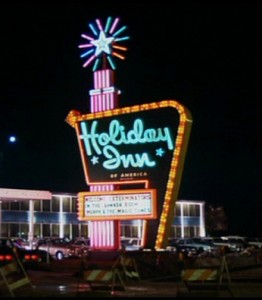 Well I don't even know if it's Cleveland or Maine.
The building's as big, and the room's just the same.
And the TV don't work, and the french fires are cold.
And room service closed 'bout an hour ago.
Birthday boy Elton John, 67 today, wrote those lyrics to a little "life on the road" gem called "Holiday Inn." Those words weren't included in the version that appeared on his 1971 "Madman Across the Water" LP. Perhaps he feared a lawsuit from the famous motel chain?
Here's the 24-year-old pre-flamboyant Elton singing the song on a live 1971 BBC broadcast.

The only thing missing from that live rendition is Davey Johnstone's mandolin work, which makes the album cut (below) even more beautiful. This is one of my all-time favorite Elton songs.

© Dana Spiardi, March 25, 2014