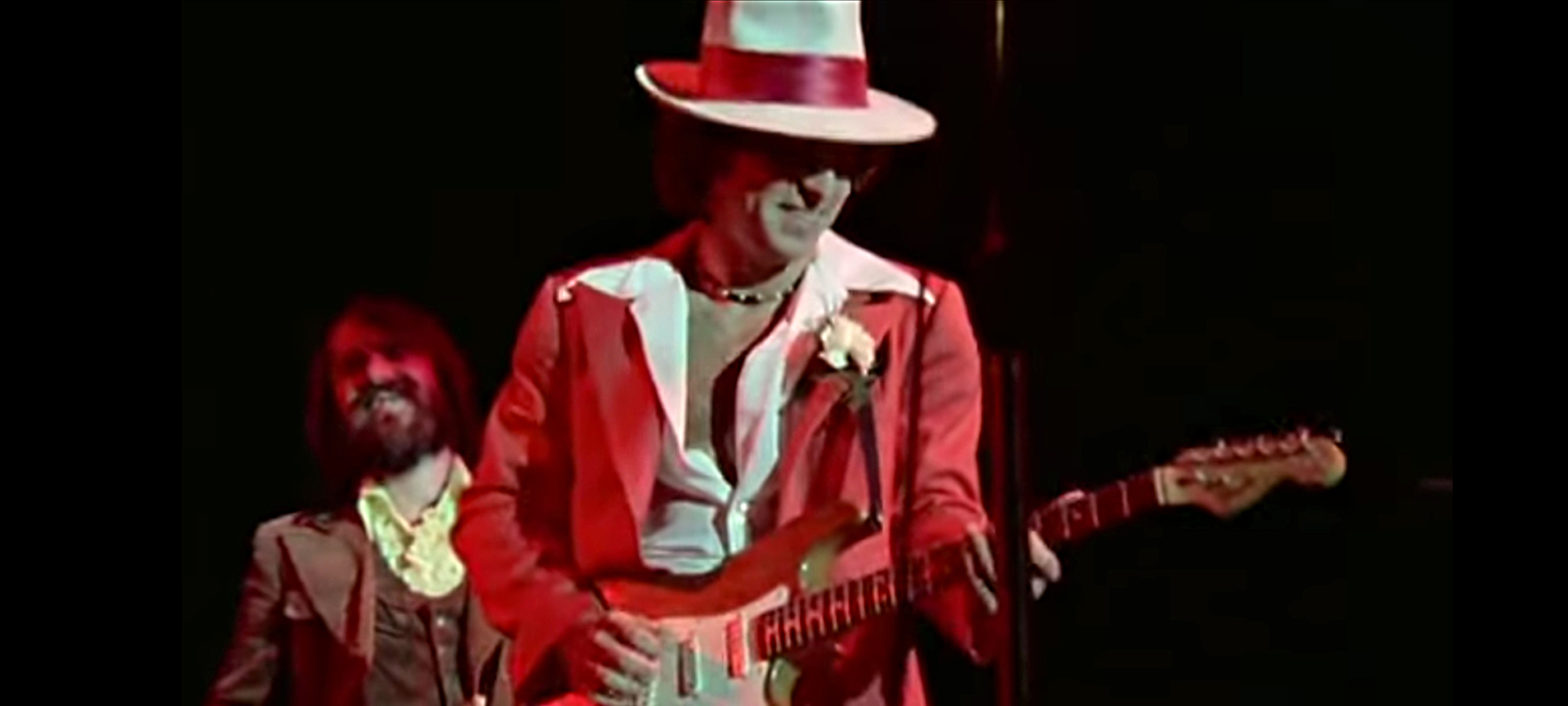 "Turn the station to Letterman. That guy you like, the one who wears the do-rag, is on the show." That's my mom calling to tell me that Steven Van Zandt is sitting in the guest seat talking to Dave. Good ol' mom…always keeping me abreast of rock star sightings. She may not have remembered the name of that head-wrapped wonder, but she knows I've been infatuated with him for years – as far back as April 12, 1976, when I saw him at my first-ever rock concert.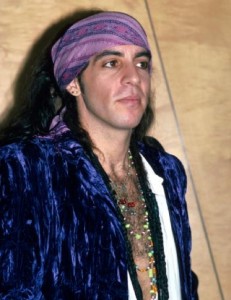 "Who's the sharpie?" I wondered, as I watched this nattily-dressed guy play guitar on stage with his boss Bruce Springsteen at the Cambria County War Memorial Arena in Johnstown, PA. I hadn't seen his picture on any of Bruce's albums. I didn't even know his name. But I knew at that moment that we were going to be soul mates.
Picture this: he was wearing a white fedora with a red band. I was wearing a red fedora with a white band. He was wearing red pants and platform shoes. I, too, was wearing red pants and platform shoes. Steven's shirt was white and open-necked under a red vest and jacket. My shirt was white and lacy over a red tank top. Dark eyes, small frame. Yep, he fit the profile, alright. Now, I know how you see him today – all jowly and plumped up from years of eating gabagool and pasta fazool with Tony Soprano in Artie Bucco's Vesuvius restaurant – and you wonder what I could have possibly seen in this guy.
Well, what I saw for the first time that night in Johnstown actually had more to do with soul than style. Sure, scrawny Bruce and his "Big Man" sax player Clarence Clemons delighted us for over three hours with their onstage cat and mouse clowning, like guileless sons of hip interracial parents. But I had a sense that when the house lights went down and the boys piled into the bus, Stevie was Bruce's lean-on-me guy. Their on-stage movements were in perfect sync. When they rushed the mic to harmonize, they looked like they'd been practicing that move since they were kids horsing around in Sears Tuffskins jeans. Years later Bruce nailed it: "When we met, I laid eyes on him and I knew that this was the guy who drank the same Kool-Aid that I had."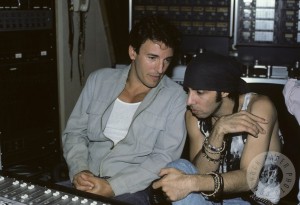 Bruce and Stevie met in the late '60s when they were making their bones in any number of odd bands that played the Jersey shore bars. Steven began honing his chops as a songwriter, arranger and producer when he formed Southside Johnny and the Asbury Jukes (with John Lyon as frontman). He infused the group's music with his love and knowledge of soul and R&B, turning the Jukes into a first class wall-of-sound horn band.
Soon, Bruce was seeking Steve's skills in the studio, as well. He was partially responsible for developing the signature riff on "Born to Run," and arranged the horn parts on "Tenth Avenue Freeze Out." He was ready to become a full-time E Streeter, nicknamed "Miami Steve" for his dislike of cold weather. He joined Bruce's long-running "Born to Run" tour in 1975 and (progressing from fedoras to berets to babushkas) remained with the band until 1984, when he embarked on a career as a solo artist and activist. (We die-hard disciples of the Bruce-Steven brotherhood know in our hearts that The Boss wrote the androgynous "Bobby Jean" as a farewell song to the guitarist when he left the band: There ain't nobody nowhere nohow gonna ever understand me the way you did.)
Calling his group Little Steven and the Disciples of Soul, he went on to release five albums, the first of which, "Men Without Women," was the best received. A five-piece horn section coupled with a bombardment of searing guitars provide a powerful mashup of blue-eyed soul and primordial rock. The songs, all written by Steven, explore themes of alienation and longing. His thin, somewhat braying voice evokes feelings of desperation and defiance: You make more money, baby, by lying down. But I ain't lying down for no one. They're cannibals and clowns. "Men Without Women" occupies a spot on my list of Top 10 Favorite LPs. An autographed, framed copy of the album, a gift from my Backstreets Sister Jane McCreery, hangs on the wall of the rock cave otherwise known as my office.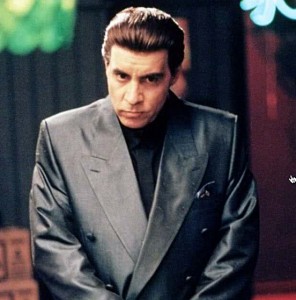 Steven returned to the E Street Band in 1999, right about the time he made his acting debut as the character Silvio Dante in HBO's groundbreaking series The Sopranos. I sat, transfixed, watching the first episode, waiting to see Stevie appear in his signature headwrap, gypsy scarves and snakeskin boots (he withdrew from PETA because he couldn't give up the leather). But where was he? I ran the VHS tape back to the beginning and watched it again. And I was gobsmacked to discover that Tony Soprano's Mafia consigliere, the owner of the Bada Bing girlie bar, was none other than Steven Van Zandt — in a pompadour wig! He was now a respected TV star. In interviews, he humbly responded to praise by saying, "It's the wig that's doing the acting."
He once told a reporter, "I modeled the role [of Silvio] on The Sopranos after my real role in life with Bruce. You'd see Silvio have to deliver bad news, Tony Soprano would get totally angry, and guess what? That's part of the job of being the consigliere, or being the best friend in real life."
More recently, he's getting rave reviews as the star of the Netflix series Lilyhammer, about a New York gangster who flees to a quiet town in Norway to start a new life. Steve, typecast? Fuggedaboudit!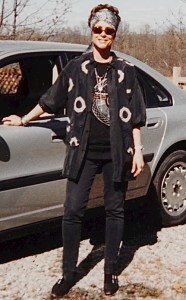 Since 2002, he's been hosting a popular syndicated radio show called Little Steven's Underground Garage. And in 2007 he created the Rock And Roll Forever Foundation, a non-profit "dedicated to the development, preservation, dissemination, and continuing support of rock and roll, past, present, and future." It's spawned a Rock and Roll High School program which features a free 40-chapter curriculum aimed at middle and high school students. But perhaps the accomplishment he's most proud of is the music-industry activist group Artists United Against Apartheid that he formed in 1985 as an action against the Sun City resort in South Africa.
People often ask me which rock star I'd most like to meet. They expect me to say Bruce or Dylan or Ringo or Keith. And I always surprise them when I say Little Steven Van Zandt. Why? His brain is an encyclopedia of rock, and I could devour its pages till the cows come home. He's my mahatma of music. Man, would I love to ride cross-country with this guy, talking rock-n-roll the whole way and sharing our mutual love of everybody from Bill Haley to Blue Cheer, from Nazz to the Knickerbockers. (Oh, and did I mention that I often dress "Stevie-style" when I attend Springsteen shows?) Right from the start – to quote a Bruce song – Steve and I liked the same music, we liked the same bands, we liked the same clothes. A long lost sibling, perhaps? Hmmm, did my mom ever have a boyfriend in the Garden State?
Yep, me and Stevie drank the same Kool-Aid, alright.
Here's struttin' Steve, looking absolutely bitchin' in his purple glad-rags, performing "Under the Gun" for a German audience in 1982. The Italian boy baptized Steven Lento became Steven Van Zandt when his step-father adopted him. And how's this for cool: he asked Reverend Richard Penniman – AKA Little Richard – to preside over his marriage to Maureen Santoro in 1982! Bruce, of course, was best man.
© Dana Spiardi, Nov 22, 2014
Save