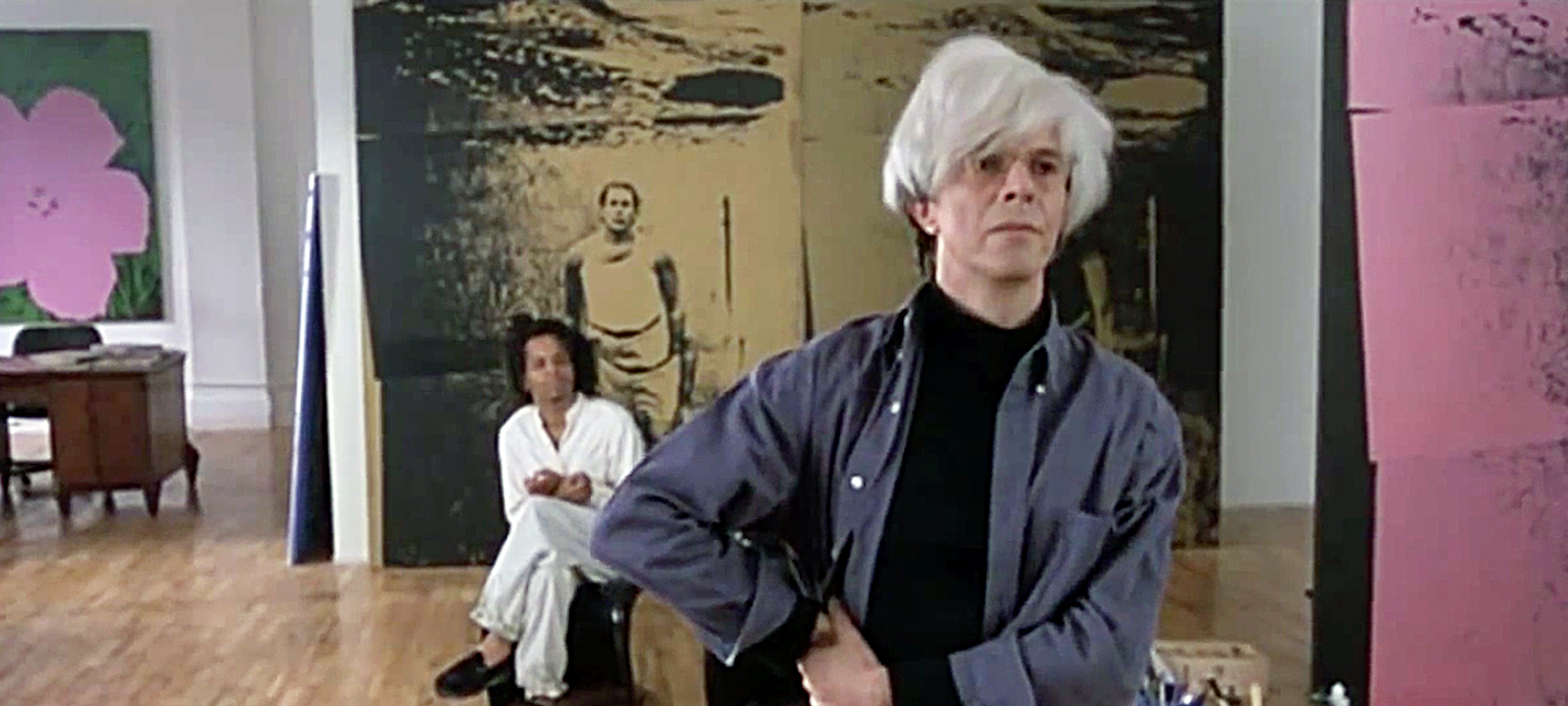 As we celebrate the artistic contributions of David Bowie following his passing on January 10, 2016, let's not forget that he was as talented and original an actor as he was a musical genius. Between 1967 and 2009 he appeared in 24 feature films and numerous television series, specials and documentaries. Critics praised his acting chops in such films as The Man Who Fell to Earth, Absolute Beginners, The Hunger, and Labyrinth. My favorite Bowie performance was as Andy Warhol in Basquiat. It's a stylish 1996 biopic of Jean-Michel Basquiat, the 1980s graffiti artist-turned-painter who self-destructed under the glare of the New York art world's ever-shifting spotlight. It's one of my favorite films from the '90s; in fact, I went to the theater to see it three times. I've seen lots of actors portray Andy, but Mr. Bowie channels Warhol's eccentric persona like no other. He was a Warhol's Warhol. His performance is playful, parodic, and undeniably peculiar, but then, you wouldn't expect anything less from the mercurial marvel, would you?
Some critics panned his depiction of the pop artist; Examiner art critic David Bonetti wrote, "[the film's] most notable failure is David Bowie's Warhol." But many who knew the pop artist intimately hailed Bowie's interpretative work. Paul Morrissey, who directed many of Warhol's films, said, "You come away from Basquiat thinking Andy was comical and amusing, not a pretentious, phony piece of shit, which is how [other actors] show him." Bob Colacello, who edited Warhol's Interview magazine in the 70s and early 80s, also compared various actors' portrayals, saying, "[Crispin] Glover walked the most like [the real] Andy, [Jared] Harris talked the most like Andy, and Bowie looked the most like Andy. When I first saw Bowie on the set, it was like Andy had been resurrected." (The Andy Warhol Museum in Pittsburgh loaned Andy's actual wig, glasses and jacket to Bowie to wear during filming.)
Bowie must have relished that film role. His fascination with the pop art provocateur began at an early age — back when he was David Jones, growing up in South London. In 1971, the Man Who Would Be Ziggy wrote a rather abstruse song, "Andy Warhol," in tribute to the artist.
Andy Warhol looks a scream
Hang him on my wall
Andy Warhol, Silver Screen
Can't tell them apart at all
He dreamed of one day performing the tune live for Andy, and was about to get his chance in September 1971 when he and his former wife Angie came to New York to sign a record deal with RCA. His tour manager Tony Zanetta took him to Warhol's "Factory" and introduced the two unconventional characters to one another. In a January 11, 2016, column for the online magazine Bedford+Bowery, Zanetta recalled the encounter:
"The meeting was kind of tense because Warhol was not a great talker, you had to talk and entertain Andy, and David really wasn't a great talker either. Nobody was really taking this conversation and running with it. So they were circling each other and then David gave him a copy of "Hunky Dory," on which was his ode to Andy Warhol, the song 'Andy Warhol.'  We probably played it, I can't remember. Warhol didn't say anything but absolutely hated it. Which didn't help the meeting. Remember, David Bowie was not a big star. He was just some guy off the street as far as Andy Warhol was concerned. They found a common ground in David's shoes. David was wearing yellow Mary Janes and Andy had been a shoe illustrator, which David knew so they began talking about shoes. Otherwise it was not the greatest meeting [laughs]."
Writer Glenn O'Brien offered his own recollection of the encounter in a January 11, 2016, column for Out. He describes a long-haired Bowie in baggy trousers and a floppy hat performing a strange pantomime before presenting his ode to Andy (some who were present that day said he sang the song, others claim he played the record instead).
O'Brien wrote, "I don't think Andy could tell whether it was an homage or a send-up, with its rather ambiguous lyrics, but everyone was very nice and polite…I don't know what Andy thought of that day — probably not much, but he had that sense of judging a person's self-esteem, and I think Bowie passed on that count."
Bowie's obituary in The Telegraph recounted the mood following his performance: "Warhol was upset by the lines: He'll think about paint and he'll think about glue / What a jolly boring thing to do – and left the room, returning only to kneel and take a photograph of Bowie's yellow shoes. Bowie never again penetrated the inner circle."
True. Unlike his contemporaries Lou Reed and Mick Jagger, the Thin White Duke would never end up sharing intimate conversations with Andy at Max's Kansas City or Studio 54. (I couldn't even find a photo of Andy and David together, and you know how much Andy liked being photographed with the rich and famous.) Anyway, Warhol no doubt came to appreciate Bowie's brilliance through the years. And there's no denying Bowie's adoration for the painter. When Basquiat writer-director Julian Schnabel (himself a painter) chose the singer to play the part of Warhol in the film, he was understandably thrilled.
Here are some scenes of Bowie as Andy. Enjoy!
This clip features Bowie, along with Jeffrey Wright as Basquiat, Dennis Hopper as art dealer Bruno Bischofberger, and the wonderfully quirky Benicio del Toro as Basquiat's friend Benny.

The first scene of this clip features all the main characters, plus Parker Posey as gallery owner Mary Boone  (sitting next to Basquiat) and Michael Wincott as party-crashing art dealer Rene Ricard. In the second scene we see how Andy created his famous oxidation paintings, also known as "piss paintings." The clip ends with a scene of a disillusioned Basquiat, spending an afternoon in New York with his mentor, Andy.

Here's a look at a Basquiat/Warhol collaborative session. You can see many of their joint projects on display at the fabulous Andy Warhol Museum in Pittsburgh.

Finally, here's some rare film footage of David Bowie taken during his visit to Warhol's factory in 1971. His pantomime performance is cut to the song "Andy Warhol" from the "Hunky Dory" LP.

© Dana Spiardi, Jan 11, 2016
The title of this article was inspired by my friend George Heidekat.