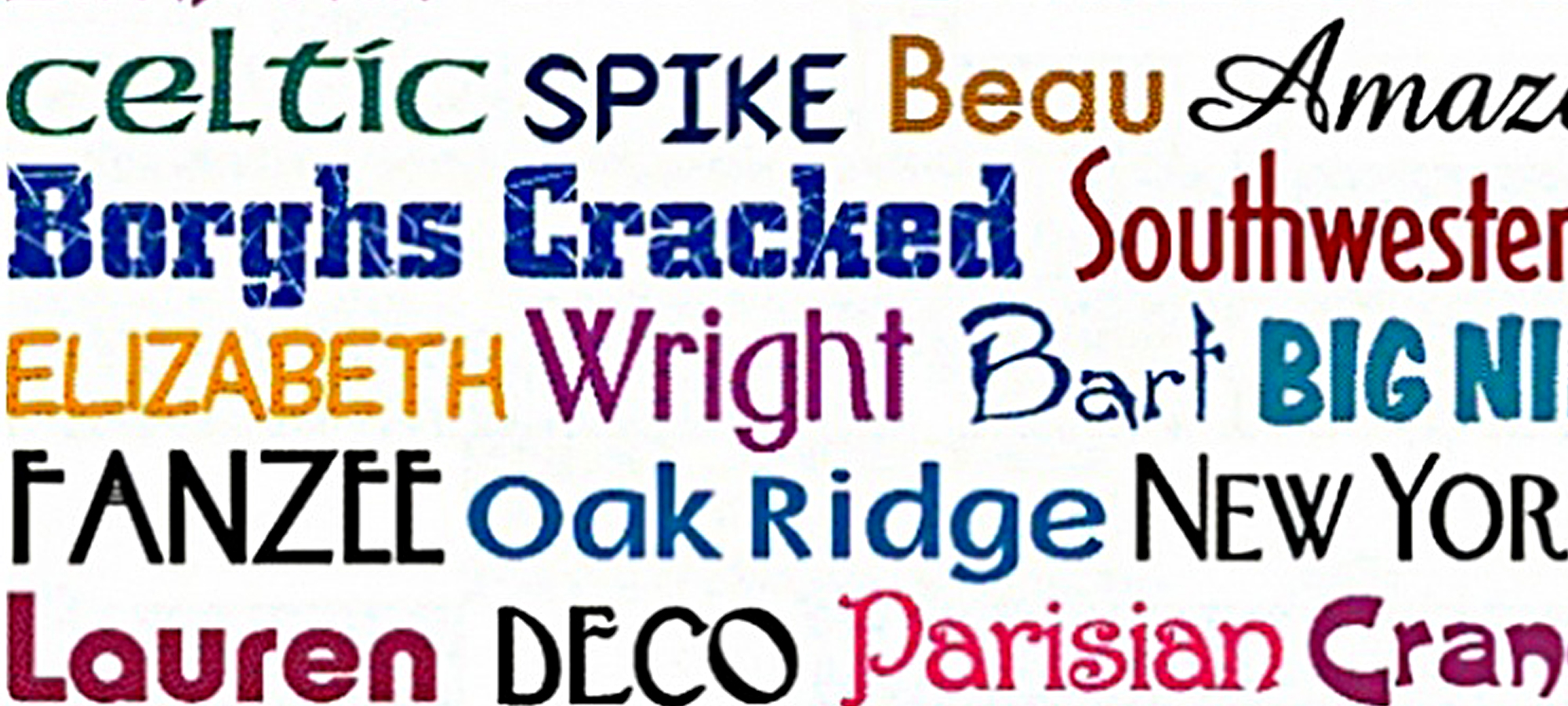 This article appeard in the September 2006 issue of the County of Westmoreland Mac User Group (CowMug) newsletter.
Die Nasty.  Dream Orphans.  Beat My Guest.  Highway to Heck.  No, these aren't names of punk rock groups or titles of angst-ridden, teen-penned poems.  They're names of fonts.  Four evocatively named fonts that co-exist among the hundreds of others in my Mac.  Fonts that compete on a daily basis to be chosen for use in one of my literary or graphic masterpieces (ahem).
I've rarely met a font I didn't fall in love with.  I've cruised the Internet super highways by night, luring new fonts to my harem.  I've risked system contamination, blindly downloading free fonts from fly-by-night sites with seedy names like FontLust.com.   Rogue fonts now reside alongside legitimate fonts that automatically enter the neighborhood every time I install new publishing software.  Ah, but this indiscriminate font love now poses a major digital dilemma:  I simply have more fonts than I can fathom.
Before Apple introduced OS X, with its easy-to-use Font Book management tool, maintaining large font collections was somewhat tricky.  I was warned that my obsessive accumulation of font families would suffocate my operating system.  This led me to purchase Font Reserve, an application that was highly rated as one of the best font management tools on the market.   Font Reserve allowed me to activate only those font groups that I was currently interested in using, thus reducing the risk of font overload on the system.
When I upgraded to iLife '04 in 2003, I was thrilled to see that its Font Book application could perform the same functions as Font Reserve.  Plus, with Font Book, all of my fonts could be active at the same time!
I established categories within Font Book, organizing my darlings into groups such as modern, classic, outline, space age, scary, ethnic, bold, novelty, curly and old-fashioned.  This has taken a lot of time, and I still haven't categorized most of the newest font additions.  And, although the WYSIWYG feature works when I'm using MS Word, it doesn't apply in Photoshop or any of the other Adobe programs!
Perhaps it's time to purchase a more powerful font management application.  An April 2005 article in MacWorld.com states:  "Thanks to OS X 10.3's Font Book, most Mac users don't need to buy a font management program. But if you have tons of fonts, share a font library with others, or have lots of fonts flowing through your system (from clients or collaborators, for example) you'll need more features than Font Book offers."   The article reviews: Font Agent Pro 3.0 – four mice; Font Doctor 7.0 – four mice; and Master Juggler 3.0.3 – two mice.
A March 2007 MacWorld.com article reviews Suitcase Fusion, a font manager that "combines the best of Suitcase X1 and Font Reserve 3."   MacWorld gives this application a four-and-half mice rating.
Once again I'm faced with a major decision:  buy new software or learn to live with what I have?   The intelligent choice is to apply the tenets of a 12-step program to my font addiction, exercise some self-control, and start deleting fonts from the system.  Only time will tell if Relish Gargler, A Yummy Apology, and Tibetan Beefgarden survive the cut!