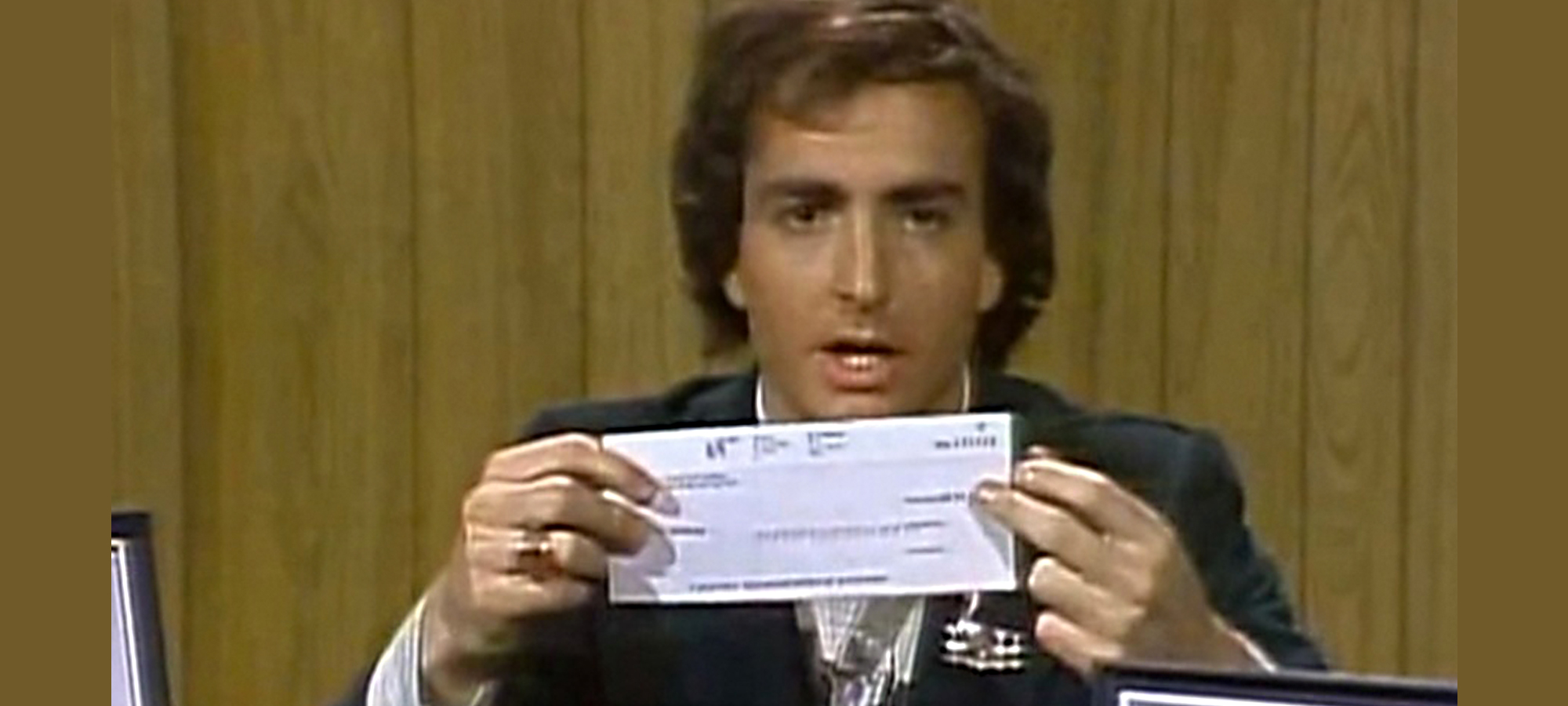 April 24, 1976, marked the last night that Paul McCartney would spend with John Lennon. Paul and his wife Linda just happened to drop in on John and Yoko, unannounced, and the two former Beatles spent a few hours together in the Lennons' apartment in the monolithic Dakota Building on Manhattan's Upper West Side. Don't you just wonder what the Fab Two engaged in on that Saturday evening? Did they take turns bouncing 6-month-old Baby Sean on their knees? Nosh on a jar of Yoko's expensive caviar? Play "Bohemian Rhapsody" on John's turntable, hoping Ms. Ono wouldn't screech scaramouche, scaramouche along with Freddie Mercury?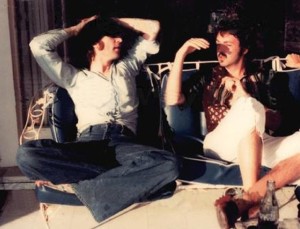 Well, as it turns out, they sat in the Lennons' living room and watched Saturday Night Live! Imagine their surprise when SNL producer Lorne Michaels appeared on their TV screen, announcing an offer to pay the Beatles $3,000 to come together and perform three songs on his show! He held up a check and said, "NBC has authorized me to offer you a certified check for $3,000….you can divide it anyway you want. If you want to give Ringo less, that's up to you." What a commentary on the creative pecking order, albeit at poor Ringo's expense!
John later told David Sheff, author of the book All We Are Saying, "He [Paul] was visiting us at our place in the Dakota. We were watching it [SNL] and almost went down to the studio, just as a gag. We nearly got into a cab, but we were actually too tired."
WHAT? Two healthy guys in their mid-thirties, too tired? From what…smoking too much weed? How dare they deprive the world of what would have been the biggest event in rock history! Oh, well. Yoko would have tagged along and ruined the whole thing anyway.
A month later, Michaels again tried to lure the Beatles, this time with a sum of $3,200 and an offer by NBC to pay for their hotel accommodations! He asked SNL announcer Don Pardo to provide more details. Here's the hilarious transcript:
First of all, the lads from Liverpool will be picked up by a radio-dispatched Checker cab that will whisk them to the Cross Town Motor Inn, located in the heart of New York's fashionable garment district. Once there, they will check in, in the recently renovated lobby; and then it's off to their rooms via round-the-clock elevator service. They'll be treated like royalty, as pitchers of ice water are hand-delivered to their rooms, and they can drink that water from glasses sanitized for their convenience. Oops — Ringo spilled a little something on his jacket? No problem — not with prompt forty-eight-hour dry cleaning service! 'In by Tuesday, out by Thursday.' And let's just put a shine on those shoes, too, with a free shoe shine cloth. And, Lorne, since the Beatles will be staying in separate rooms, the four Mop Tops can speak to each other as much as they want because there is no charge for room-to-room calls. And, after a hard day's night, the Beatles can sleep as late as they like with a leisurely checkout time of 10 A.M. That's the Cross Town Motor Inn, a hotel tradition, hosting New York's visitors since 1971. Yeah, yeah, yeah! Back to you Lorne!
Okay, pretty funny, but the huge sums offered by other industry moguls were nothing to scoff at. Three months before Lorne Michaels' offer, promoter Bill Sargent tried to bait the Beatles with a payment of $50 million. And later in the year, Sid Bernstein, the man who promoted the Beatles' early U.S. tours, offered a staggering $230 million for them to perform a one-time-only charity concert. The four turned it down, although sources say Paul considered it.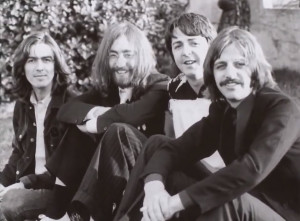 The closest thing to a Beatles reunion took place on May 19, 1979, when Paul, George, and Ringo jammed at the wedding of Eric Clapton and Pattie Boyd (George's ex-wife). They performed shaky, alcohol-laced renditions of "Get Back," "Sgt. Pepper's Lonely Hearts Club Band," and "Lawdy Miss Clawdy." But where was John? He and Clapton had been tight in the early '70s, when the guitarist performed with John at his Live Peace in Toronto concert. Did Eric and Pattie forget to send John an invitation? Did Yoko receive it and toss it in the trash? In Peter Doggett's book, You Never Give Me Your Money, Clapton said, "John later phoned me to say that he would have been there too if he had known about it." Sadly, all hopes for a Beatles reunion were abandoned on December 8, 1980, when John was assassinated as he entered his apartment.
When the Beatles played their impromptu "concert" on the rooftop of the Apple Records building during the "Let It Be" recording sessions in January 1969, little did anyone know it would be the final live performance of the greatest and most influential band in history. It was the world's finest free concert. Priceless.
Here's Lorne Michaels, offering The Beatles the BIG check, on April 24, 1976:

© Dana Spiardi, April 24, 2013