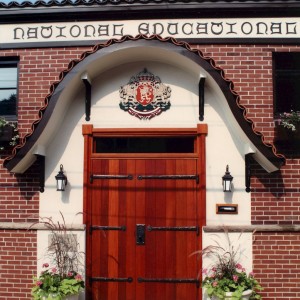 My many trips to Bulgaria in the early 1990s brought me into contact with the Bulgarian Macedonian National Educational and Cultural Center (BMNECC), which has been serving the greater Pittsburgh area since 1930. The Center is the oldest and largest Bulgarian organization in the United States, offering a museum, library, learning center, a performing ensemble and a culinary program called Soup Sega.
In 2001, the Center's dynamic President, Pat Jordanoff French, invited me to join the board of directors. As chair of the communications and technology committee, I produce all print materials, including the quarterly newsletter. I developed and maintain the website, manage all social media, implement PR programs, and oversee the acquisition and use of all computers and digital equipment.
Click here to view the website.  Click here to download a copy of our newsletter.
In 2010, I produced a video commemorating the 80-year anniversary of the Bulgarian Center. The program was videotaped and edited by Kamen Bonev. You can view it here: