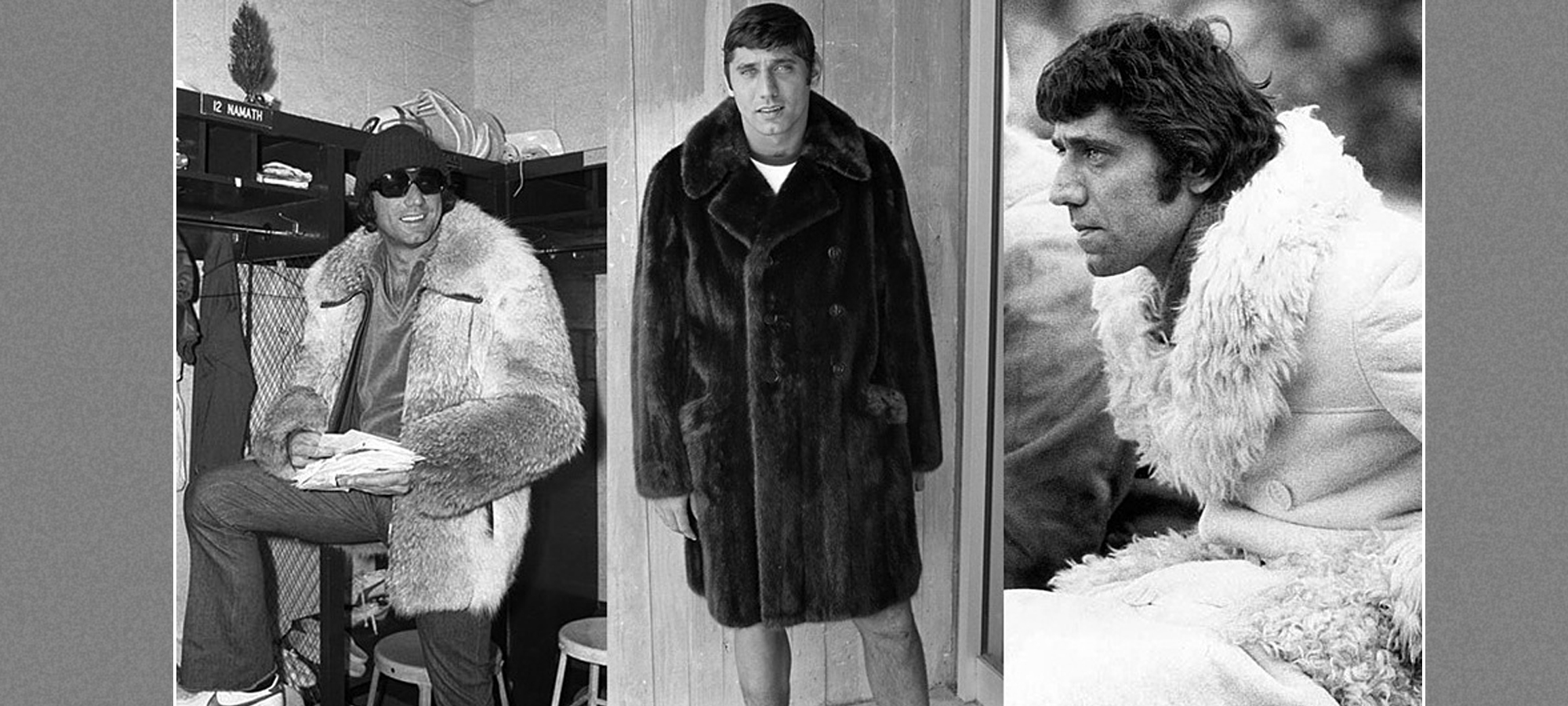 "This man is not a role model." So proclaimed my 5th grade teacher Mr. Kuntz as he held up a Life magazine featuring photos of New York Jets' star quarterback Joe Namath swilling Scotch with adoring groupie dolls and cigar-chomping minions at his Upper East Side Club, Bachelors III. Joe Namath, a media-hungry playboy? I was taken aback by that indictment, at a time when I too young to even understand what taken aback meant!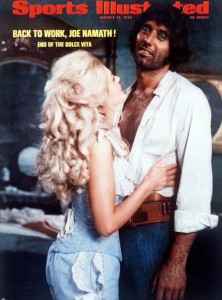 At the age of 10 I didn't know much about football or Scotch, but I did have a budding interest in style and phenomena, and Broadway Joe Namath epitomized both. How could I NOT like a sports star who was once described as "Mick Jagger in a football uniform." I was totally caught up in his exploits. He sported prominent sideburns, an occasional goatee, and hair that was then considered too long. A hipster in cleats. He wore full length fur coats on the sidelines and favored low-cut white shoes over traditional NFL black high-tops. I mean, if you have to wear sports shoes, they should at least be trendsetting.
He appeared on TV variety shows and tried his hand at acting — in summer stock productions and in a Broadway revival of The Caine Mutiny Court Martial. He donned pantyhose to promote Hanes products and swooned while a then-unknown Farrah Fawcett swirled Noxzema shaving cream on his big mug. I always got the feeling he knew exactly how ridiculous he looked, posing as a mock sex symbol. Still, there was something appealing about his sparkly blue-eyes and folksy rural Pennsylvania manner. My friend Jane, who hailed from a tiny village near Joe's hometown of Beaver Falls, PA, was working in D.C. at the height of Namath mania, and once remarked to a friend, "Wow, do I relate to that accent."
Oh, and did I mention that he was one of the greatest football players ever, leading the New York Jets to a 16-7 Super Bowl victory over the Baltimore Colts in 1969?
Here then, are some of my favorite Joe Namath memories, on this, his 73rd birthday.
The famous Hanes pantyhose commercial. Even Joe can't keep a straight face. Imagine the outtakes.

Getting creamed by Farrah, and loving it:

The Joe Namath theme song:

Trailer from HBO documentary about Joe:

© Dana Spiardi, May 31, 2016