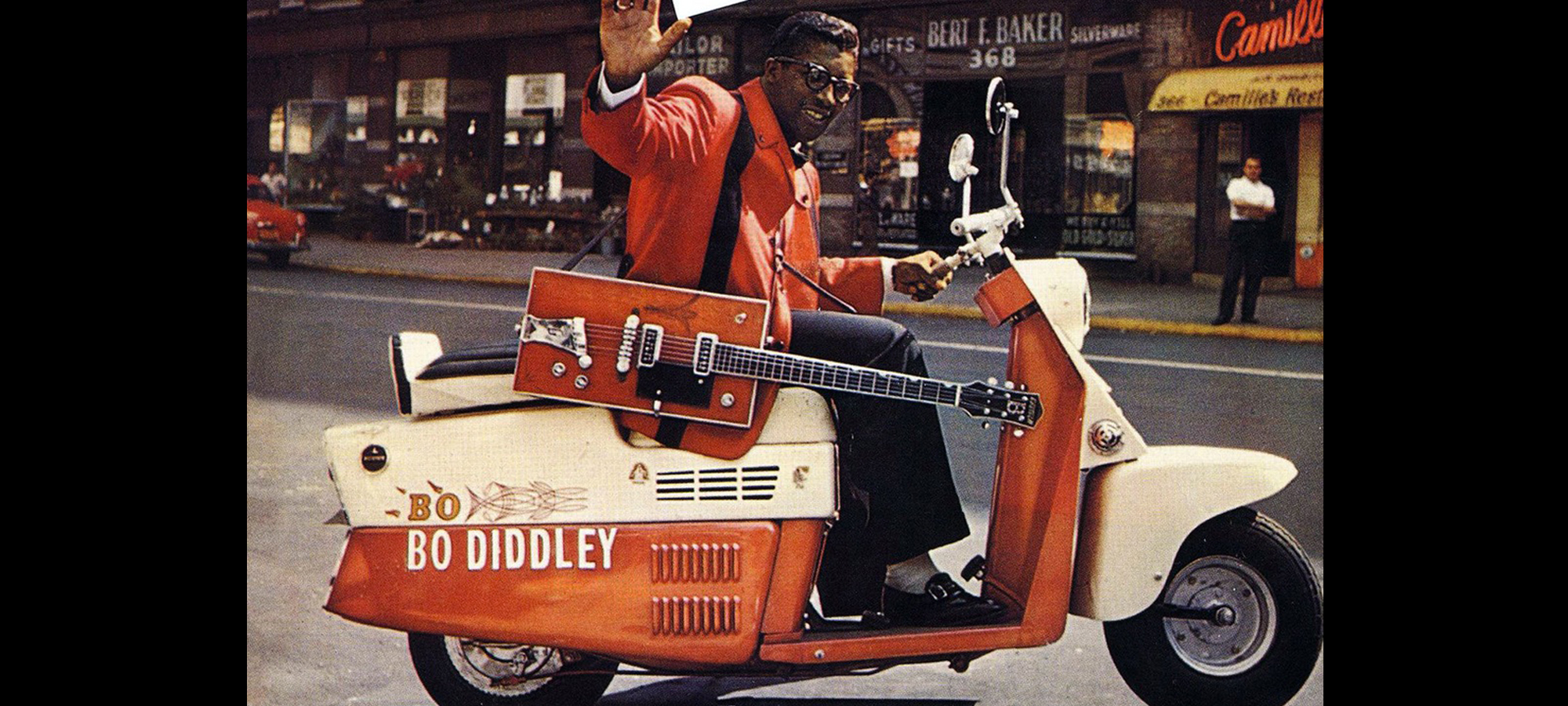 An important event on this date kicked off what would become an indispensable element of rock-n-roll music for time immemorial. On March 2, 1955, legendary R&B master Bo Diddley entered a Universal recording studio in Chicago and burned onto vinyl his song "Bo Diddley." With it's distinctive five-accent rhythm beat, it launched a thousand rock songs. The sound sprang from traditional African clave rhythms and gave way to a style known as "hambone" – a technique of making music by slapping one's arms, legs, cheeks and chest while singing simple rhyming songs. Say the phrase, "shave and a HAIR CUT…TWO BITS" and you get a simple idea of the rhythm.
Lots of Diddley-based tunes are obvious, like "Willy and the Hand Jive" and Bo's own "Who Do You Love?" But you may not realize just how many songs have been fueled by that distinctive beat. No rocker can resist it! Here's a collection of my favorite Bo Babies. Turn your speakers up loud and go crazy, man, crazy!
Here's the original, from the master himself, born Ellas Otha Bates on December 30, 1928. He entered rock heaven on June 2, 2008. Hundreds paid tribute to him upon his passing: from the U.S. President and House of Representative members, to countless rock and R&B giants. The University of Florida posthumously awarded Bo a Doctor of Fine Arts degree, and a Voice of America radio service declared that "his influence was so widespread that it is hard to imagine what rock and roll would have sounded like without him."

Buddy Holly wrote and recorded "Not Fade Away," but there's absolutely no doubt that The Stones produced the definitive version. Here's young Mick, shakin' his money-maker on The Mike Douglas show in 1964. And the late, great Brian Jones plays a mean blues harp.

Here's my favorite Who song, "Magic Bus." Betcha didn't realize this was born of Bo!

Check out this great clip of Bruce honoring Bo with his Diddley-inspired "She's the One.

Even punk rockers loved Bo. Here's The Clash, performing one of my favorites, "Rudie Can't Fail." For the record, the word "rudie" comes from Jamaican street culture, and quite literally refers to rude (bad) boys. Brit punks of the 1970s quickly co-opted the name!

The Irish know a good beat when they hear one.  "Mystic Eyes," by Northern Ireland's Them, is a raucous Diddley-based R&B number.  Van Morrison wrote it, and belts it out here in this 1965 performance.  Have you ever seen Van this young?

From Belfast to Dublin, here's U2 with "Desire." You can count on Bono for descriptive lyrics: She's the dollars; she's my protection. Yeah she's a promise in the year of election. Oh sister, I can't let you go. Like a preacher stealing hearts at a traveling show.

David Bowie's "Panic in Detroit" is one of my favorite Diddley-inspired numbers:

Here's a metal version of Bo's beat from Guns N'Roses: "Mr. Brownstone." Slash, you do Bo proud!

Oh, Chrissie…how do I love thee? Let me count the ways. Here's the queen of the Pretenders with "Break up the Concrete."

We'll end with Bo in 1989, making some heavy thunder with his trademark rectangular guitar.

Now, doesn't this trip down Bo Boulevard just make your ENTIRE day?  If these rhythms don't inspire you to move your feet, shake your hips, bop your head, or – at the very least – tap your fingers, then honey, methinks you're dead.
© Dana Spiardi, March 2, 2013