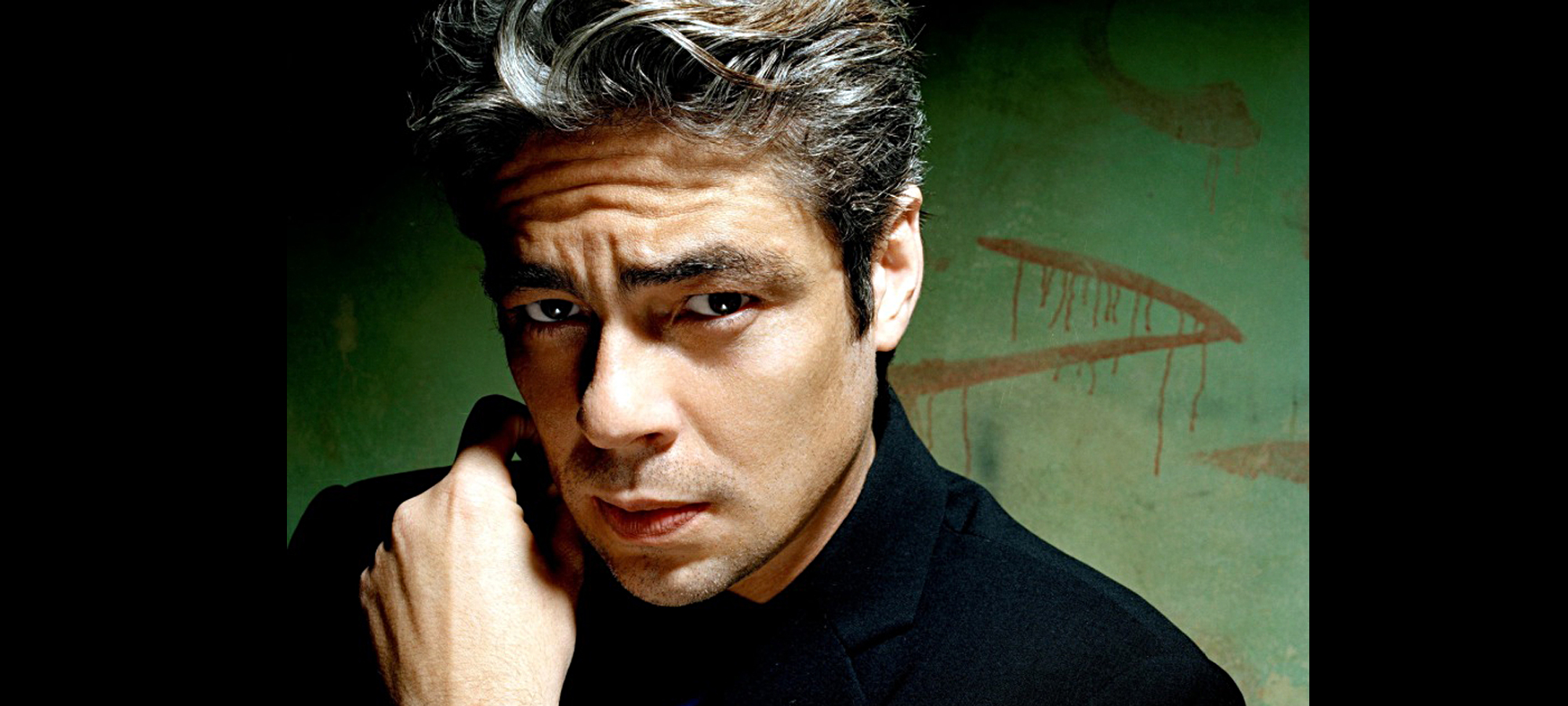 Okay, I admit I used to have a thing for actor Benicio Del Toro. He inspired me to start writing pop culture pieces. This article was published in the summer 1997 issue of "Bitch" magazine.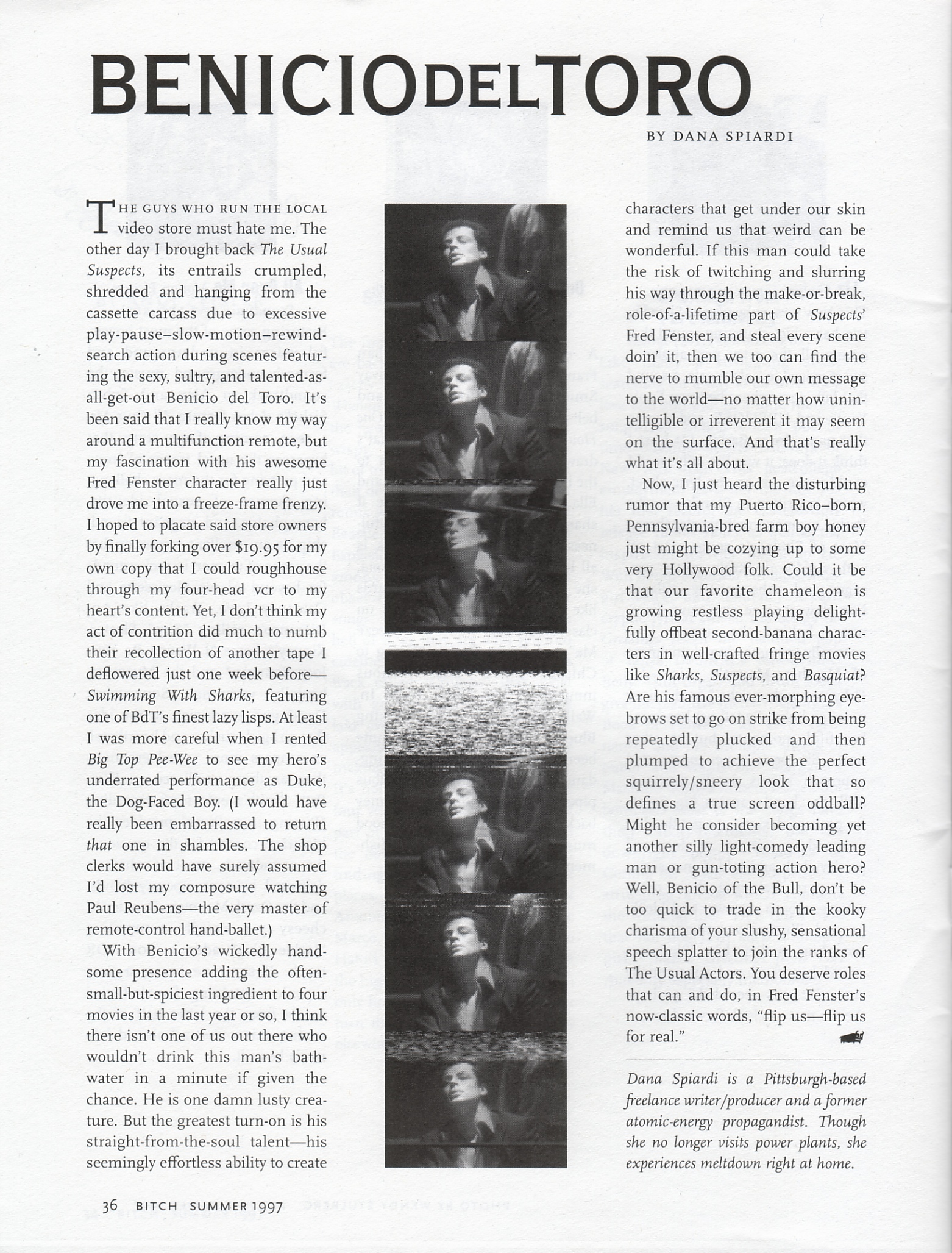 The guys who run the local video store must hate me. The other day I brought back The Usual Suspects, its entrails crumpled, shredded and hanging from the cassette due to excessive play-pause-slow-motion-rewind-search action during scenes featuring the sexy, sultry and talented-as-all-getout Benicio Del Toro. It's been said that I really know my way around a multi-function remote, but my fascination with his awesome Fred Fenster character really just drove me into freeze-frame frenzy.  I hoped to placate said store owners by finally forking over $19.95 for my own copy that I could rough-house through my four-head VCR to my heart's content.
Yet, I don't think my act of contrition did much to numb their recollection of another tape I deflowered just one week before — Swimming with Sharks, featuring one of BDT's finest lazy lisps.  At least I was more careful when I rented Big Top PeeWee to see my hero's underrated performance as Duke, the Dog-Faced Boy. (I would have been embarrassed to return that one in shambles.The shop clerks would have surely assumed I'd lost my composure watching Paul Reubens — the very master of remote-control hand-ballet. )
With Benicio's wickedly handsome presence adding the often-small but spiciest ingredient to four movies in the last year or so, I think there isn't one of us out there who wouldn't drink this man's bathwater in a minute if given the chance.  He is one damn lusty creature.  But his greatest turn-on is his straight-from-the-soul talent– his seemingly effortless ability to create characters that get under our skin and remind us that weird can be wonderful.
If this man could take the risk of twitching and slurring his way through the make-or-break role-of-a-lifetime part of Suspect's Fred Fenster, and steal every scene doing it, then we too can find the nerve to mumble our own message to the world — no matter how unintelligible or irreverent it may seem on the surface.  And that's really what it's all about.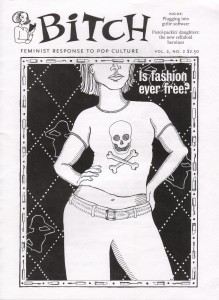 Now I just heard the disturbing rumor that my Puerto Rico-born, Pennsylvania-bred farm boy honey just might be cozying up to some very Hollywood folk.  Could it be that our favorite chameleon is growing restless playing delightfully offbeat second-banana characters in well-crafted fringe movies like Sharks, Suspects, and Basquiat?  Are his famous ever-morphing eyebrows set to go on strike from being repeatedly plucked and then plumped to achieve the perfect squirrely/sneery look that so defines a true screen oddball?  Might he consider becoming yet another silly light-comedy leading man or a gun-toting action hero?
Well, Benicio of the Bull, don't be too quick to trade in the kooky charisma of your slushy, sensational speech splatter to join the ranks of The Usual Actors.  You deserve roles that can and do, in Fred Fenster's now-classic words, "flip us — flip us for real."
Editor's note: Dana Spiardi is Pittsburgh-based freelance writer/producer and a former atomic energy propagandist.  Though she no longer visits nuclear plants, she experiences meltdowns right at home.